Hi all, I'm taking you back to Singapore again — to the Marina Bay Sands Hotel this time, where we stayed a little over a month ago. Hubby was dead set on checking in the Marina Bay Sands. I found it very pricey because upon browsing online I found that it costs over P16k per night. But he said he really wanted to swim in the much-talked-about infinity pool. So I went ahead and booked 3 nights. We took the first flight to Singapore and arrived at the lobby around 10am. Check in time was something like 3pm so we left our luggage with the concierge.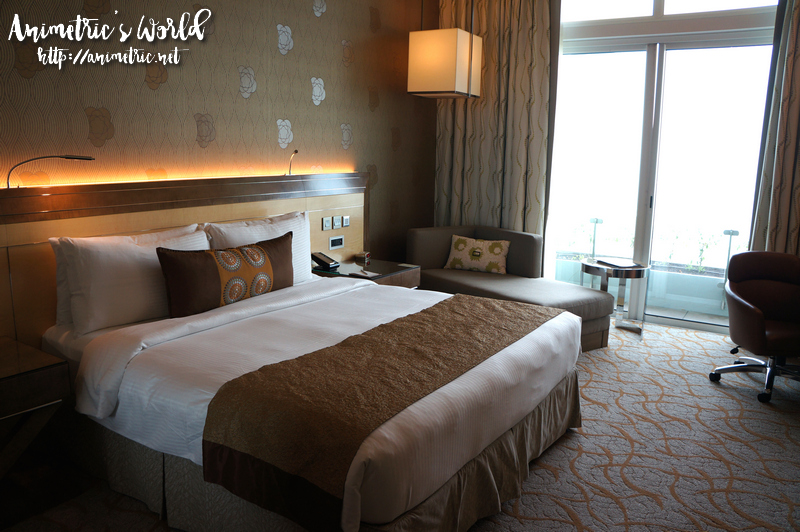 We went back to the hotel past 4pm and our room was ready by then. We got the most basic room (yes it cost over P16k per night!) which is a Deluxe Room. It's furnished with one king-sized bed and a small sofa on the side. It was a choice between this or 2 single beds. What happened was hubby, daughter, and I stayed on the bed while our son slept on the sofa. We were going to rent an extra bed but he said he was fine on the sofa. There was an extra pillow and blanket in the cabinet so it was all good.
There's a study table which doubles as a dresser thanks to the mirror.
There's a widescreen LCD TV.
There's an electric kettle with a couple of cups and saucers.
There's complimentary coffee and tea plus glasses inside the drawer. The free tea bags are from TWG.
There are bath robes, bedroom slippers, a steam iron, and an ironing board in the cabinet.
Digital safe, shoe shine mitt…
This is the bathroom.
Toilet area to the left…
Shower area to the right…
There are some generic toiletries. For the price per night you'd think they'd provide branded ones but no. We only used the soap and body wash though because I brought my own shampoo and conditioner.
There are cotton pads inside the small box cotton swabs.
There are toothbrushes, lotion, and a shower cap.
This is the view from our hotel room window — you can clearly see the Gardens By The Bay.
Of course we took a dip in the famous infinity pool on the 57th floor. It was kind of a surreal experience swimming on top of a skyscraper but hubby said it was worth the price, lol. This is what you're really paying for when you stay in Marina Bay Sands because the room and the service are nothing special.
Breakfast isn't free and it's expensive at SG$50+ (around P2k when I computed) per adult. It's half-price for kids 12 and below. We tried it one morning. There's bread…
Some pastries…
Congee with a variety of condiments…
Noodle station!
Various dimsum too.
There are the usual goodies like bacon and sausage. I tried to have an omelet made but was not successful, lol, because no one was looking at me even as I called for attention.
Fresh fruits… well there were yogurt cups, muesli, and some cold cereals too. There were a lot more food items but in general I wasn't very impressed by the breakfast spread. I felt it wasn't worth the money. Our very own Spiral in Sofitel Manila and Circles in Makati Shangri-la Hotel have way better breakfast buffets.
Checking out of Marina Bay Sands is a breeze with these Express Check-Out touchscreen terminals. We left for Malaysia early morning of our 4th day in Singapore and these made checking out so much faster.
All in all, Marina Bay Sands is worth staying at if only to try swimming in the infinity pool. Well, it's also conveniently attached to a mall with lots of restaurants and shops so location is pretty good. There's unlimited free wifi internet too. Rooms and service are average, breakfast is underwhelming, and well… everything here is expensive lol. Next time we go to Singapore I think I'll try booking at Festive Hotel in Sentosa which was highly recommended by a friend.
Marina Bay Sands
10 Bayfront Avenue,
Singapore 018956
+(65)6688-8888
Like this post? Subscribe to this blog by clicking HERE.
Let's stay connected: