I'm in charge of meals at home. Although I cook, I don't particularly like slaving over a hot stove in a hot kitchen. When we were setting up our house, I had always assumed there was going to be a helper who would cook for us. Thus I wasn't very involved in how our kitchen was going to be. I regret that now, but it's a tad too late to decide that I want an air-conditioned kitchen with marble counters, lots of cabinets, and so forth. Boo. Thus I just try to make my life easier by ordering ready-to-cook, ready-to-heat, or ready-to-eat food.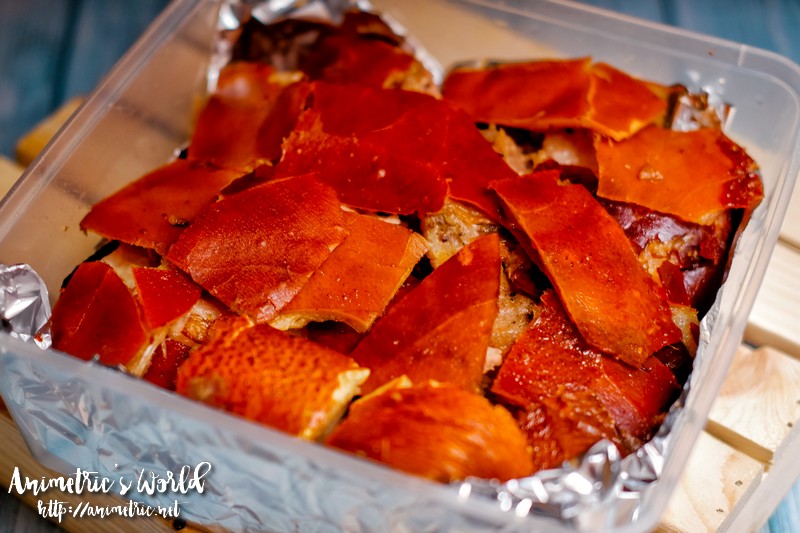 So the latest food purveyor I tried ordering from is Mang Caloy Lechon De Cebu. Lechon is something I would not even attempt to cook so if we're craving, we order… and Mang Caloy delivers. They're based in Pasig so it's not that far from where we're located in QC. Their prices are very reasonable too — like 1kg of Lechon goes for P799. It's all chopped and packed nicely too so all you have to do is open the container and eat.
Mang Caloy serves Cebu-style native organic lechon. They use lemongrass for extra flavor and you can taste it. We like how the meat is tender and tasty while the skin is crisp. It also comes with sauce.
Aside from lechon, Mang Caloy has other offerings which you can order frozen or cooked. We tried their Pork Sisig which I ordered frozen. When we wanted to eat it, all I had to do was thaw and then pour into a pan and heat. It's only P140 per 200g serving, probably the most economical sisig I've ever ordered. It's very tasty. It's made with sauteed pork mask, chicken liver, onion, and pepper. I was told this was their bestseller and I'm not surprised.
We also tried their Lechon Paksiw (P230 for 450g) which I quite liked. I also ordered it frozen and just thawed and heated when we wanted to eat.
Their Pork Siomai (P120 for 12 pcs) is a surprise. They're very meaty and I love how I can just line them up on the rice cooker tray and cook them with the rice. It's so convenient. These come with soy sauce, chili oil, and calamansi too. They also have other dishes like Dinuguan (which I gave my mom-in-law and she said it was delicious), Callos, and Laing.
Mang Caloy Lechon De Cebu has some of the most economical offerings especially if you're looking for everyday ulam. You can order by calling their hotline at 8425-3770 or messaging them on Viber via 0905-7500074.
Like this post? Subscribe to this blog by clicking HERE.
Let's stay connected: