I've been to majority of tonkatsu places here in Metro Manila. I really liked Ginza Bairin when they first opened. Unfortunately they deteriorated and then their branches shut down. I don't know if there are any left open. I hated the last meal I had there so much I've never really bothered to keep tabs on them.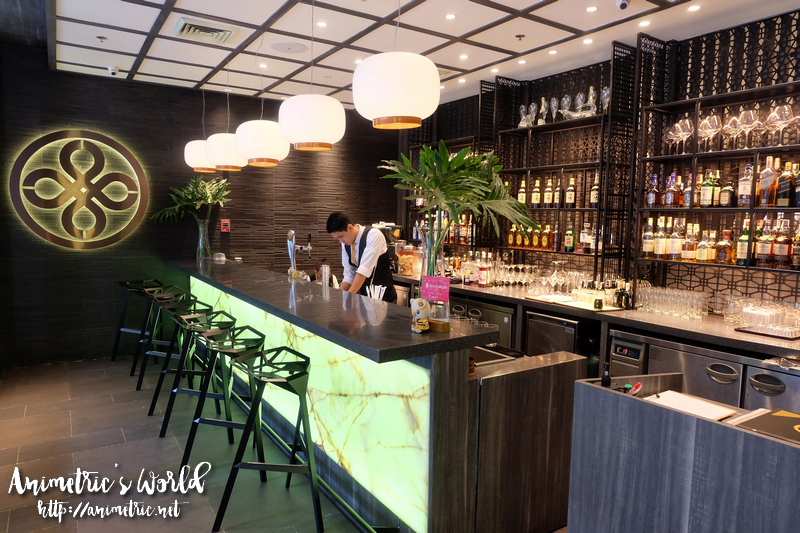 So anyway, I realized that we've never tried eating at Maisen, another tonkatsu chain from Japan. We went to the BGC branch located outside Shangri-la The Fort. I was surprised at how upscale the place looked.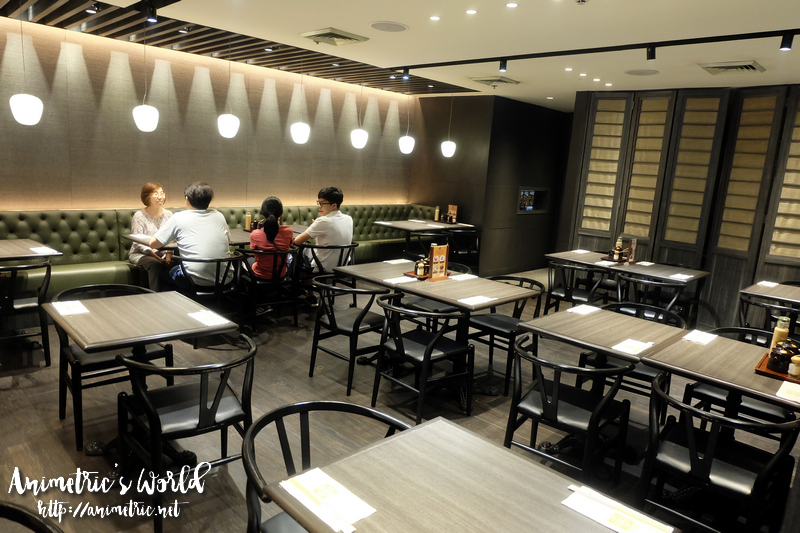 The dining area looked a lot less formal compared to the bar area by the entrance.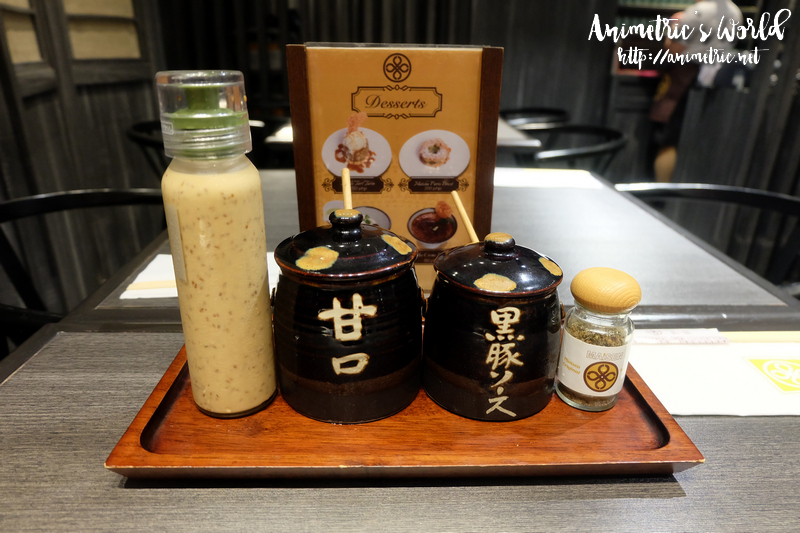 Each table is furnished with a set of condiments. Sesame dressing, 2 kinds of tonkatsu sauces, and spice salt. I'm getting ahead of myself but I highly recommend the karakuchi sauce which is made with grated apples. If you're not sure which one it is, just ask the server. 🙂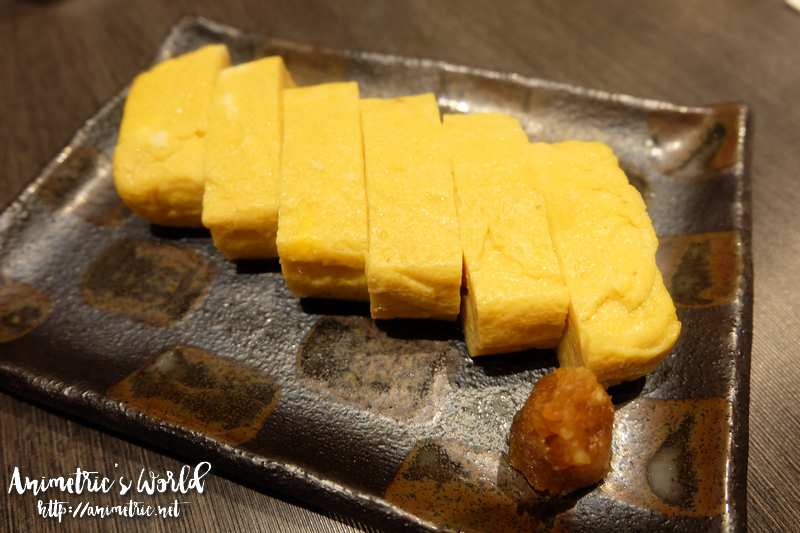 We ordered Dashimaki Tamago (P170) as our appetizer. It's a combination of dashi (bonito broth) and egg that's rolled and sliced into 6 pieces. Flavorful and soft, it's surprisingly good.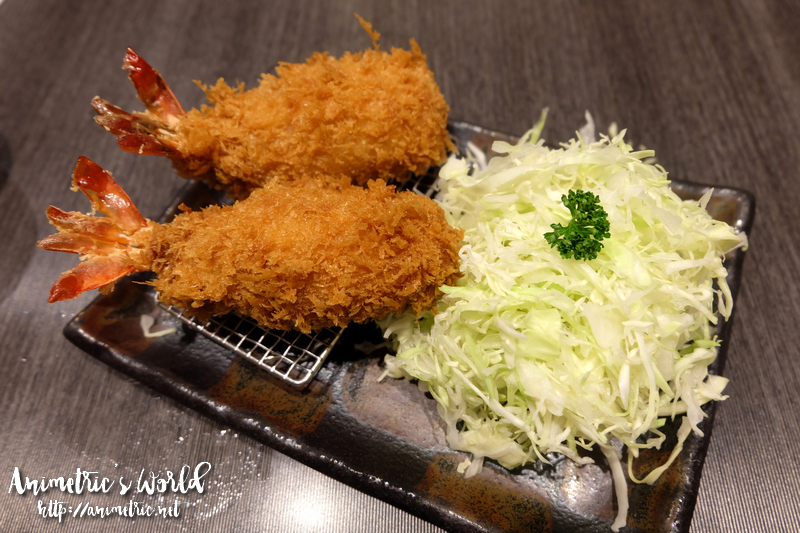 We also ordered Prawn Cream Croquette (P190). Two black tiger prawns inside a rich and creamy prawn pate are breaded and fried to a crisp. This is soooo good! My son and I each had a piece.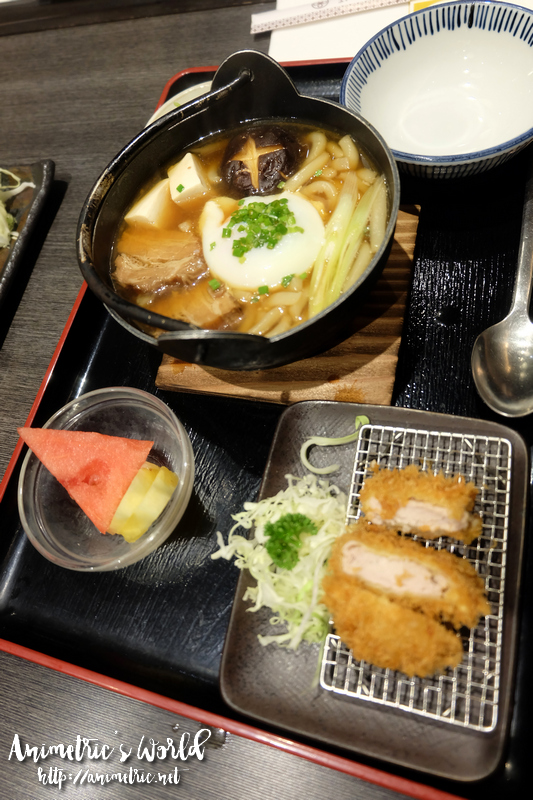 I ordered the Nabeyaki Udon Set (P395). Udon noodles are cooked in a hot pot with tender slices of pork belly, egg, mushroom, green onions, and silken tofu. Then it's served with tonkatsu slices and fresh fruit slices for dessert.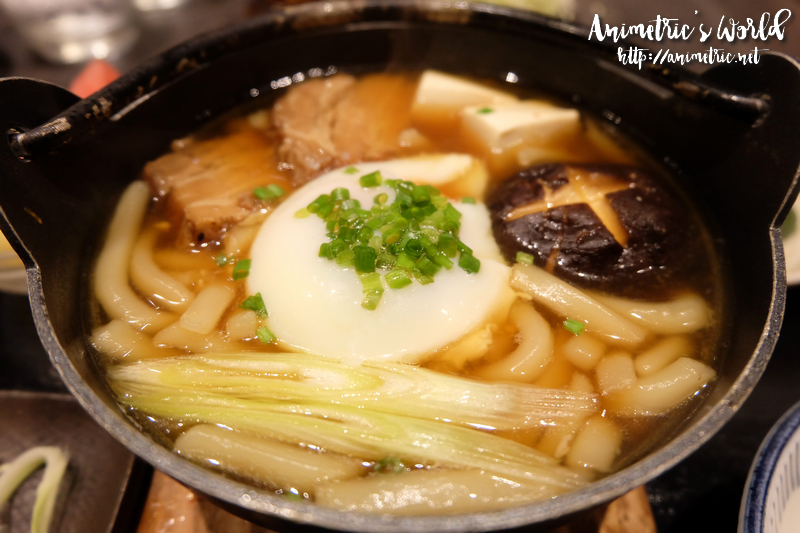 I love the Nabeyaki Udon. The broth is flavorful yet clean-tasting at the same time and the noodles are perfectly al dente.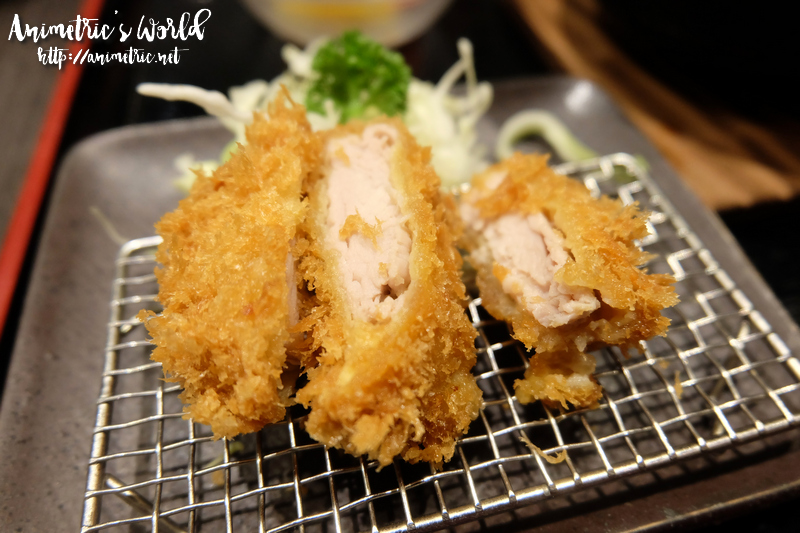 I was pretty blown away by the tonkatsu. The breading is perfect — crisp and light. There's a nice crunch when you bite into it. The meat is of good quality too. I think Maisen's tonkatsu beats everyone else's.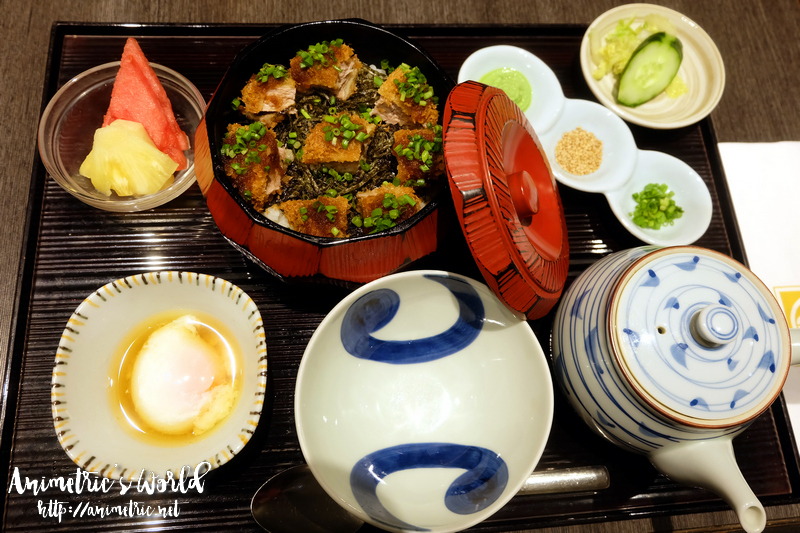 Hubby ordered the Katsumabushi Set (P390). Bite-size tenderloin katsu pieces are served with Onsen Tamago (spa egg), jelly, and dashi (bonito stock) in a tea pot.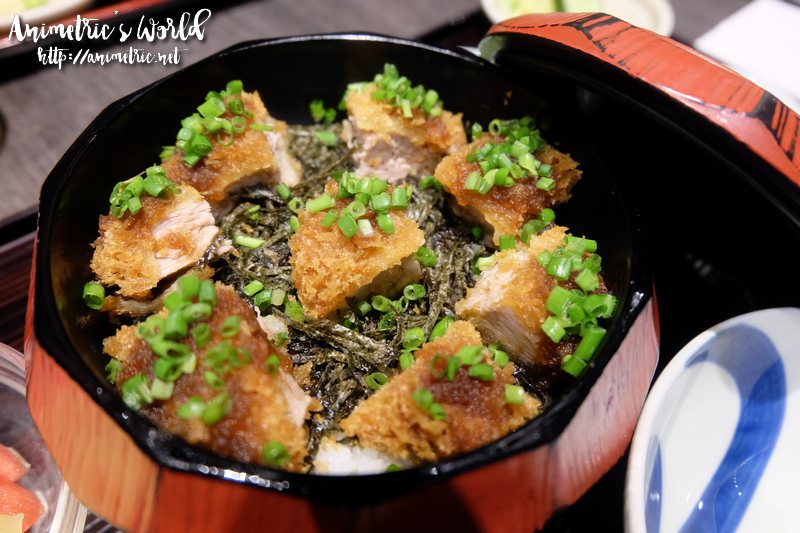 The tonkatsu pieces are placed atop steamed rice and nori (seaweed) strips then topped with green onion. Hubby loves this dish because it has a fresh and pleasant flavor that's very enjoyable.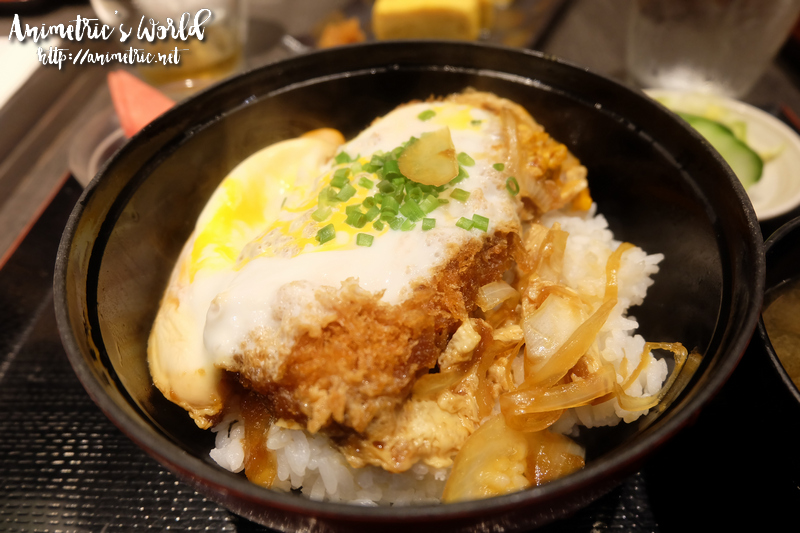 Our daughter settled for the Tenderloin Katsudon Set (P405). It's basically a tonkatsu and egg rice bowl served with pickles and miso soup on the side. She liked it a lot. She agreed that Maisen has the best tonkatsu she has tried here in Metro Manila.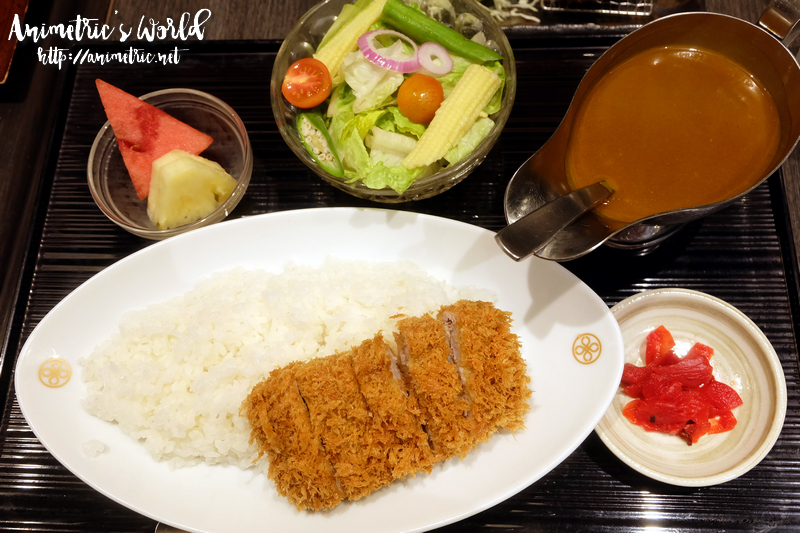 Our son decided to try the Tenderloin Katsu Curry Set (P390). This is what's popularly known as katsu curry in other Japanese restaurants. Tonkatsu slices, rice, curry, side salad, and fresh fruit slices for dessert made up his order. I had a taste of the curry and it's quite fresh and fruity with just the right amount of heat so it's not too spicy.
We were so full after our meal sets we had no space for dessert. We're all pretty much in agreement that Maisen has tbe best tonkatsu we've tried in Metro Manila so far. We've been to Yabu, Saboten, Terazawa, Ginza Bairin, and Kimukatsu… so far we feel Maisen is the best in terms of value for money as well as the quality and taste of the food. We've revisited quite a few times after our initial meal and we're still very happy and satisfied.
Maisen
30th St. cor. 5th Avenue (outside Shangri-la The Fort)
Bonifacio Global City, Taguig City
810-9514
Like this post? Subscribe to this blog by clicking HERE.
Let's stay connected: