Some weeks ago, we went to Lucky Chinatown Mall with my in-laws. We went to see the Miracle Art Exhibition and had lunch at Tonkatsu by Terazawa.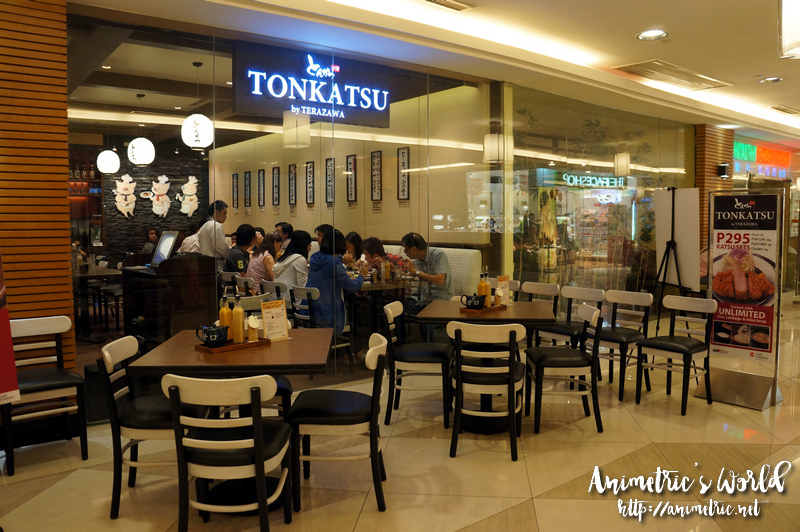 This is yet another tonkatsu place to add to the three others we've tried: Yabu, Ginza Bairin, and Saboten. Tonkatsu by Terazawa is a franchise from Japan. Come to think of it, every other place is a Japanese franchise except for Yabu.
I really liked the neat and simple wooden interiors of Tonkatsu by Terazawa at Lucky Chinatown Mall.
Each table has a small tray with a small pot of tonkatsu sauce, two kinds of dressings, and sesame seeds inside a portable grinder.
I asked for some hot service tea to drink. You can also have it cold.
My son, daughter, and I all ordered Hire Tonkatsu Set (P295 for 80g). P295 is actually a promotional price and size, because the normal regular order costs P395 for 120g. With the set you get unlimited Japanese rice or brown rice, unlimited cabbage, and unlimited tonjiru Soup. Tonjiru soup is really flavorful miso soup with pork. It's tastier than the usual miso soup. You also get a small plate of pickles. I didn't like their pickles because instead of the usual radish, plum, or cucumber, it was pickled cabbage and carrots. I thought there was too much cabbage already. I asked the server if this was their normal pickles, she said yes. I wanted contrast and having different kinds of cabbage didn't do it for me.
So anyway, I had Hire Tonkatsu (the version with no fat). It was pretty good — lean, tender, and crisp outside. The kids and I all finished our sets. They even asked for more rice. The promotional P295 80g portion is good for kids and people who are watching their weight like me but for someone really hungry it might be too small.
My hubby opted to have the Katsudon Set (P350). Rice is topped with tonkatsu, egg, and onions. Like our Hire Tonkatsu Sets, it also comes with refillable rice, soup, and cabbage. It's bigger than what the kids and I ordered though. He liked it a lot and said it was one of the better Katsudons he has tried.
We had a satisfying lunch at Tonkatsu by Terazawa. All the kids practically left their plates clean having finished everything, and I liked the feeling that the 80g order left me — not overly full, just right. If pork isn't your thing there's also chicken, fish, shrimp, and oyster. Service was okay. The servers were prompt and attentive. Next time though I think I should try their appetizers and desserts, lol.
Tonkatsu by Terazawa
2/F Lucky Chinatown Mall
Reina Regente cor. Dela Reina St.,
Binondo, Manila
Like this post? Subscribe to this blog by clicking HERE.
Let's stay connected: