Hubby and I decided to try out Saboten Serendra last week. We had to run some errands in BGC and we thought it would be a convenient time to go. It's the third of the three most-talked-about katsu places here in Manila, Yabu and Ginza Bairin being the first two.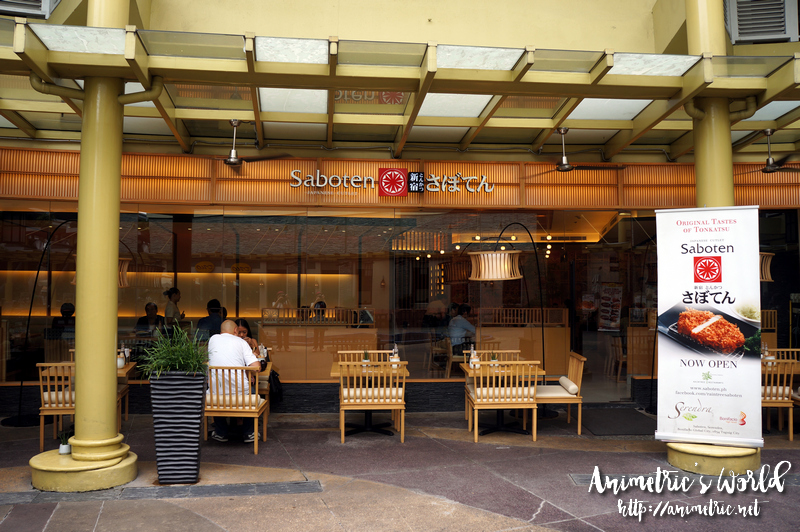 Lucky for us there wasn't a line. We were seated inside immediately.
There were actually a lot of people eating. I took these photos after the diners vacated, lol.
We were immediately served house tea, chopsticks, and wet wipes.
Like the other two katsu places, Saboten has a container of sauce and a selection of condiments on each table.
Everyone's into the whole wooden scoop thing when it comes to tonkatsu sauce. It took us some time to order because there were SO MANY kinds of tonkatsu on the menu. I think Saboten has the most extensive menu of the three.
After we decided on what we were having, bowls of shredded cabbage, pickled cucumber, and pickled radish were brought to our table.
I was given sesame seeds which I would grind and mix with the tonkatsu sauce. I believe this is where Yabu got the idea because Saboten has been around in Japan since 1966. It's just this year that it made it to our shores.
So anyway I ground the sesame seeds and mixed in three scoops of tonkatsu sauce.
I also got some cabbage and poured sesame dressing all over it.
I ordered Rolled Tenderloin Set B (P495) because it would let me try three different kinds of katsu. I got a Crab Cream Croquette, Rolled Cutlet with Cheese (you can choose the filling and have either cheese, asparagus, or plum), and a 65g Loin Cutlet (Rosu). According to the menu, Saboten's Rolled Tenderloin Cutlet (Tenderloin is Hire) is one of the most popular items since their founding.
Here's a closer look at my katsu. My favorite was the Loin Cutlet. The pork was very tender. However, the cheese-filled Rolled Tenderloin proved to be cloying. I should've gone with my instinct and picked either asparagus or plum as the filling. All of the katsu are coated with panko (breadcrumbs) that's very light and crisp.
I couldn't finish the Crab Cream Croquette. It was too creamy. It seemed to be made of shredded crab meat and mayonnaise. Next time I go back I would probably order a good old-fashioned Loin (Rosu) or Tenderlon (Hire) tonkatsu set.
Hubby ordered the Grated Radish Loin Set (P395). It comes with ponzu sauce (ponzu is a dark brown citrus-based sauce with shoyu or soy sauce) and a grapefruit wedge. You pour the ponzu sauce over the radish and tonkatsu. Then you squeeze the grapefruit all over it. He liked it a lot. I was too full to try, haha. He said it was refreshing and it had a smooth and subtle taste which he really enjoyed. The ponzu and grapefruit when mixed with the radish seems to offset any oiliness or grease from the fried pork.
All the meal sets at Saboten come with unlimited everything — miso soup, steamed rice, cabbage, and pickles.
With the 10% service charge, hubby and I paid close to P1k for this particular lunch. Ordering just a small size rosu or hire katsu set would set you back P375. So yeah, price-wise it's a notch higher than Yabu. We both enjoyed the food though and we found the service to be efficient. I think Saboten has the best-tasting tonkatsu sauce of the three establishments.
I would like to go back and try their other offerings, particularly their Clay Pot Tenderloin Set which also caught my attention.
Saboten Japanese Cutlet
G/F Serendra,
Bonifacio Global City, Taguig City
625-2000
Like this post? Subscribe to this blog by clicking HERE.
Let's stay connected: