Hubby, the kids, and I wanted to have dinner at Frankie's New York Buffalo Wings one Sunday. So we headed over to their original branch at City Golf. It was about 6pm when we got there and the place was packed. There were even people waiting for their turn to dine outside the restaurant. We gave up on Frankie's and decided to go to the interesting Mexican place beside it, Lo De Alberto Taqueria.
Lo De Alberto Taqueria has a sports bar vibe. They were even showing a basketball on the widescreen TVs during the time we ate there. The sign on the door read "Lo De Alberto — The Only Authentic Taqueria in the Philippines". Well… their chef who came up with all the dishes is Mexican, so the place truly is authentic.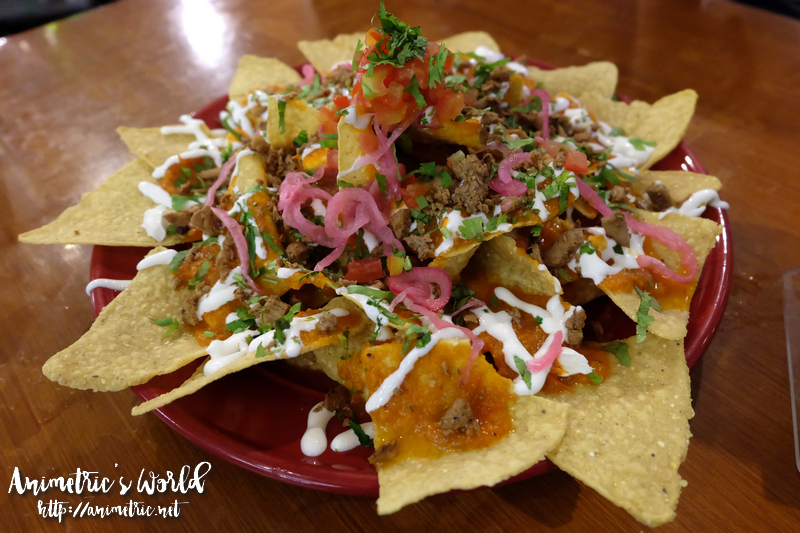 For our appetizer, we ordered their bestselling Chilaquiles (P220). The menu describes it as a deconstructed hangover cure… but I wouldn't know since I don't drink, lol. Crispy tortilla chips are drenched in Salsa Roja, Pico De Gallo, Chicken Chunks, Sour Cream, and Onions. It's really delicious, we were all wolfing it down like there was no tomorrow. One order is not enough!
My daughter got the Suadero Burrito (P230). Flavorful slow-cooked beef and rice are wrapped in a soft tortilla and served with nacho chips and sauces on the side. It's pretty filling.
My hubby, son, and I all ordered the Tres Amigos (P220), a platter which combines 3 of Lo De Alberto's original taco flavors: Suadero (slow-cooked beef), Carnitas (braised pork), and Pollo a la Pibil (traditional Mexican spiced chicken). The tacos were all very good but if you're hungry, they will leave you wanting. They're quite small and light. Great for merienda but not enough for say lunch.
As expected, our son was still hungry after his Tres Amigos. He ordered an Alambre Quesadilla (P140). A soft tortilla shell is filled with savory lean pork, onions, bell peppers, and melty cheese. It's served with nachos and dips on the side.
Service is quick and efficient. Everything we ordered was good. The food is fresh and light in general (except for the Burrito) so it may take quite a few dishes to satisfy those hunger pangs. You do feel good after eating their food though, no icky yucky unhealthy feelings. We want to go back and try other things on the menu.
Lo De Alberto Taqueria
City Golf, Julia Vargas Ave., Pasig City
0942-6396771
Like this post? Subscribe to this blog by clicking HERE.
Let's stay connected: