We were invited to try out Frankie's New York Buffalo Wings last Oct. 25, 2012. It's located in City Golf Plaza along Dona Julia Vargas Ave. in Ortigas. Frankly, I dislike going to Ortigas because of the horrendous traffic, so if I had not been invited I probably would never have known about the place.
Anyhow, we got there in time for dinner. The place is very casual. It comes across as a place to chill and enjoy a few beers after a day's work.
While waiting for the others, we were served an order of Fries (P80) and Dip (P20). The fries are just seasoned with salt and pepper but they make for great finger food all the same.
We also had some Nachos (P120). They're topped with ground beef, cheese sauce, and mayonnaise.
Frankie's serves six flavors of Buffalo Wings and they all cost the same: P143 for 1/2 dozen, P273 for 1 dozen, and P173 for boneless chicken with rice. Anyhow we started off with Frankie's Classic Buffalo, which is their red hot spicy variant. I found the hotness level just right and so I actually liked it best among all the variants. The chicken wings are pretty big and meaty plus the skin retains the crispness even when glazed with sauce.
Next up was Frankie's Special, inspired by those Taiwanese milk tea joints serving pepper chicken and similarly flavored savory snack items. Hubby liked this variant best. It's very tasty. It reminded me a bit of Ersao's Spicy Squid.
The Hickory BBQ Buffalo Wings tasted like they were basted in butter before being glazed with barbecue sauce. It was just okay for me, I liked the first two flavors better.
Then came Honey Mustard Buffalo Wings. I found them so-so.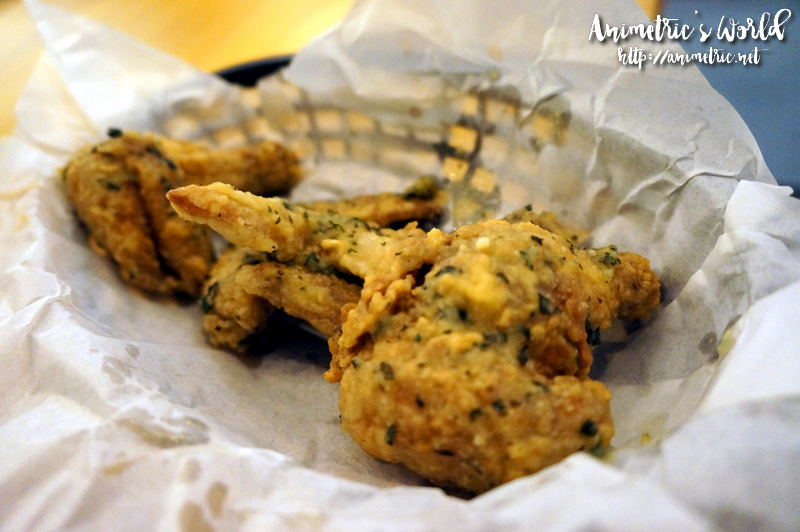 I didn't really like Garlic Parmesan because I found it greasy and cloying (nakakaumay). The buttery taste of the garlic parmesan was overwhelming after just a single piece.

Last but not the least were the Salt and Pepper Buffalo Wings. Simply put it's plain, crispy, and seasoned good old-fashioned fried chicken, if you like your wings the home-cooked way.
In case you're wondering, an order of Boneless Chicken with Rice (in whatever flavor you want) with rice would look like this.
Frankie's serves burgers too in case chicken isn't your thing. I recommend Frankie's Original (P180) since it's the only burger with a beef patty… the other variants use chicken patties. An order comes with a generous amount of fries.
For dessert, there's New York Cheesecake (P120). Uncomplicated, cheesy, and not overly sweet, we all agreed it's pretty good!
Hubby loved the fact that Frankie's serves Beer Below Zero so the entire eating experience was heightened further by the icy cold beers the flavorful wings are served with… like I said, it's a great place to chill after work especially for Ortigas-based folks. I find the prices of their wings reasonable considering the serving sizes. 😀
Frankie's New York Buffalo Wings
G/F City Golf Plaza
Dona Julia Vargas Ave., Ortigas Center, Pasig City
227-3233
Like this post? Subscribe to this blog by clicking HERE.
Let's stay connected: