A few days before my birthday, we had dinner at the newly opened La Vita Ristorante Italiano. With Chef Maurizio Gibillini at the helm, I knew I was in for an authentic Italian dining experience. It's been a while since I last had Italian. Authentic places are really quite few and far between.
La Vita Ristorante Italiano is located on the 3rd level of The Podium in Ortigas, one floor above Paradise Dynasty and Jin Joo Korean Grill. I've passed by this place a few times and it's always full. That said, it's best to make reservations if you plan to eat there.
For our appetizer, we had the Beef Carpaccio Alla Cipriani (P300) which is thinly sliced raw beef in olive oil, lemon, and chili with shaved parmesan cheese. It's pretty good! I normally don't fancy raw meat but when sliced this thin and drizzled with everything nice, I discovered I can actually finish an entire serving. Chef Maurizio Gibillini advised us to drink only either water or wine with our meal so the beverage would not interfere with the food's flavors. Since I'm allergic to alcohol, it was water for me.
Then we had a comforting bowl of Brodetto Di Mare (P200+). It's a clear seafood soup with lots of tasty clams. Incredibly flavorful and comforting, I don't advise sharing it lol.
There are pizzas and there are pizzas. I've tried at least 3 different pizzas at La Vita and they are all deliciously addictive. The dough is made fresh daily using the traditional Italian recipe which uses only flour, salt, water, and yeast. The resulting crust is soft and chewy. Pizza Con Burrata Fresca (P540) is my favorite pizza because… burrata lol. Bursting the burrata and spreading it all over the pizza before eating it makes it impossible to stop at one slice.
All the pizzas are cooked in this wood-fired pizza oven.
The Gamberonial Salmoriglio Di Panteleria (P880) is a nice surprise. Grilled prawns in salmoriglio sauce (that's lemon juice, olive oil, and oregano) are served with fresh salad a.k.a. leaves. The prawns actually go well with the leaves though.
It's not really an Italian dinner if there's no pasta so we had Pappardelle Alla Crema Di Tartufo (P440). The pappardelle is house made and you can clearly taste the difference compared to pastas cooked from packs. It's served with a generous helping of rich porcini truffle mushroom cream which is not at all cloying. I usually skip white sauced pastas because they get overwhelming but this one is rich yet light and fresh, I don't know how they made it so.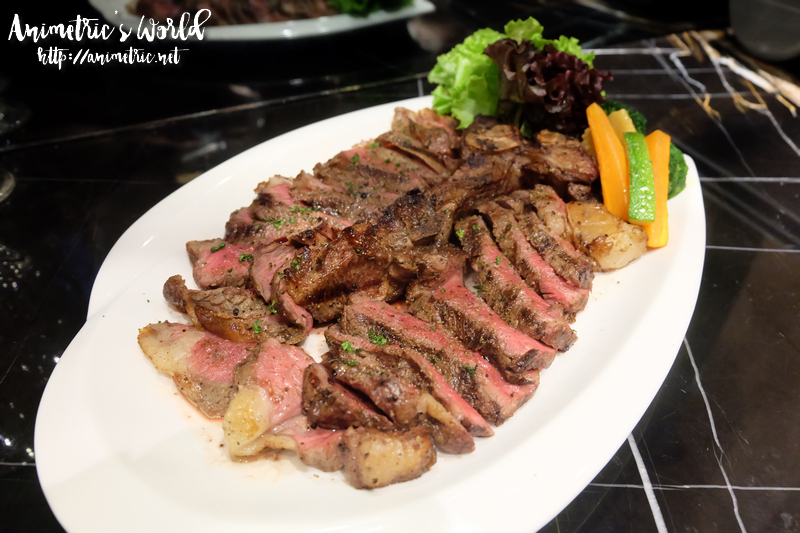 Probably the most expensive food item on the menu is the Fiorentina Alla Giorgone (P4,400). Imported certified Black Angus porterhouse steak is served with mashed potato and buttered vegetables. The steak is very tender and tasty but I found it a tad too raw.
We had what seemed to be the most popular dessert at La Vita — Mousse Di Cioccolato (P280). The menu describes it as the ultimate chocolate fix and I must agree. I can't fathom how chocolate that's so rich can be light and fluffy at the same time. Chocoholics rejoice… this is indeed a chocolate lover's dream.
There's a lot of bang for your buck at La Vita Ristorante Italiano. Prices are surprisingly reasonable given the quality and authenticity of all the dishes. Can't wait to go back and try their other offerings!
La Vita Ristorante Italiano
Level 3, The Podium
ADB Ave., Ortigas, Mandaluyong City
834-1888
Like this post? Subscribe to this blog by clicking HERE.
Let's stay connected: