Happiness is the 80th K-Drama series I've watched and is definitely one of my favorites. It's the comeback series of two actors I really like — Park Hyung Sik (The Inheritors / The Heirs, Strong Girl Bong Soon) and Han Hyo Joo (W Two Worlds). Park Hyung Sik had been doing military service during the last couple of years and he has come back a better actor. I like how much manlier he is now compared to when he did Bong Soon. Han Hyo Joo has also returned as a kickass action star of sorts. I have to give props to the casting director.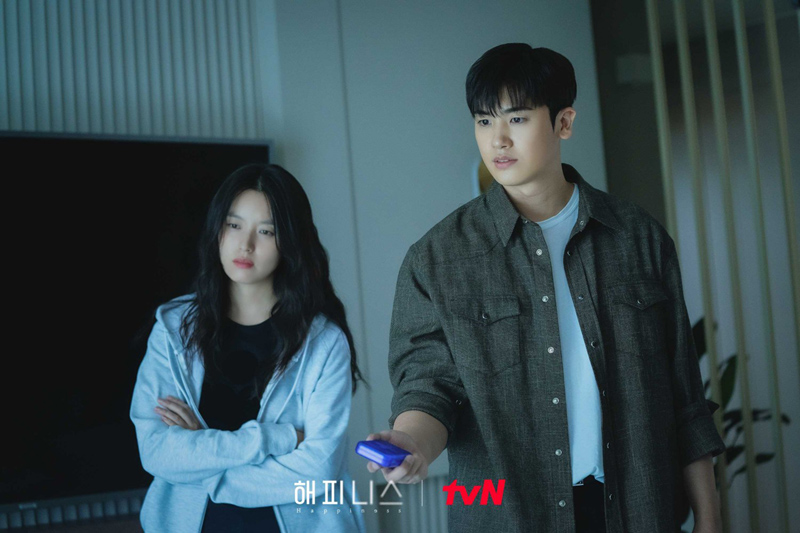 Happiness is set in post-COVID South Korea. People are trying to live with the aftermath of the disease. Problem is, people who took the medicine for it are suddenly turning into what seems like zombies. They're rabid and they bite. Those they've bitten get sick with all the same symptoms and then go bite others. Park Hyung Sik plays police officer Jung Yi Hyun, while Han Hyo Joo is special forces agent Yoon Sae Bom. For the sake of government benefits, Yi Hyun and Sae Bom are longtime friends who decide to live together and go into a fake marriage so they can get a nice condo unit at a subsidized price. But the mystery disease breaks out in their condo building and they find themselves in a difficult situation.
The government is desperate to keep the disease under control and find a cure. It's nothing like anyone has seen before.
Residents of Yi Hyun and Sae Bom's condo building are effectively cut off from the outside world. They are barricaded in by the military so that the infected can't escape and infect even more people.
Nobody knows what to do in order to resolve the situation. Yi Hyun and Sae Bom have no choice but to try and keep the peace amongst the residents. Supplies are running low and they don't know how long they can hold on.
Happiness is shorter than most series at 12 episodes. I was hooked after the first episode. It's really well done, going beyond the usual zombies-biting-everybody plot. Yi Hyun and Sae Bom's story unfolds gradually over the length of the series. I was really rooting for them and shipping them, they are just so cute together. Park Hyung Sik and Han Hyo Joo played the characters perfectly. Happiness elevates the usual zombie story to something a lot more relatable and real. Definitely a must-see and one of the best series I've seen this year so far.
Available on Viu.
Like this post? Subscribe to this blog by clicking HERE.
Let's stay connected: