In the past, I've discussed how to make the most of the Lazada Sulit Sweldo Sale. March is Lazada's birthday month and this is when the biggest sale always happens. This year, Lazada is combining the 3.3 sale with the Lazada Birthday Sale from March 3-7, 2023. There used to be 2 big sales in March — 3.3 and 3.27. This year, it's happening all at once! That said, we must prepare as early as now to get the best deals! How? By making the most of the Lazada Cashback system of course.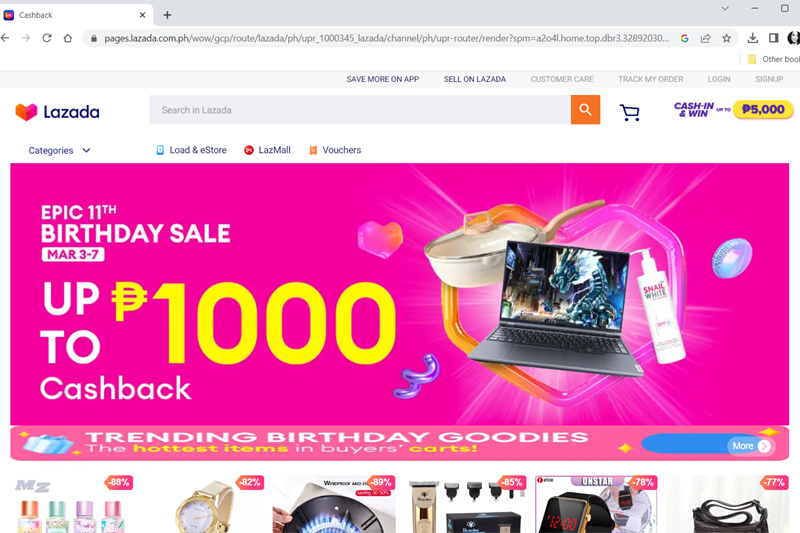 They're not kidding when they say up to ₱1,000 cashback. I've seen it when I tried carting an item with 10% cashback capped at ₱1,000.
You're going to need your Lazada app to make the most of the Lazada Cashback. Follow the numbers on the first screenshot above:
Click the Account icon on your app so you can access what I consider as your control panel.
Click on the Epic 11th Birthday Sale banner. Doing so will take you to a page full of Birthday Sale vouchers for Cashbacks, Free Shipping, and so forth.
Click on the Cashback portion. This will take you to another page full of Cashback vouchers (see middle screenshot above). On this screen you will see the Cashbacks you've accumulated. At the moment I have ₱146.56. You can use Cashback vouchers to accumulate cashbacks which get "stored" in this part of the app until you use them. Only items with the Cashback icon (see 3rd rightmost screenshot) can earn you cashbacks — provided you collected a Cashback voucher. Always remember, in Lazada, no voucher no benefit. You need to always explore the app and collect all the vouchers you can.
Okay so here's the fun part. I actually made this purchase last 11.11. After you check out the item, you can toggle a switch beside Cashback Rebate and use the cashback you accumulated in your Cashback section. Then you can apply the biggest Cashback Voucher you collected at the Cashback Voucher area. I found a Cashback Voucher that earns 10% cashback with a cap of ₱1,000 so if I use it, ₱1,000 will be saved in my Cashback section. I toggle that for use as discount in my next purchase. Gets?
Of course, to make the most of the Lazada Cashback system, you need to use it when prices are at their lowest. According to the Foreo Issa 3 product screen the price will go down to ₱7,8942.32 on March 3 for the Epic 11th Birthday Sale… so that's when you should check out. I was able to buy the Foreo Issa 3 last 11.11 for ₱6,656.26 by using everything I know about vouchers lol. It's the best toothbrush I've ever used but I'll save that review for another post.
So go ye therefore and explore the Lazada app so you can start collecting those vouchers and carting sale items for checkout on March 3!
Like this post? Subscribe to this blog by clicking HERE.
Let's stay connected: