I've always been curious about Herbatint Permanent Hair Colour Gel. I see it every time I visit Healthy Options. It's an Italian brand and it's widely touted as the healthy hair coloring kit. Enriched with 8 organic herbal extracts, it nourishes and protects the hair and scalp. My mother-in-law has actually been urging me to switch to this brand.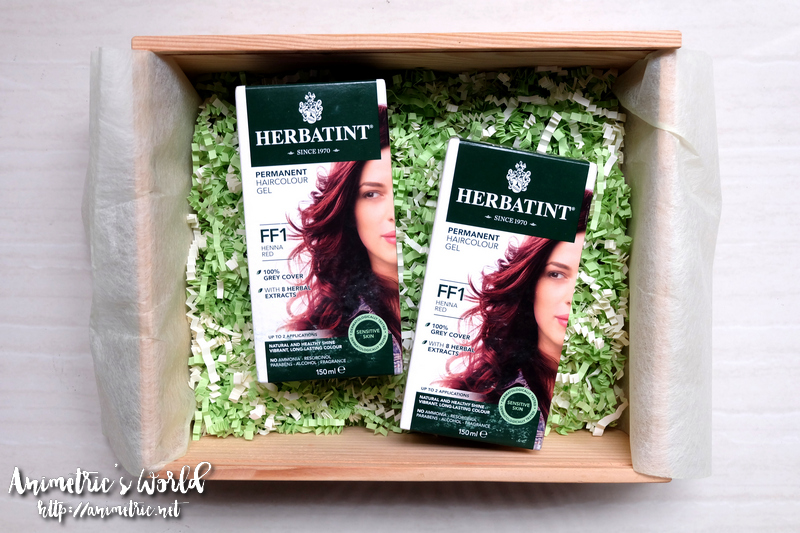 I recently got a chance to review Herbatint. Granted, it's a bit more expensive compared to regular hair coloring kits at P1,095 per kit. However, one kit is enough for 2 uses if your hair isn't thick or long. If it's thick and long like mine, you will need one kit. I usually have to use 2 kits when I color with Liese or AprilSkin. That said, Herbatint's P1,095 price is only a bit higher versus buying 2 regular hair coloring kits.
I picked the shade FF1 Henna Red. According to the website since Herbatint uses a low hydrogen peroxide concentration, it can only lighten hair by 2 tones. My hair is previously colored so 2 tones lighter is still a obviously lighter than my original hair color.
One Herbatint kit contains the following: Herbatint Normalizing Shampoo 15ml, Herbatint Royal Cream 15ml, Herbatint Permanent Herbal Hair Colour Gel 60ml, Herbatint Developer 60ml, Instruction Sheet, and Plastic Gloves.
The first step is to mix together equal parts of hair colour gel and developer in a non-reactive container. I dumped all of the 2 bottles' contents in a plastic bowl I got from Watsons. The solution is water-like at first but it thickens as you mix until it's more gel-like. I was wearing the plastic gloves at this point so I couldn't really take pics anymore. I used a hair coloring brush I also got at Watsons to apply the gel to my hair.
There's a Herbatint Application Kit that comes with a cape, brush, and measuring cup that's sold separately. I'm just not sure if Healthy Options carries it. Good thing the solution is not drippy so after application I just put on a disposable shower cap so it wouldn't mess up my neck and my clothes. Then you leave the gel on your hair for 40 minutes. Rinse it all off afterwards (I recommend rinsing with cold water until it runs clear) and use the shampoo and conditioner included in the kit.
So this is the result of my Herbatint hair coloring session. My hair isn't as light or vibrantly colored as compared to when I use Japanese or Korean kits. It actually looks darker than usual but with a deep red tinge. I'm happy to report that it covered ALL of my white strands… as in there's none left. This is by far the best DIY kit I've tried when it comes to grey coverage. My hair was actually a lot longer than this when I colored. I cut it 2 days after coloring.
Here's my hair under natural light. I'm pretty happy with the color. It's a classy red hue that complements my skin tone perfectly.
What I like about Herbatint Permanent Hair Colour Gel:
It's not harmful to my hair. I didn't even feel any fumes. My eyes get teary when I use other DIY kits because of the chemical fumes.
There's no stinging sensation on the scalp.
It's fragrance-free — there's no scent.
There are a lot of available colors.
The grey coverage is excellent. In fact, it's the best I've tried. All my white strands are gone.
One kit is enough for my thick, long hair. With other brands I end up using 2 kits.
The color doesn't bleed in the following days when you shower. It didn't even stain my towel the first day.
Downside? You have to have your own bowl, brush, and cape for application. The plastic gloves are ill-fitting too… I think the fingers are too short. It also takes longer for color to develop at 40 minutes. Other kits can color your hair in 10 to 30 minutes.
Herbatint Permanent Hair Colouring Gel is available at P1,095 per kit at all Healthy Options stores nationwide. Log on to https://www.healthyoptions.com.ph for a complete list of stores.
Like this post? Subscribe to this blog by clicking HERE.
Let's stay connected: