During one of my visits to Healthy Options at Robinsons Magnolia, I spotted a new brand of natural hair color. I'm a fan of Herbatint and I happen to think it's the best when it comes to grey coverage, but I'm always open to trying new things. So I bought a Tints of Nature Permanent Hair Colour Kit (P939).
What do you know, a few weeks later I was invited to a Tints of Nature Healthy Hair Workshop at Robinsons Magnolia!
Tints of Nature is a UK brand which was estabablished in 1995. It promotes products that are made from kinder and more natural ingredients which strengthen hair — 75% organic and 95% natural. In fact, almost all their products have a mild fruity or floral scent.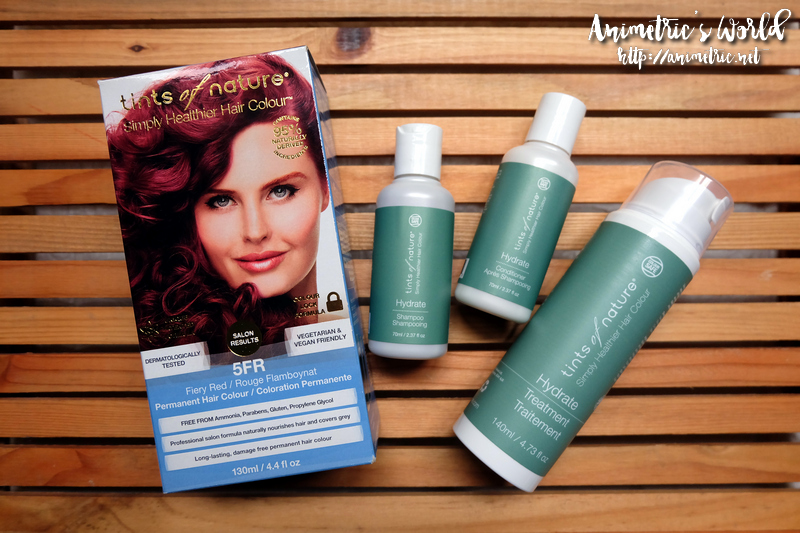 Tints of Nature has 3 hair color lines — Permanent Hair Colour (P939), Henna Cream (P775), and Bold Colours (P850). Both Henna Cream and Bold Colours are semi-permanent so they wash off in a few weeks time. I opted for Permanent Hair Colour because DIY coloring is a chore for me so the less I have to do it the better. If you want to lighten your hair up to 7 shades, Tints of Nature has a Lightener Kit (P1,095) that's 100% ammonia-free. It's a lot gentler on hair compared to bleach so if you've always wanted to be blonde or pink haired, this is the way to go.
Anyhow, I don't really want to lighten my hair too much so I just got the hair coloring kit and the Hydrate Shampoo, Conditioner, and Treatment since my hair is dry. Using the Hydrate products prior makes your hair more receptive to coloring.
The Tints of Nature Permanent Hair Colour Kit comes with an instruction leaflet, clarifying shampoo, colourfix, colour gel, Hydrate shampoo and conditioner, plastic gloves, and plastic cap. You wash your hair with clarifying shampoo first to get rid of all the residue. Then if you have the Hydrate treatment, massage it all over your towel-dried hair and leave it on for 15 minutes before rinsing. After this you add colour gel to colourfix and shake. Apply color and leave on for 30-40 minutes. If you are covering greys or if your hair is resistant to coloring, do 40 minutes. Use the Hydrate shampoo and conditioner afterwards.
This is my hair after coloring. The result is a subtle reddish tone which can be seen when I am under natural light. Grey coverage is okay, but I think Herbatint does a better job. My hair feels soft though, so it really is not drying or damaging. While coloring, there's no strong chemical scent. There aren't fumes that make my eyes tear up as well.
Tints of Nature Permanent Hair Colour is relatively easy to use. It's pricier compared to the usual hair coloring kits but then it does use natural ingredients and it's free from stuff like ammonia, parabens, propylene glycol, and so forth. It also contains the lowest levels of PPD (Paraphenylenediamine) pigments. This can actually be classified as vegan… plus they don't test on animals.
Tints of Nature products are available at all Healthy Options stores nationwide.
Like this post? Subscribe to this blog by clicking HERE.
Let's stay connected: