I bought the AprilSkin Turn-Up Color Treatment from Shopee out of sheer morbid curiosity. I got it for P350 + shipping fee. The online reviews I checked were all positive. Since I color my hair quite often, I'm always on the lookout for new and better products to use.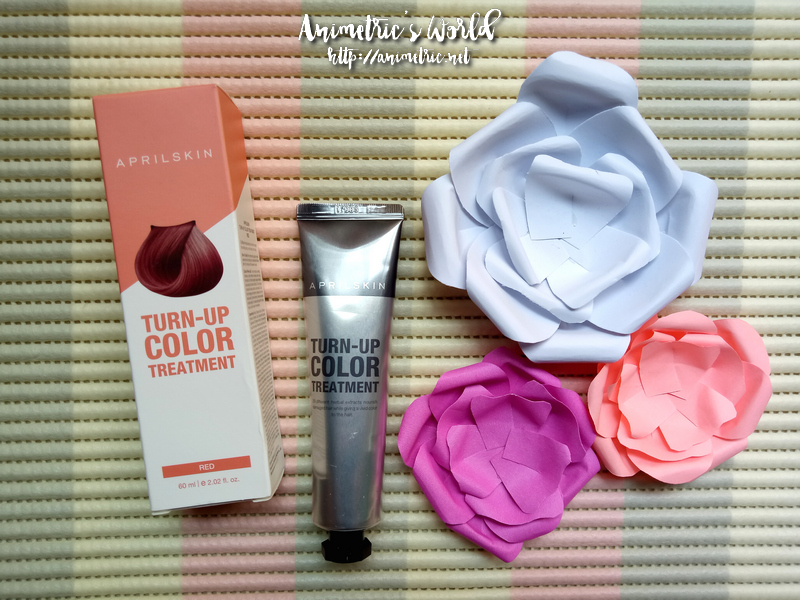 I got AprilSkin Turn-Up Color Treatment in Red. It's a DIY hair color kit which gives your hair a temporary tint that lasts 2 weeks. Each kit comes with a pair of plastic gloves and a cape.
There are actually five (5) colors to choose from: Red, Orange, Peach Pink, Pink, and Green Blue. I'm so over orange and blonde shades lol. I stick mostly to brown, red, and burgundy these days. Got my eye on Blue Green so I might just purchase that next. The good thing about this product is it's really a deep conditioning treatment that nourishes and softens your hair. It's enriched with 20 herb extracts and jojoba oil.
Much as I want to share application photos, I couldn't take any because it was too messy. Basically you empty out the tube's contents into a bowl. I used a plastic bowl similar to the ones salons use. You can find those in Watsons. Then I just used my gloved hands to cover my hair with red paste. I left it on for 20 minutes as per the instructions. I shampooed all the paste off afterwards. Prepare for major color bleeding. My towel had purplish red streaks even after I had tried my best to rinse off the paste.
These are my before and after photos. As you can see, my hair wasn't bleached prior to using the product but I still got dramatic results.
This is my hair exactly 15 days after I colored it with April Skin Turn-Up Color Treatment. I washed my hair almost everyday. The Red shade I used sort of blended with my previous hair color and I love it! I did use Cream Silk Color Protect Conditioner all throughout so that might have helped extend the color.
What I like about AprilSkin Turn-Up Color Treatment:
My hair felt so soft and smooth afterwards! They weren't exaggerating when they said this product repairs and restores damaged hair.
It smells soooo good. Very fruity.
There are no harsh chemicals — no stinging on the scalp and no fumes that get in your eyes.
The color is intense! I was surprised the results were so dramatic.
Grey coverage is excellent. They do reappear after 2 weeks though lol.
You can mix the colors together to come up with your own unique shade.
Downside? One tube contains very little product. It's actually a bit lacking for shoulder-length thick hair like mine. I need 2 tubes for best results. If your hair is longer and thicker than mine in these photos, you might need 3 tubes. My color would also bleed every time I wet my hair. This happened for about a week.
AprilSkin Turn-Up Color Treatment has no official Philippine distributor yet. I bought mine from a seller at Shopee. It's available for P400+ at Althea as well — you can get P200 off if you use my voucher.
All photos on this post (except for the AprilSkin poster) were taken with OPPO F3 The Selfie Expert.
Like this post? Subscribe to this blog by clicking HERE.
Let's stay connected: