When our helper went on her annual summer vacation, I couldn't really cook at home. It's not that I don't know how to… it's because the mess it would generate would most likely attract roaches. Everyone at home is deathly scared of them. Thus we would always have dinner out for the 2.5 weeks she was gone. One of our go-to places was Goto Tendon.
Goto Tendon is always packed full of people. It's impossible to get a nice photo of the counter and the dining areas. There's always a line and there are always people standing in wait for tables to be available. Anyhow, we always go at around 5:30pm before the dinner crowd sets in. This is so we can get a table.
My son always goes for the Tapsilog (P168). I've tried it during one of our dinners and I find the beef a tad too fatty. Flavor is okay but yeah… too much fatty bits for me. It's served with garlic rice, atchara, and a fried egg.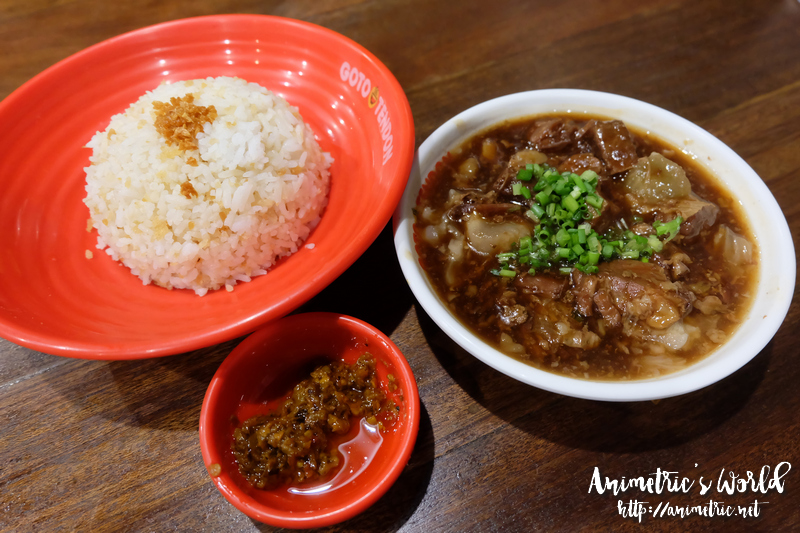 Hubby's preferred meal is the Beef Tendon Pares (P158). It's beef with tendon (litid) stewed in sauce and served with garlic rice and chili garlic oil on the side. I don't eat tendon so I don't think I'll ever order this. He likes it a lot though.
My daughter and I usually order their Burger Steak (P188). It's served on a sizzling plate with garlic rice topped with a fried egg and lots of gravy with mushrooms. Surprisingly good… if it isn't burnt. The last time I ate, one side of the burger was a bit charred so it was kind of bitter. The ground beef they use is of good quality.
Whatever you order, you get a free bowl of clear soup. It's quite comforting and it does taste like actual soup stock, not something made from powder or bouillion cubes.
Now this is the usual scene outside Goto Tendon — cars blocking the entrance and a horde of people sitting or standing inside and outside. They're open from 11am to 3am so if you're hankering for anything from brunch to a post-midnight meal, you can have it.
While food isn't anything mind-blowing, I think it's the awesome value for money that keeps people coming. All meals are below P200 plus you get a free bowl of hot soup. You get to eat real cooked food, not the processed stuff they serve at fast food joints. They have side dishes, drinks, and desserts too. I actually tried their Tokwa't Baboy one time and liked it. Love that our family of four can eat here for under P1k… we usually spend about P700+ to P800+.
Goto Tendon has several branches but we usually frequent the one in Scout Tobias, Quezon City. It's probably easier to eat at their Promenade branch in Greenhills since parking would be less of a problem.
Goto Tendon
49 Scout Tobias St., Quezon City
518-5527 / 0917-8613692
Like this post? Subscribe to this blog by clicking HERE.
Let's stay connected: