Visited Good Good Milk Tea in Quezon City last Saturday. It's located right beside Goto Tendon along Scout Tobias. This is the nth Taiwanese milk tea brand to cross over to Philippine shores. At the moment, they have only one store… but at least 2 more are already in the works in Ortigas and Bulacan. I asked the owner what made him decide to bring Good Good to the Philippines. He said it was unintentional. He was on vacation in Taiwan with his wife and they happened to stop by a milk tea place. They had a couple of drinks and he was blown away by how good the milk tea was. That was where it all began.
What sets Good Good apart from other milk tea brands is the selection. They don't just serve milk tea, they have fruit smoothies and juices too.
The store is pretty spacious. You place your orders at the counter but there are bar stools and lounge chairs so you can hang out for a bit.
This is one of the more unique drinks at Good Good, the Black Rose Milk Tea (P120 for 500ml / P140 for 700ml). It's black tea with milk + rose essence at the bottom. You can have this drink hot or cold. This is a drink to try if you want something light. The rose essence is very subtle.
This is Red Zen Tea (P120 for 500ml). It's comprised of dragonfruit, lychee, and tea. Very fruity… they certainly didn't skimp on the dragonfruit and lychee. I don't like lychees though so I probably would not order this.
This is the Brown Sugar Milk Tea with Cream Cheese (P160 for 700ml). It's available hot or cold. They actually torch the brown sugar topping prior to serving.
The torching thing got me so I ended up ordering this lol. It was okay but too sweet for my tastes even at 50% sugar level.
My son opted for a smoothie, the Strawberry Blonde (P220 for 500ml). It's blended fresh strawberries and oranges layered with chia seeds. He said it was good.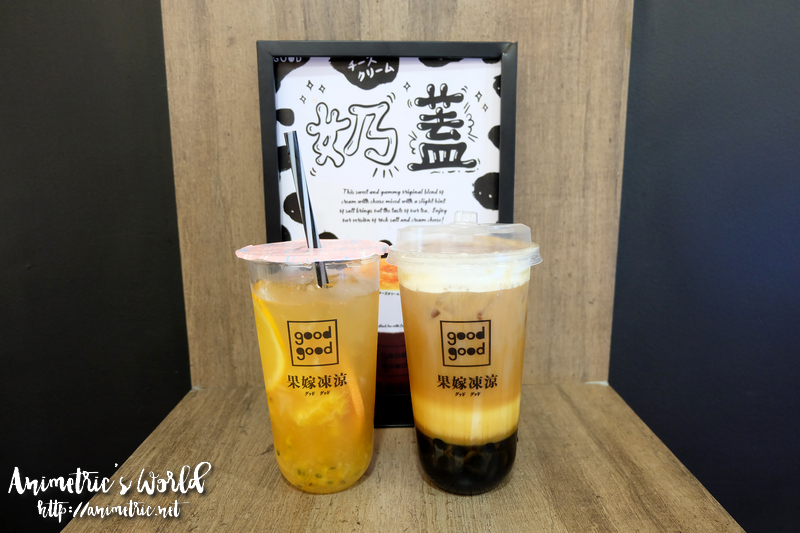 Aside from the Brown Sugar Milk Tea with Cream Cheese, I had the Sunset Tea (P160 for 700ml). It's a mix of orange, grapefruit, passionfruit, and tea. As with all their other fruit drinks, this one is packed with fruits. It's nice and light.
My favorite drink is not a tea concoction. It's Green Grin (P160 for 500ml), which is a mix of fresh coconut + kiwi juices — there are coconut and kiwi bits too! I love the refreshing combination.
Good Good will also be serving Taiwanese snacks soon.
Good Good
Scout Tobias St., Quezon City
518-5527 / 0917-8613692
Like this post? Subscribe to this blog by clicking HERE.
Let's stay connected: