There's one buffet place hubby and I have always been curious about… Sitio Verde Restaurant. it's located right across Goto Tendon on Scout Tobias. They used to have a sign which said P348 for an eat-all-you-can buffet lunch and dinner. For some reason, we always end up going to Goto Tendon whenever we're in the area so it was only yesterday when we finally got to try Sitio Verde Restaurant.
Sitio Verde Restaurant is a big house turned into a restaurant… or is it a restaurant set up like a house??? I'm not really sure. But it doesn't really matter. We were there for the food.
This is the main dining area. They also have function rooms of varying sizes.
For P398 per head (their buffet rate has gone up to P398 from P348), there's a lot of food choices available. There were 3-4 kinds of sushi rolls… although not that great lol.
There's quite a selection of carbs. This is their Pancit Canton. I liked its simple smoky flavor. Other carb options are Spaghetti (red sauce and white sauce), Steamed Rice, and Yang Chow Fried Rice. The Spaghetti is okay — pasta is freshly cooked while the sauces taste like they came straight from the pack… which is fine. What I didn't like was the Yang Chow Fried Rice. The rice they used was too old and dry so the grains were kind of stiff.
This is Sauteed Spicy Squid. I thought it was pretty good.
I liked theire Buttered Chicken too! They serve it with Banana Ketchup as dip. Crunchy, meaty, and well-cooked, this is how I like my fried chicken. For me it's better than Pancake House's Pan Chicken.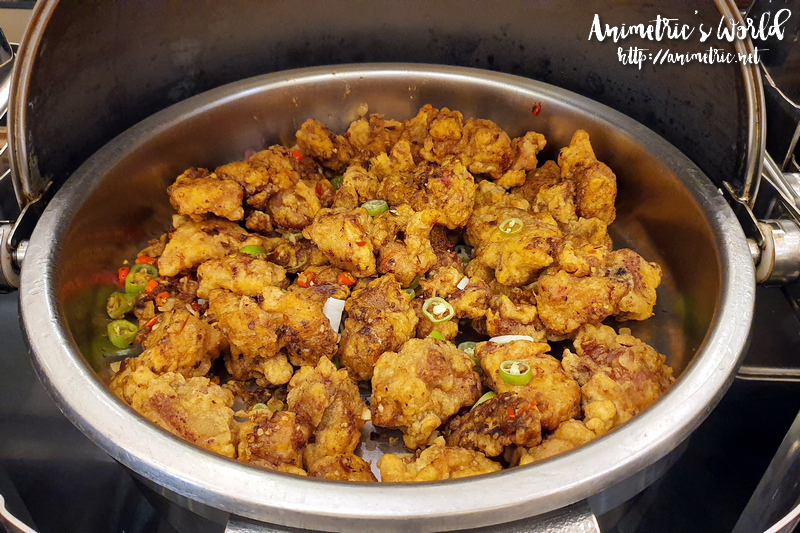 This is Salt and Pepper Spareribs, typical Chinese restaurant fare. It's average and can be likened to every other Chinese resto's Salt and Pepper Spareribs.
Buttered Vegetables tasted like they were cooked in Star Margarine. The veggies are of good quality though so I still ate quite a bit of this.
They have 2 kinds of soup at any given day. It was Crab and Corn Soup (shown above) and Pork Sinigang that day. Hubby had Crab and Corn while I had Pork Sinigang. Their sinigang wasn't sour at all lol.
They had Pork Kare-Kare which had legit lechon kawali strips. The sauce tastes like peanut butter, as in just peanut butter so it's pretty one dimensional. Their sludgy bagoong on the side was not very good. This dish has a lot of potential and could be lots better with a few adjustments.
There was also Vegetable Tempura and Chicken Skin. Aside from what I've shown on photos they also have a simple Salad Bar (didn't look appetizing so no pics), some sort of fish dish, and Tonkatsu.
There's free-flowing iced tea, juices, and water from a dispenser.
Desserts-wise, it's just bite-sized pastries, some fruits, and DIY Halo-Halo. They were supposed to have Ginataan but by the time we finished eating at 12:30pm, they were still not done cooking it.
All in all, Sitio Verde Restaurant is pretty decent considering the price point. I'd describe the food as Chowking-level, but you can have unlimited amounts. Not bad… it's actually pretty great if you're hungry. The place is clean and they have ample parking at the lot beside the restaurant. They have party packages too which is worth considering if you're on a tight budget.
Sitio Verde Restaurant
#50 Scout Tobias St. cor. Sct. Fernandez,
Barangay Laging Handa, Quezon City
0917-8330079
Like this post? Subscribe to this blog by clicking HERE.
Let's stay connected: