Got a preview of the season's most exciting bazaar, Flair The Fifth at Rockwell last Tuesday. When I say exciting I mean it's got everything I could possibly want and want to give as gifts — clothes, accessories, food, drink, and beauty essentials. I have zero patience going to tiangges because they're usually crowded and chaotic plus they sell counterfeit items which I do not support. Flair features a well-curated lineup of smaller, lesser known brands which offer quality wares at reasonable prices. Flair is happening this weekend (Nov 23 and 24) at The Fifth at Rockwell! Let give you a glimpse of what to expect.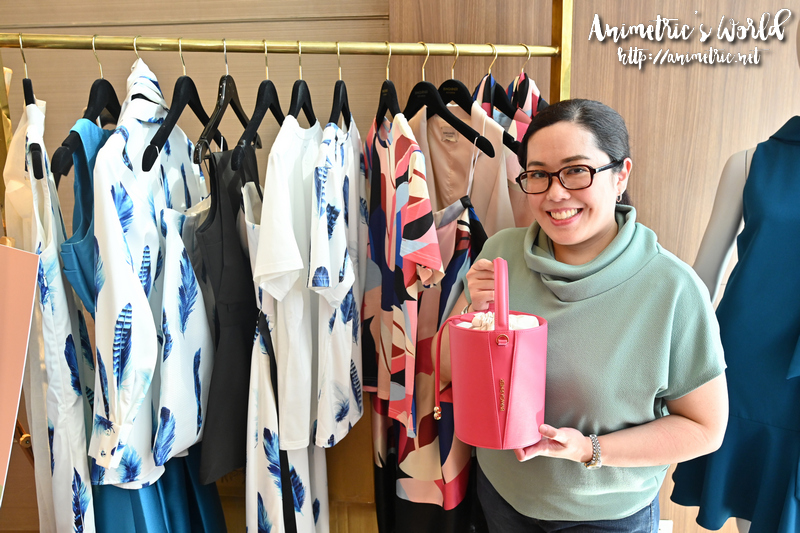 My first stop was the Mark Bumgarner stall. I see Mark's clothes worn by celebrities all over social media so I wanted to see his designs up close. He has dresses, tops, bottoms, and bags.
My favorite local bakery chain, Boulangerie 22 will be at Flair. The closest branch to me is inside St. Luke's QC so it's kind of hard to buy their yummy breads and jams. When I go to Flair this weekend, I can easily get my fix while shopping for other stuff!
I highly recommend Boulangerie 22's fruit jams. They're made of 70% fruit and they're not just pulling your leg. This is the only jam we can finish at home because it's really packed with fruit and not overly sweet. There's no sickening sugary syrupy feeling when you eat this. They have a Christmas-themed gift crate available for order for P799 which includes all the flavors.
Anekke bags from Spain will be making their debut at Flair this weekend. These young, outgoing, and carefree bags are the perfect combination of style and function. Will feature these on a separate post so stay tuned!
Mimi Beauty, purveyor of cosmetics from Korea and Thailand will be at Flair this weekend as well.
They've come up with their own cosmetic brand as well, Halo.
You can even get your caffeine fix from the Key Coffee stall at Flair this weekend! They'll be serving piping hot cups of premium Japanese coffee to shoppers.
Shopping for houseware? Stop by knus. They have a lovely collection of color-coded storage containers, kitchen items, rugs, bathroom caddies, and even decorative pieces.
These bamboo fibre products caught my eye at the knus stall.
I got a resort wear-inspired necklace from Island Style Collections.
Best packaging award goes to Capitan Del Mar (Spanish for "captain of the sea") canned sardines and milkfish! I took home some samples and I can't wait to try them at home. You can check them out at Flair too!
Local essential oils brand Pili Beauty will be at Flair as well. Aside from essential oils, they'll be showcasing personal care and cosmetic products like deodorants, lotions, lipsticks, etc.
One of the more unique accessories stalls I encountered was Copperazo. Their ear cuffs, rings, necklaces, and bangles never tarnish or corrode. They're hypoallergenic and malleable too so you can adjust to fit.
Davao-based artisan chocolate maker Chocoloco's stall is where you can get TABLEA POWDER among other decadent chocolate treats. I'm so excited to making hot chocolate with Chocoloco Tablea Powder at home.
Honest, simple, and sincere skincare solutions formulated using natural ingredients is what Bloom & Topiary is all about. Their star product is the Revitalizing Body Oil with SPF 15.
One of my fave Flair finds is Tasty Box MNL. They sell frozen dimsum like Pork and Shrimp Siomai, Beancurd Roll, Hakaw, Chicken Feet, etc. I took home some and had them for dinner at home. Hubby and the kids loved everything! Prices are reasonable too — 15 pcs. of Pork and Shrimp Siomai costs P180. Great to have at home when you're too tired to cook.
Prism Manila is another interesting brand you'll find at Flair. They offer crystal jewelry — necklaces and earrings to be exact. They will even "cleanse" the crystals for you upon purchase by putting them in a metal bowl and rubbing a wooden rod on the rim of the bowl in a circular motion. This is cleansing by sound since the circular motion makes a sort of high-pitched hum. Cleansing crystals rids them of energies they may have picked up along the way so you start fresh with them. I got a pair of unpolished green aventurine earrings which is supposedly for good luck.
Do drop by Flair at The Fifth Rockwell this weekend. You can do so during mall hours. Direct access is available via the elevators in Power Plant Mall.
Like this post? Subscribe to this blog by clicking HERE.
Let's stay connected: