Normally I would shy away from weekend events in the Makati CBD, but Boulangerie 22 and all the baked goodies therein were calling out to me. I'm a sucker for baked goods.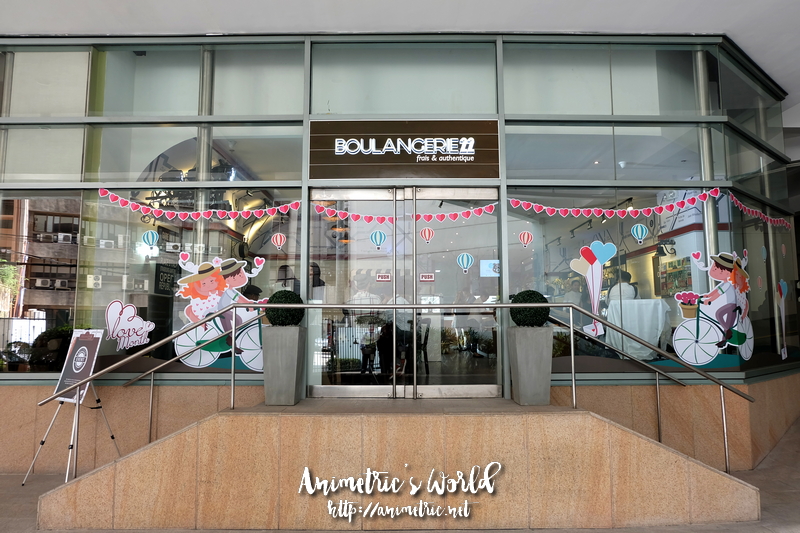 Boulangerie 22 is a fresh new French-Korean bakery concept located right at the heart of the Makati CBD. Well they actually have several branches already but this is the first I've been to. I attended their launch yesterday.
OMG, it's so quaint! They have separate sections for sweet and savory breads and pastries. I love the bright and neat interiors.
There were so many yummy things on display I got confused which ones to try. If only my tummy could accommodate them all, hahaha!
Boulangerie 22's French Macarons are to die for. At P39 a piece, they come in unique flavors (my favorite is the Maple Macaron) and wow, they are almost TWG level in terms of texture and taste. You can taste the almonds when you bite into the crisp shells and each one is oozing with the smoothest buttercream filling. I love that they're not overly sweet. At the moment they have Chocolate, Grape, Strawberry, Green Apple, Vanilla, Chocolate, and Maple macarons.
I love the cute cakes! They cost P699 each, my favorite is the What's Up Wabbit Cake… a super loaded carrot cake that's just teeming with fresh carrots, coconut, pineapple, walnuts, and then covered with a cream cheese frosting and white chocolate ganache. It's SOOOO good, probably one of the best carrot cakes I've ever tasted.
Boulangerie 22 has a lot of savory offerings too. I tried the Cheddar Chicken Floss Bread (P59). Love how soft the bread is and how they don't skimp on the cheddar chicken floss.
Love how their Italian Sourdough Focaccia (P129) isn't greasy like most Focaccia breads I've seen.
We were all served a big slice of Sourdough Pizza! It's overflowing with melty mozzarella cheese… so yummy! I bet kids will love this. It's best eaten hot.
Boulangerie 22 has a lot of Korean drinks with prices starting at P39. They also have bottled fresh fruit juices from New Zealand.
Okay so I finally settled on these yummy baked treats — Vanilla and Chocolate Financiers (love the chocolate — so rich, moist, and dense!), Butterscotch and Chocolate Rusks (you know those bread toasts they sell in the grocery that are topped with butter and sugar? they're kinda like that), Chocolate Chip Walnut Cookie (nice and chewy just the way I like it!), and a Cheddar Chicken Floss Bread. I ended up slicing/breaking everything to pieces to share with my friends as it was hard to finish a tray full of goodies on my own.
Okay this is my first blog post using my new Fujifilm X-A2 camera and here we are (with fellow blogger Tina Villa) trying out the selfie mode lol. I'm not used to it yet so it's a little awkward. I promise to practice more, hahaha!
Boulangerie 22 is more French-inspired than Korean actually. Their croissants are actually made with butter imported all the way from Normandy! You just have to taste to believe. I can't wait for them to open their store in Greenfield so it's at least closer to our office! Like Boulangerie 22 on Facebook for information and updates.
Boulangerie 22
GL2 One Legaspi Park Condominium
Rada St., Legaspi Village, Makati City
Like this post? Subscribe to this blog by clicking HERE.
Let's stay connected: