The Japanese brand Key Coffee is not really new to me. I used to be able to buy this from Aomori Cafe in Greenhills (I don't know if it's still open). But that was it. I haven't really seen Key Coffee around for a while. Then I got word that it's now officially available in the Philippines. Yay!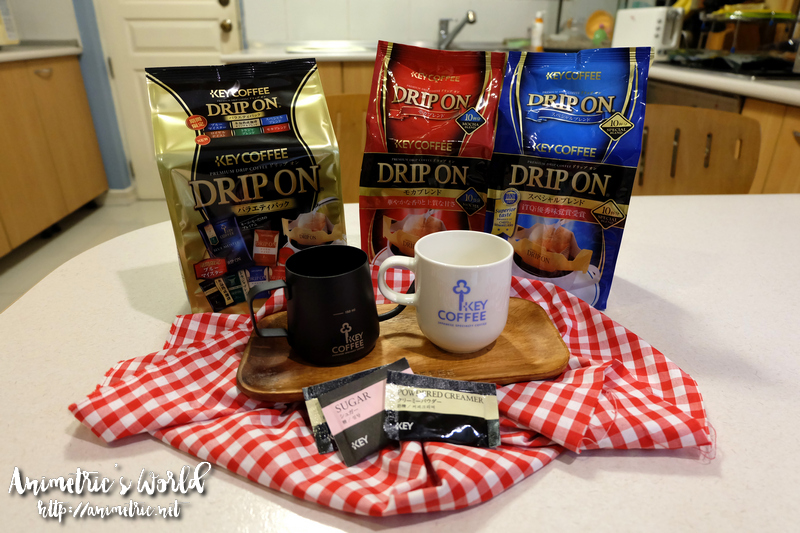 Drip On is the signature flagship product of Key Coffee. It's single serve, so you can enjoy your very own cup of the best brewed coffee anytime. I swear, it's like having coffee in a cafe.
You can now buy these online at the Key Coffee Flagship Store on Lazada. They sell Drip On, Fresh Roasted Beans, and Instant Coffee. If you can't make up your mind which product to try, I suggest getting the Key Coffee Drip On Variety Pack (₱410). It contains 6 different blends (2 packs each) so you can try a little bit of everything:
Special Blend
Mocha Blend
Toraja Blend
Royal Taste
Original Blend
Blue Meister
Now I'm quite used to Japanese products and from the looks of this, it's safe to assume that the cream of the crop is the Blue Meister. I decided to try it first. Meister is after all the German word for master, as in master craftsman. I tried to Google more info on Key Coffee Blue Meister unfortunately all the pertinent results were in Japanese. So far I've been able to make out that this blend is comprised of beans from Indonesia (30%), Colombia (30%), Mexico (20%), and Tanzania (20%). It's also characterized by a rich aroma and elegant taste.
Inside the foil pack is this coffee filter… with fresh ground coffee.
You fold in the the brown tabs inward so it becomes sort of boat-shaped. This allows you to mount it on top of your cup.
Then pour in 150ml hot water into the filter where the coffee grounds are.
Let the coffee drip. After all the water passes through the filter, your coffee is ready. This entire process takes all of 5 minutes lol.
OMG. This is the absolute bomb hahahaha! It's my first time to try Key Coffee Blue Meister and whoa, mind blown. I added 1 tsp sugar and 2 tsps of creamer. It's rich, intensely aromatic, and just incredible. You know what, our entire house smelled divine for a couple of hours after I brewed this cup. I love it! This is the ultimate caffeine fix.
Want to try Key Coffee? You can purchase their products at the Key Coffee Flagship Store on Lazada.
Like this post? Subscribe to this blog by clicking HERE.
Let's stay connected: