Hubby, the kids, and I went to BGC last Wednesday to try and see if we could eat at Shake Shack. When we saw the loooooong line which we estimated was equivalent to over an hour's wait, we walked out. We went around and tried to find some other place to have dinner. Then we spotted Borough. I've always liked Borough… I used to frequent their Podium branch.
Borough BGC is a lot brighter compared to the rather dimly-lit Borough at The Podium. The menu has remained pretty much the same as the last time I was there some years back. It's located near Sariwon.
Our son ordered Meatball Marinara Sandwich (P370) out of sheer morbid curiosity. He said he didn't know it was possible to make a meatball sandwich. It was pretty good according to him. Curiosity satisfied, lol.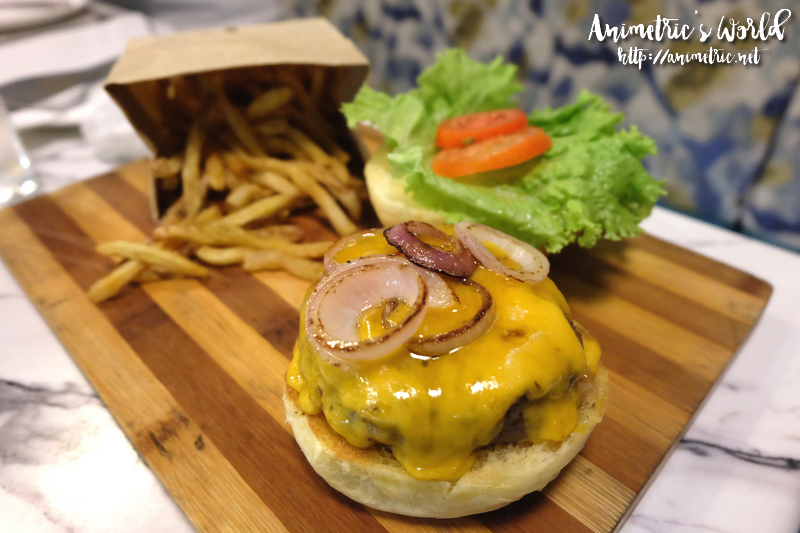 Our daughter ordered the All Beef Cheeseburger (P420) — must be the Shake Shack mood. She kept raving about how good the cheese was. She said overall, it's a good burger. I find it expensive (compare with the P250 Shack Burger) because it's kind of small… although the patty is really heavy because my daughter was too full for dessert after this. At least it comes with fries already.
Hubby had the Brooklyn Omelette (P320). It's a 3-egg omelette with fresh herbs and filled with fresh tomatoes and cream cheese. It comes with "Home Fries" and wheat toast too. He said it was delicious.
I had the BBQ Pulled Pork Sandwich (P320), my choice of sandwich at Borough since 2010. The pulled pork is still tender and tasty. It goes so well with the coleslaw and hoagie. The Borough Chips are crispy and yummy too.
We also ordered a pizza to share. We opted for the Muniere (P260) which is a thin crust pizza topped with white sauce, cheese, capers, onions, and anchovies. It comes with a lemon wedge you can squeeze all over the pizza… which I did. Our daughter said it tastes weird, our son said it's okay… what do I think? I think we should've tried another flavor because I'm not really a fan of white sauce on pizza. I don't even like capers which this pizza had a lot of… haha. They said you can cut this into 4 or 8 slices.
I haven't been to Borough in a while and from what I've seen, prices have gone up. The BBQ Pulled Pork Sandwich went from P220 to P320 but then P220 was the 2010 price. The good thing is, it tastes just as good as the first time I had it in 2010. My favorite dessert Mom's Milk and Cookies went from P125 to P250, too bad we were all too full to order it.
Verdict? Food is still good albeit somewhat pricey. We were all pretty satisfied with the taste and quality of our orders. Problem is, now I'm hankering for Mom's Milk and Cookies!
Borough
U/G C2 Bonifacio High Street Central
7th Ave., Bonifacio Global City, Taguig City
0966-4001150
Like this post? Subscribe to this blog by clicking HERE.
Let's stay connected: