My sister and I had a leisurely lunch at Borough last Saturday. Borough is one of the newest and most interesting places to visit at The Podium.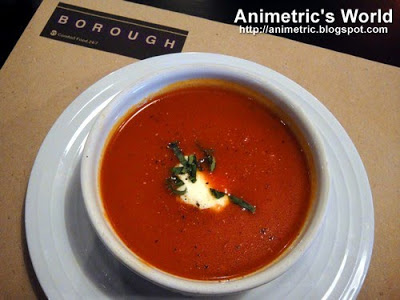 We started off with a bowl of Tomato Soup (P120). It was hearty and chunky, made of real fresh tangy yet sweet tomatoes then topped with basil chiffonade. The server also ground some fresh pepper to top it with. Delicious!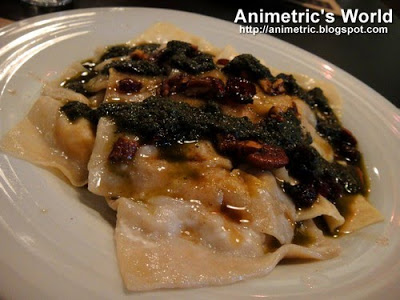 Then we ordered Homemade Pumpkin Ravioli (P250). The pasta was freshly made, I saw them being rolled out, cut, and then stuffed with pumpkin paste. It's sauteed in brown butter then topped with walnuts, cranberries, and basil puree. It was very good. The pasta was perfectly al dente — firm and chewy at the same time. The pumpkin and roasted garlic filling was tasty without being overpowering. We both loved it.
Upon the staff's recommendation, I decided to have a BBQ Pulled Pork Sandwich (P220).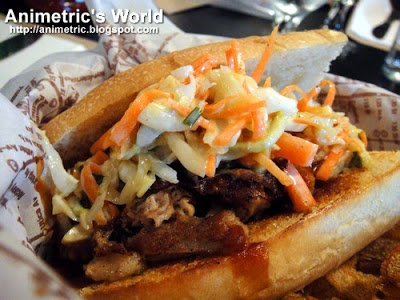 Freshly baked bread is filled with tangy coleslaw and chunks of barbecued pulled pork. The flavor contrast is awesome. Crispy Borough Chips are served on the side too. Yummy!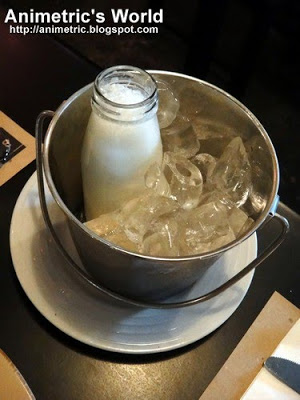 For dessert, we had Mom's Milk and Cookies (P125). A metal pail containing a bottle of chilled milk and a plate full of cookies arrived.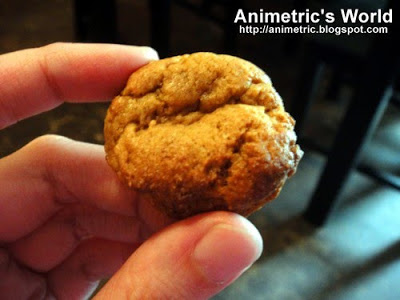 A dozen warm cookies of this size was served on a plate. They came in three flavors: Chocolate Chip, Gingerbread (pictured above), and Oatmeal Cinnamon.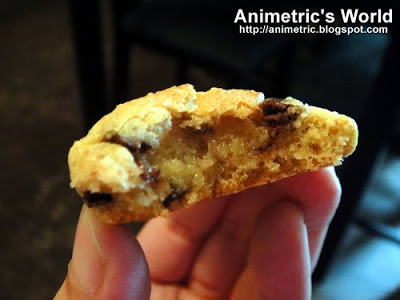 The cookies are very chewy. Warm, chewy cookies + cold milk = perfection. I could tell that the milk was blended with a bit of vanilla ice cream though, so it tasted more like milkshake. I would've preferred to have plain fresh milk to counter the sweetness of the cookies but hey, that's just me. I maintain that an order of Mom's Milk and Cookies are the perfect (yeah I keep saying perfect in this post) way to cap off a meal at Borough.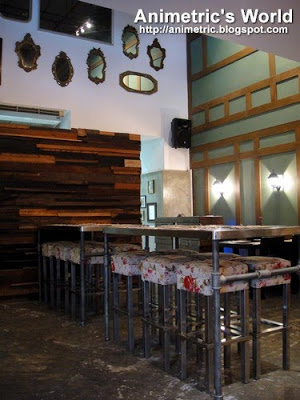 Borough's uniquely designed interiors are quite cozy. The place doubles as a watering hole at night. Some of my classmates actually went for some drinks here after our class reunion a couple of months ago. Borough also has a loft-type second level with comfy and homey leather upholstered seats for a more casual, intimate setting.
Some other interesting food items I tried are:
The Elvis (P170) – Deep fried peanut butter and banana sandwich served with coconut dulce de leche and sour cream.
Chocolate Chicken Wings (P280) – Spicy buffalo wings cooked in chocolate and cinnamon then served with steamed string beans.
I wasn't able to snap photos because it was served during an event I organized. 🙂
Borough
G/F The Podium
Ortigas Center, Pasig City
570-8906
Like this post? Subscribe to this blog by clicking HERE.
Let's stay connected: