One of the newly opened restaurants at Robinsons Magnolia is Bad Bowl Unlimited Mongolian. Now for me, "unlimited" is a magic word, lol. Anyhow, I had an overdue lunch date with the 2 Michelles of blogging (Mrs. Martinez and My Mom Friday). We wanted to eat somewhere we all hadn't tried before so we decided to give Bad Bowl a go.
Bad Bowl Unlimited Mongolian is located outside the mall beside Ramen Nagi.
The place is spacious and the satisfactorily cooled by their many aircons.
They have a buffet setup where you pile whatever raw ingredients you want on your plate. Then you take your plate to the cooking station.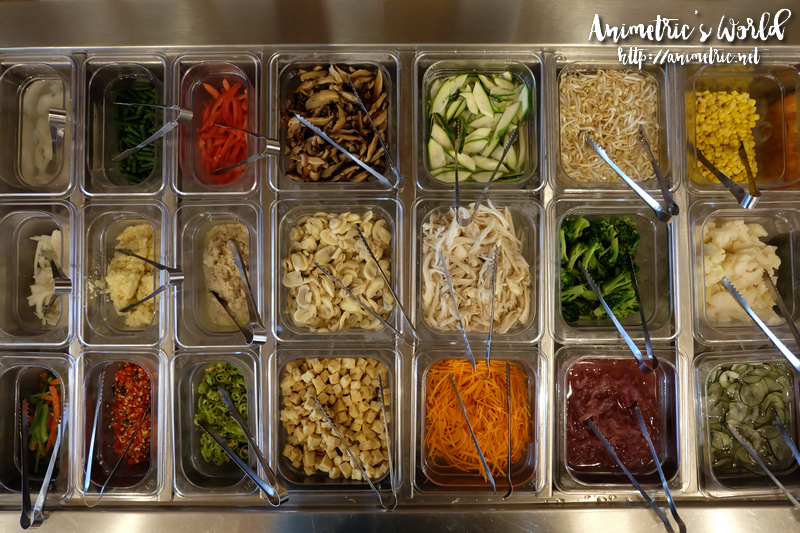 They have a wide selection of vegetables.
Lots of meats too — pork, beef, chicken, etc.
You can have your choice of carbs and eat it too. They have white rice, brown rice, an assortment of noodles, and even adlai for the health-conscious.
After filling your plate with all the meats, veggies, and carbs, it's time to choose your sauces. There are so many it gets confusing. I had a combination of Mongolian, General Tso, and something with chili garlic lol. Try not to get carried away because too much sauce will make your Mongolian plate hard to eat.
There are toppings galore too. You're supposed to sprinkle these on top of your cooked Mongolian plate. They have garlic chips, ginger chips, chicharon, chicken skin, etc.
I piled on the veggies, meat, and brown rice. Then they put my selected sauces on top.
Then they cook what you composed. They'll take your dish to your table afterwards.
They give you complimentary soup. It was a tasty seafood broth, better than the usual free soups you get at restaurants.
I topped my cooked Mongolian plate with garlic chips, chicharon, and crispy chicken skin. It was very tasty but I could not manage a second serving.
They have free dessert too. We were given fresh fruits. The watermelon slices were sweet.
We had a pretty nice lunch but P450++ per person is kind of steep if you can only manage one plate. We were the only ones there because we went in opening time. Service was good — staff were very accommodating and friendly. Food quality in terms of raw ingredients is good. Of course, the final taste would depend on *how* you mix the sauces. I suggest mixing 2 kinds of sauces tops so it doesn't get overwhelming. I just wish they had a single plate option like Sweet Inspirations because we ended up paying P549 each with the service charge and tax. That's waaaay too much for one plate. However, if you can eat a lot, then I suppose the rate is okay.
By the way, they have an ala carte menu which we did not get a chance to peruse.
Bad Bowl Unlimited Mongolian
G/F Robinsons Magnolia,
Aurora Blvd. cor. Dona Hemady St., New Manila, Quezon City
774-62805 / 0975-6117482
Like this post? Subscribe to this blog by clicking HERE.
Let's stay connected: