After trying out Hanamaruken Ramen in Trinoma, I made it my mission to eat at Ramen Nagi in SM Aura Premier. Known as Butao Ramen in Hong Kong, Ramen Nagi is actually Japanese in origin. I've heard of the sadistic long lines in HK and well, I'm not willing to stand for hours on end just to eat a bowl of anything. At last, this much-talked-about ramen shop has finally reached the Philippines.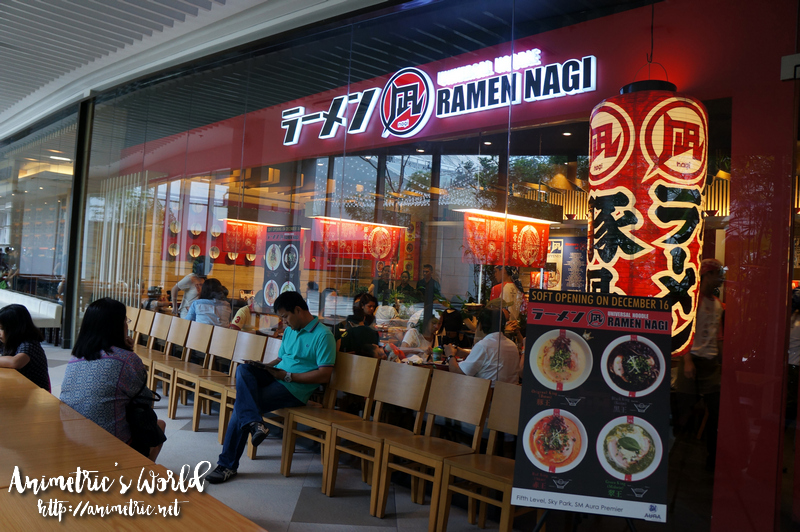 Hubby and I trooped to Ramen Nagi last Saturday. We got there a little before 12nn. There were some people waiting outside. We were seated within 5 minutes though. If you're alone or if there's just two of you dining, you cannot request for say a table for four to be occupied solely by you. You must share with other diners. That's also how it is in Japan because although I haven't eaten at Nagi or Butao in Japan, the other ramen places we visited implemented pretty much the same seating system.
We were given a crayon and an order form to accomplish as soon as we were seated.
Basically, you choose your ramen and then customize how you want it done. I ordered Green King (Midorio) since hubby got first dibs on Butao King. We felt it would be a waste if both of us had the same ramen variant. You have the option to put in their famous Butao sauce and I had it at spicy level 1. Since it's my first time at Ramen Nagi, I chose to have "Normal" everything so I would know how the default original version tastes like. I thought that having tasted the normal version, I would know better how to customize my ramen next visit. I chose to have Pork Belly instead of Pork Shoulder and Green Onion instead of Cabbage. Aw, I forgot to get a Tamago! I so wanted to compare how they do their egg versus the other ramen places.
Each table has chopsticks and condiments.
Aside from sesame seeds, pepper, and chili oil, there's a small bowl of garlic.
I don't know what this is. Someone said it was spicy so I didn't get any.
It was a super full house! As soon as one seat was vacated, another person would take over.
Each table also had both a pitcher of water and a pitcher of cold Mugicha (barley tea) so you can refill your glass on your own.

After a few minutes, our orders arrived. Green King Midorio (P410) was what I ordered and the menu describes it as a fusion of gourmet cultures — tonkotsu (pork broth) with fresh basil and olive oil garnished with parmesan cheese. I felt the soup was in layers — the heavier and creamier tonkotsu broth on the bottom topped with a layer each with olive oil and basil. I recommend mixing the layers together or else it would feel like sipping liquid pesto. It was good — hearty, creamy, plus just a wee bit tangy because of the parmesan cheese. It came with a single slice of melt-in-your-mouth tender Pork Belly, just the way I specified. Spicy level 1 Butao sauce is still pretty hot. I felt it singe my throat as I sipped my broth. Next time I'll hold off on it.
Ramen Nagi's "normal" noodles are perfect. This is how ramen noodles should be done — firm but not hard and impeccably chewy. Yes, Ramen Nagi definitely does noodles best (comparing to Santouka, Ikkoryu, Mitsuyado, Ukokkei, and Hanamaruken).
So hubby had Original King Butao (P390) which is really pure tonkotsu goodness. I don't know how he configured his ramen but I really liked the rich comforting taste of the broth. He chose Pork Shoulder instead of Pork Belly and regretted it because Pork Shoulder had more fat than lean meat. It was like soggy boiled bacon since it wasn't fried. When we go back, I am so having Original King Butao with Tamago, lol.
Although both of us were happy with Ramen Nagi taste-wise, we felt the serving size is smaller compared to other ramen places. The wide-mouthed bowl is quite shallow and so we were done eating relatively quickly. I felt satisfied but not overly full, which is how I want it because I hate the bloated feeling that being too full gives me. There's nothing else to have at Ramen Nagi except for ramen and ramen add-ons (tamago, seaweed, etc.). No miscellaneous munchies like gyoza, edamame, or whatever albeit they do offer a selection of drinks like sodas, juices, beers, and teas. Service is pretty fast so even if you line up for a bit at least you'll get your ramen in no time at all.
So yes, it's all good.
5/F SM Aura Premier
McKinley Parkway, McKinley Hill,
Fort Bonifacio Global City, Taguig City
Like this post? Subscribe to this blog by clicking HERE.
Let's stay connected: