I've always been afraid of lash extensions. In fact, all the lash extension GCs I've gotten as gifts in the past, I've given away. I don't want my real eyelashes falling off… plus I imagine that lash extensions would be heavy, like falsies. Not sure if I can handle the feel of wearing falsies every single day. Thus when I was invited to try Ayumi Japan Eyelashes & Nail Art's lash extension services, I initially refused. Since my lashes are already long, I thought I didn't need extensions. However, Marj assured me that my own lashes would not fall off and that lash technology has progressed so much that I didn't have to worry about anything.
So off I went to the Ayumi branch closest to me — Ayumi in Victoria Towers Quezon City.
I liked the cozy yet spacious interiors. I chose to avail of their latest lash extension service — Ange Curl. It lifts and volumizes lashes using high quality Japanese sable mink lashes.
These are my lashes without mascara. I made the mistake of applying eyeliner so they can't be seen too clearly.
My lashes are long, but they seem to have thinned a bit compared to when I was younger huhuhu…
I sat on one of the recliners so that the lash technician can perform the service. My eyes were closed the entire time but I could feel tape around my eye area. I felt the lashes being glued to my lids bit by bit. The procedure takes around 2 hours.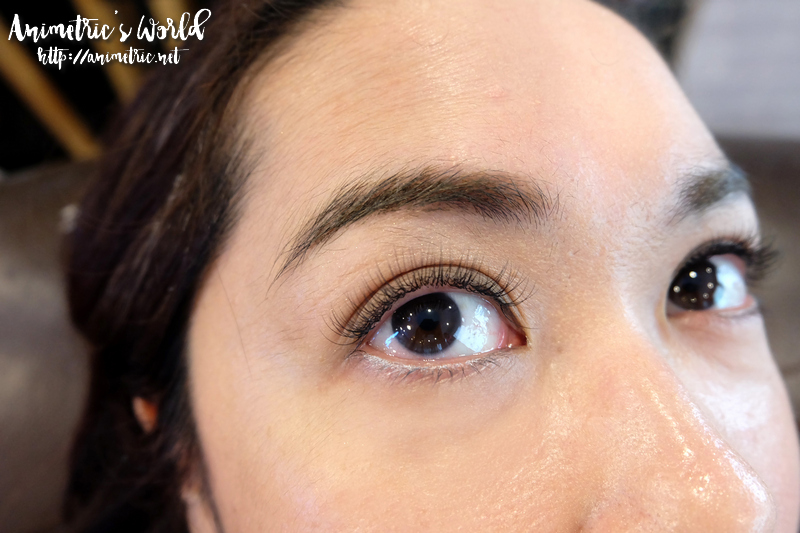 This is the end result. Whoa! I'm impressed. The lashes are super lightweight, so much so that it's easy to forget I got extensions in the first place.
They look natural too! I can now skip putting on mascara and eyeliner might even become optional.
What I like about Ayumi Ange Curl Lash Extensions:
They are extremely lightweight. There's no additional weight… they feel like your own lashes.
They look natural. I've seen a lot of fake-looking clumpy extensions on other people and these aren't anything like those.
The entire procedure is relatively painless. I did experience slight stinging in the eyes towards the end but it wasn't a big deal.
There's no downtime. After the procedure is done you're good to go.
The glue they use is infused with serum to keep your natural lashes intact, lifted, and strong.
You get to choose what length of lash extensions will be used. I opted for the length closest to my own lashes. As a result, the lashes do not brush against my eyeglasses.
The service is reasonably priced at P3,500.
I was advised to go back after 10 days for a retouch. Eyelash retouch costs P500 per visit and lasts 45 minutes. I was also given aftercare instructions and a spoolie to brush my lashes with. They told me not to wet my eye area for the next 5 hours.
Of course there are a few things I can't do anymore after getting lash extensions:
I can't use oil-based eye makeup remover, so I've started using Kracie Creer Cleansing Water.
No more rubbing the eyes.
I can't use eyelash curler and mascara.
I have to be very careful when taking a bath or washing and drying my face.
Steam rooms, saunas, and the like are to be avoided for 2 days after the lash extension service.
I can't sleep face down on my pillow because the lashes would get squashed, lol.
Overall though, I'm very happy with my Ayumi Ange Curl Lash Extensions! Would you like to try Ayumi's Ange Curl Lash Extension service? Use the code AngeCurl10 to get 10% off the service, just show them this blog post.
Ayumi Japan Eyelashes & Nail Art has several branches all over Metro Manila. Log on to https://ayumi.ph to find a branch near you.
Like this post? Subscribe to this blog by clicking HERE.
Let's stay connected: