I've always wanted to try teeth whitening… but I was afraid of thinning out my teeth's enamel. Then I heard about Tokyo Bright Teeth Whitening at Ayumi Japan Eyelashes and Nail Art. My friend Marj tried it and assured me that like eyelash extension technology, teeth whitening technology has progressed to a point that you no longer need to compromise your teeth's integrity when getting it done. That was all I needed to hear. I drink coffee every morning so some staining and discoloration is unavoidable.
Anyhow, Ayumi's Tokyo Bright Teeth Whitening service is conducted inside a private room with a recliner.
It's actually a DIY procedure. There are instructions on how to go about your teeth whitening session. Well, in Japan it's DIY. Here at Ayumi Japan Eyelashes and Nail Art in the Philippines, you are assisted by a staff member. The first thing they will ask you to do is brush your teeth — you will be provided with a disposable toothbrush, toothpaste, and paper cup.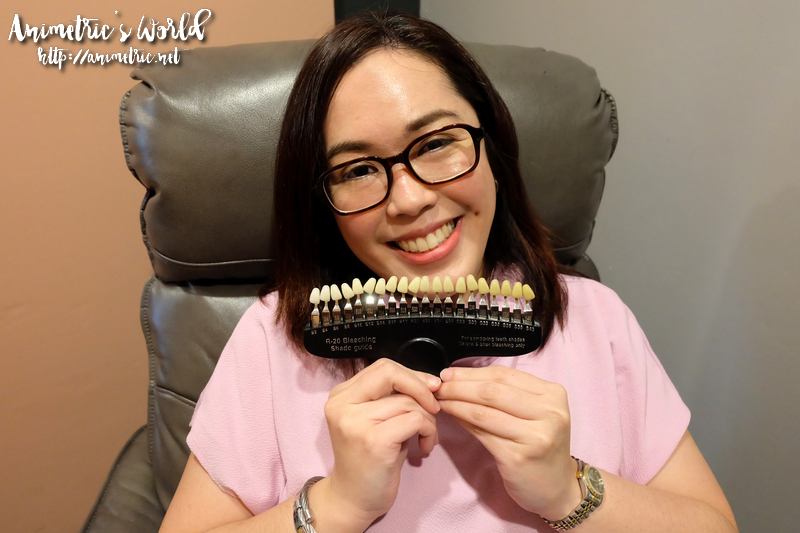 Then you need to determine your teeth's shade level. My starting shade was 18, which is in the middle of the chart. I had a teeth cleaning session at GAOC a few days prior so that I can make the most of this service.
So shade 18 is my teeth's shade prior to any whitening treatment. I've had 3 sessions and my teeth are now 10 shades lighter at 8.
Before you start the Tokyo Bright Teeth Whitening procedure, you will be asked to wear protective glasses to shield your eyes from the light.
This is the machine that will be used to whiten your teeth.
You'll need to put on this mouthpiece but prior to that you will be given some petroleum jelly to apply to the sides of your mouth. Then they will spray your front teeth with a minty Japanese solution.
After spraying they will aim the machine at your teeth and expose them for 8 minutes. After 8 minutes, they will spray your teeth again and expose them for another 8 minutes. The entire procedure takes less than 30 minutes.
These are my shade 8 teeth after 3 sessions.
I'm super happy with the Tokyo Bright Teeth Whitening service. With brighter, whiter teeth I can pretty much wear any lipstick shade. My smile looks so much better in photos too, no need for filters! It's recommended that you do this at least once a week if you're getting the 6-session package. My hubby commented that there's a big difference and my teeth look "new" lol.
What I like about Tokyo Bright Teeth Whitening:
It's quick and painless. You're done in less than 30 minutes!
It's super affordable at P1,500 per session. They recommend 6 sessions for you to gain the maximum effect and a package of 6 will set you back only P6,000 — that's down to P1k per session.
The effect lasts for 30-60 days depending on your lifestyle. Of course if you smoke or drink lots of dark-colored beverages, the duration will be shorter.
Downside? I really don't see any. I'm actually considering getting a 6-session package which I will use for maintenance.
Ayumi Japan Eyelashes & Nail Art has several branches all over Metro Manila. Log on to https://ayumi.ph to find a branch near you.
Like this post? Subscribe to this blog by clicking HERE.
Let's stay connected: