If there's one beauty product I can't get enough of it's cleanser and makeup remover. Facial cleanser is probably my most-used beauty product. I wash my face 2-3x a day, every single day. Now that I'm in my 40s, I'm very careful not to use cleansers that dry my skin. My newest discovery is Kracie Creer 4-in-1 Cleansing Water from Japan.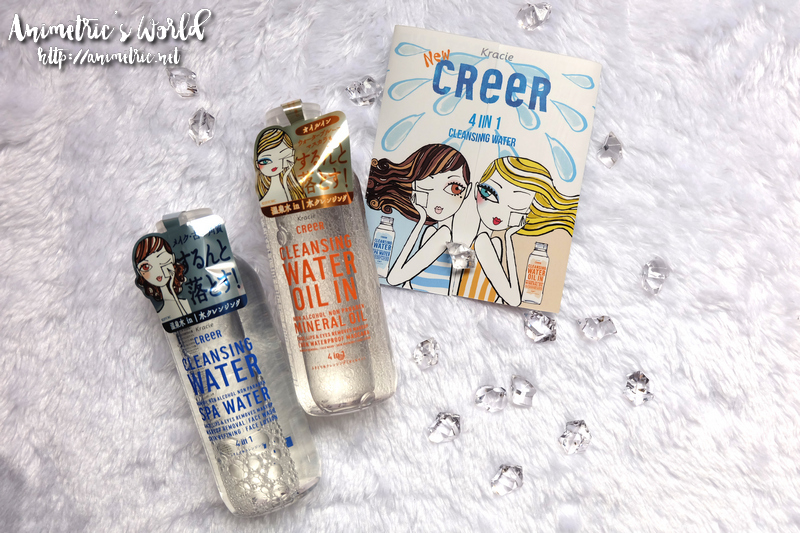 Kracie Creer 4-in-1 Cleansing Water comes in 2 variants: Kracie Creer Cleansing Water Spa Water and Kracie Creer Cleansing Water Oil In Mineral Oil. Both retail for P545 per bottle. They have 4 functions: remove makeup, cleanse, exfoliate, and tone. These are perfect for people who don't want to spend too much time with skincare routines.
Kracie Creer Cleansing Water Spa Water is a water-type cleanser which removes light makeup, facial sunscreen, etc. By light makeup, I take that it means nothing waterproof. For heavier and/or waterproof makeup, there's Kracie Creer Cleansing Water Oil In Mineral Oil. Oil is really the most effective ingredient when it comes to removing stuff like waterproof eyeliner, mascara, liquid matte lipstick, and other long-wearing cosmetics.
It's easy to distinguish which is which — has blue labels and one has orange labels.
Let's give the oil-type variant a try. After all, the more challenging task is removing waterproof eye makeup and liquid matte lipstick. I used 2 eyebrow products here — L'oreal Paris Brow Artist Designer Pro Bold Eye Pencil and Tonymoly Easy Touch Coloring Browcara. I also used Laneige Two Tone Shadow Bar, The Face Shop Ink Graffi Brush Pen Liner, and Max Factor Masterpiece Max Mascara.
Make sure to shake the bottle first before using so that the water and oil will mix well. Then take a cotton pad and wet it with this. I covered one eye with the wet cotton pad, pressing gently so my eye area would be soaked. I carefully wiped my eye makeup off afterwards. It all came off easily.
Yup, one cotton pad soaked wih Kracie Creer Cleansing Water Oil In Mineral Oil was enough to completely remove waterproof makeup from one eye. I repeated the steps with the other eye. Since I only used BB cushion that day I used the water-type cleanser to remove makeup from the rest of my face.
And I'm totally makeup-free!
What I like about Kracie Creer 4-in-1 Cleansing Water:
They're alcohol-free, paraben-free, coloring-free, and fragrance-free.
They cleanse the face thoroughly.
The base ingredient of both products is spa water, so you can bet they're good for the skin!
Price is reasonable at P545 per 330ml bootle.
My skin feels super clean and smooth after use.
Doesn't sting the eyes even if you put a drenched cotton pad on your lids.
I love the packaging!
Downside? None so far. Both products deliver exactly what they promise!
Kracie Creer 4-in-1 Cleansing Water is available at all Beauty Bar stores. You can also purchase online from Zalora or Beauty Box Corp.
Like this post? Subscribe to this blog by clicking HERE.
Let's stay connected: