Marina Oysters Seafood Grill invited a group of food bloggers (myself included) to sample their renowned oysters and Ilonggo specialties. The food was served buffet-style, so presentation and serving size may vary when you actually go there to eat.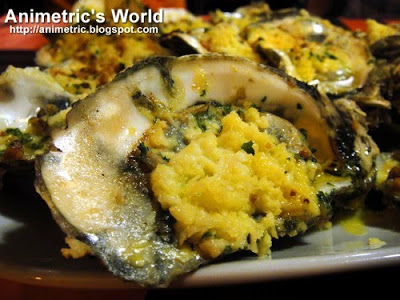 Marina's oysters are flown in fresh from Iloilo daily. I was quite shocked to see a separate buffet table for their oyster dishes alone — there were at least six different kinds. There were also platters containing crackers, we were advised to have some crackers first before digging in to the oyster dishes to minimize negative tummy reactions. Baked Oysters (pictured above) were served on our tables too. I liked these best, all covered with garlic, cheese, and chives. Simply delicious!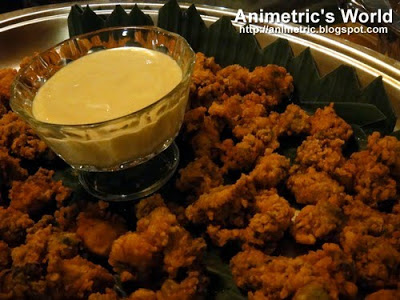 Crispy Wasabi Oysters (P250, pictured above) were what I tried next. Oysters are coated with a crunchy breading and deep fried to a crisp. It is served with wasabi mayo on the side. These are yummy too. 😀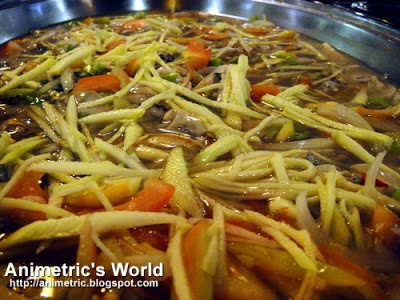 Then there was Kinilaw na Talaba (P250, pictured above). Raw oysters with julienned green mangoes, tomatoes, and onions in vinegar. I tried just a little bit of this as I am quite scared of how my stomach would react to raw oysters. The oysters had the taste and scent of sea water — I don't know if that's good or bad.
Aside from the above, there were also Steamed Oysters and Sizzling Oysters which I didn't try. I had to make room for some of the other food, hehe.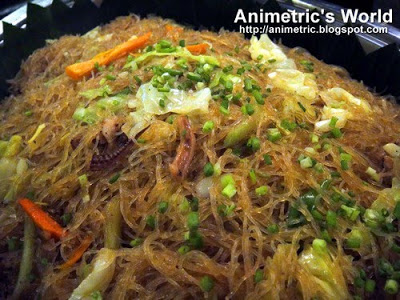 We had Bihon Guisado (P165, pictured above). Typical… it had squid, carrots, bits of pork, and mixed greens.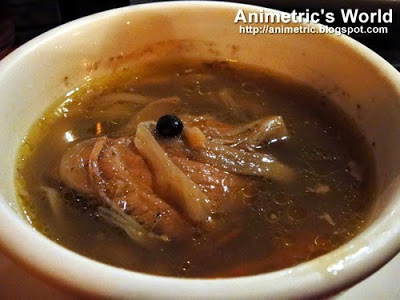 I also tried the KBL (Kadios, Baboy, Langka) (P240, pictured above), an Ilonggo specialty. Kadios is that black bean you see above. I initially thought it was black pepper but it's not. It's a bean that's monggo-like. KBL is a soup that's comprised of kadios, lean pieces of pork, and jackfruit. It was interesting to say the least, albeit a tad salty. I was expecting a more unique flavor due to the presence of jackfruit but I could hardly feel its essence in the soup.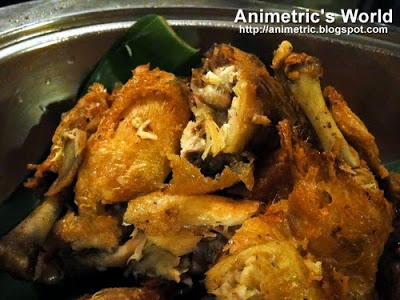 Marina Fried Chicken (P460 whole / P250 half, pictured above) reminded me a bit of Max's Fried Chicken. I'm not really a fried chicken person so this was just okay. 🙂
If you're planning to visit Marina Oysters Seafood Grill, I highly suggest doing so this month of May. From May 1 to 31, 2010, Marina will feature Mom's Merienda Buffet which costs just P149 per head. The best part is, children below 4 feet tall eat for free! This promo is available from 2pm to 5pm daily in all Marina outlets EXCEPT Market! Market! and SM Lipa. The merienda selection includes Dinuguan with Puto, Pancit Molo, Bam-i, Lumpiang Prito, Batchoy, Spaghetti with Garlic Bread, Burger Steak, Arroz Caldo, Chicken ala King, Macaroni Salad, Turon, and Maja Blanca.
Marina Oyster Seafood Grill
#79 Timog cor. Panay Ave., South Triangle, Quezon City
332-4174 / 0923-4542961
Like this post? Subscribe to this blog by clicking
HERE
.