This is not my first time at Yayoi. Before the pandemic, we had already tried the SM Megamall branch. I remember being impressed by the high-tech ordering system, minimalistic Japanese-themed interiors, and the food which we found to be of good value for money. It was delicious but reasonably priced. When the pandemic hit, we would order for home consumption. Yayoi packs their food so well. Everything is neat and in place by the time it gets to you. Last month I got to try eating at Yayoi UP Town Center.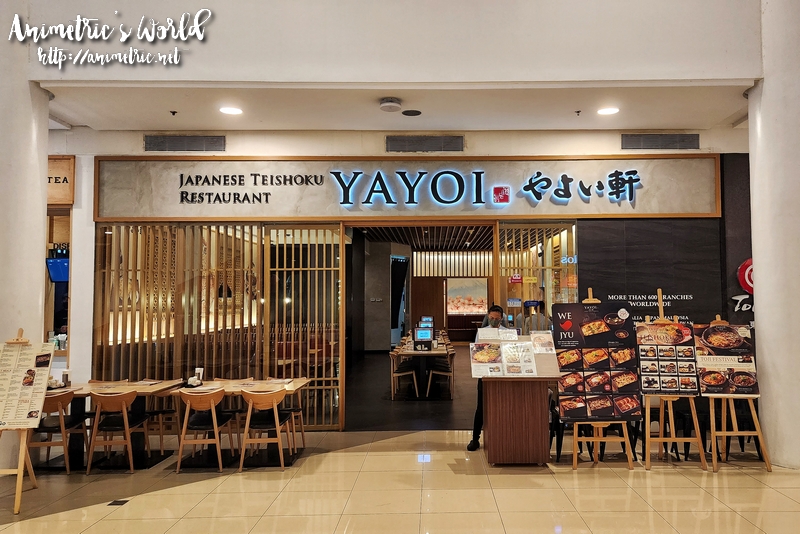 Yayoi UP Town Center is located at the ground floor beside Yifang Taiwan Fruit Tea.
Each table is furnished with a touchscreen monitor you can use to punch in your orders.
If you visit Yayoi, their Chicken Namban (₱295) is a must-try. I'm not even fond of chicken but this dish is just done so well. Crunchy breaded chicken is topped with Japanese tartar sauce and served atop lettuce drizzled with sesame dressing. It's sooo good. The chicken is tender and juicy. Their tartar sauce complements it so well.
Even hubby and the kids love the Chicken Namban. It also comes as a Teishoku meal served with rice and soup if that's what you prefer. This one is the ala carte version.
This is the Mix Toji Teishoku (₱550). Toji means "sealing with an egg" in Japanese. This means the main dish is simmered in sauce with an egg. Yayoi's Mix Toji combines tonkatsu, sukiyaki beef, and ebi fry and cooks them in house special sauce with an egg. It's surprisingly good — I love the variety of meats I can enjoy with one serving. It's the dish that has everything. Since it's a teishoku meal, it's served with rice, potato salad, pickled vegetables, and miso soup.
We also like their Sukiyaki (₱495). Tender slices of beef, mushrooms, tofu, and noodles are served with a soft-boiled egg in a flavorful broth. It goes well with Japenese rice since it's so tasty.
This is how a full teishoku meal looks like and this is one of Yayoi's new offerings — House Spiced Gyu Toji Teishoku (₱595). This is a spicy version of their usual Toji but it's surprisingly good. It's not overly hot, the level of spice is just perfect. My daughter likes this a lot. I'm not sure if this will become a permanent offering so do give it a try if you get a chance.
Service is superb at this branch. I must commend my server Naomie and branch supervisor Glenn for being super efficient and accommodating. I was going around taking photos and videos and they were super cool with it too. You can watch my Instagram Reel HERE. 😀
Yayoi UP Town Center gets really busy during the weekends so if you want a more relaxed dining experience, I suggest visiting during a weekday like I did. Weekdays do get heavy lunch crowds at times though, so what I did was I went in at 11am. It was pretty chill until 12nn then the lunch crowd started filling up the place. Fortunately I was done by then. At this point, I still do my best to steer clear of heavy crowds.
Yayoi
G/F, UP Town Center Phase 2
Katipunan Ave, Diliman, Quezon City
0917-7049754
Like this post? Subscribe to this blog by clicking HERE.
Let's stay connected: