I'm always excited whenever Korean beauty products are involved. That said, I'd like to share with you my newest products from Yadah. Up until now I've only experienced their skincare products. I didn't know that they had makeup too! What sets Yadah apart from other brands is its products are formulated with botanical extracts that work in harmony with your skin.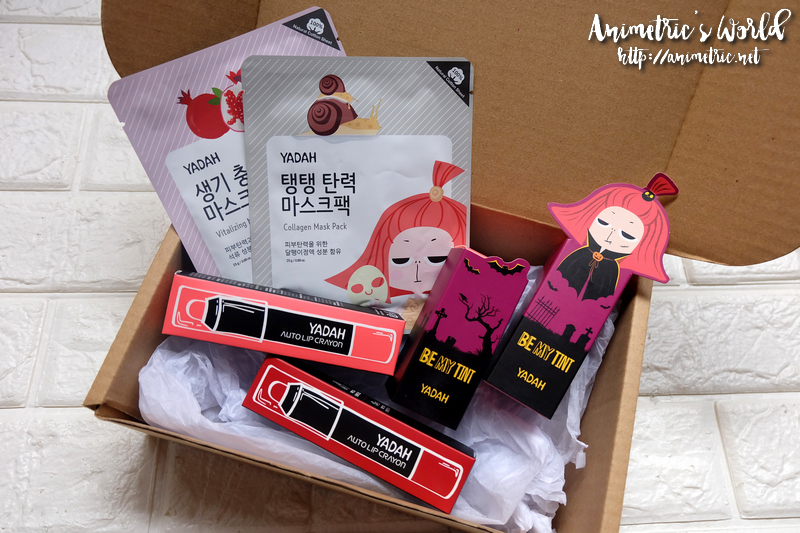 Are you ready to experience Yadah cosmetics products? But first let me show you what I got:
Auto Lip Crayon in 01 Dazzling Red and 04 Rose Coral (P450 each)
Be My Tint in 01 Wannabe Pink and 02 Peach Coral (P475 each)
Vitalizing Mask Pack (P99)
Collagen Mask Pack (P99)
Available in 7 colors, the Yadah Auto Lip Crayon is a long-wearing and lightweight lipstick that has a soft matte finish.
I got 2 shades: 01 Dazzling Red and 04 Rose Coral. Both are too bright for my tastes though.
I also got 2 sheet masks — the Collagen Mask Pack and the Vitalizing Mask Pack. I haven't tried either but I have a good feeling about them since the Yadah skincare products I've tried in the past have all delivered what they promised.
My favorite product in this package is definitely Yadah Be My Tint. I got it in 2 shades: 01 Wannabe Pink and 02 Peach Coral. I love the natural-looking lip colors of the K-Drama actresses I'm always watching and I've been on the lookout for products that would yield such results.
Yadah Be My Tint contains natural ingredients which nourish and soften lips. It comes with a sponge tip applicator which can be used on the lips and cheeks.
Here are swatches of 01 Wannabe Pink and 02 Peach Coral. There are 4 shades available, the other 2 are 03 Real Red and 04 Juicy Orange. What I have here are the best ones for me.
This is 01 Wannabe Pink on the lips.
This is 02 Peach Coral. I normally dislike coral shades but I really really like this one. Been using it a lot lately.
I used Yadah Be My Tint in 02 Peach Coral on my cheeks and on my lips in this photo.
What I like about Yadah Be My Tint:
Achievement unlocked: K-Drama lips are all yours with this product!
I love how natural my lips look and feel.
It's not drying and it lasts until you remove it.
The scent is so yummy… like fruits!
It's below P500 so it's very good value for money.
It's pretty easy to blend on the cheeks.
You can easily create gradient lips with this product. It's like painting with watercolors.
Price is very reasonable… affordable even at under P500 per tube.
Downside? None! I just really really love this product. It's probably the best lip tint I've used.
Would you like to try Yadah Be My Tint? Or any Yadah product for that matter? Go to https://www.glamourbox.ph and use the code YADAHROWENA15 for 15% off on ALL Yadah products until Nov. 30, 2019! You'll be able to purchase Yadah Be My Tint for around P404 instead of P475.
Yadah products are available at https://www.glamourbox.ph.
Like this post? Subscribe to this blog by clicking HERE.
Let's stay connected: