I rarely get pimples. If ever I do, it's usually just one little zit. But… the people around me, namely my teenage kids, experience breakouts quite a lot. I'm usually the treatment provider when it comes to skin problems here at home so they go to me for facial wash, toner, and pimple medication. That's where YADAH Anti Trouble products come in.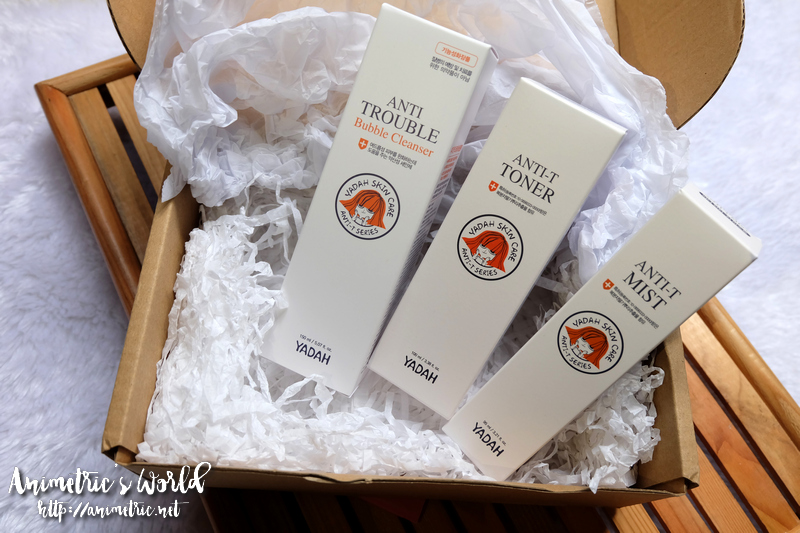 YADAH, a K-Beauty brand founded by its CEO Anna Kang, is a range of botanical skincare products free from harmful chemicals. Being a mother herself, Anna Kang was inspired to come up with a brand for young people. YADAH products are formulated with natural plant extracts such as essential oils, floral water, bark, and traditional herbs. Perfect for my teenage kids!
Let's start with the YADAH Anti Trouble Bubble Cleanser (P790). Best used morning and night, this foaming cleanser cleans the face without overdrying.
It has a mild citrusy scent. When you dispense it via pump, white foam comes out. You just massage it onto your face and rinse off. I like how it makes the face feel clean and nice without the tight feeling. I've passed it on to my kids who have oilier skin since it's better suited for them.
Formulated with Korean Blackberry and Prickly Pear Cactus, the YADAH Anti Trouble Toner (P1,090) controls excess oil, soothes redness, and clears up skin. I've tried it and it's promising. It really does make my skin feel fresh and clean. It's best applied all over the face with a cotton pad. My son just started using it but I hope it helps clear up his face.
This is the YADAH Anti Trouble Mist (P550). Spraying this onto the face hydrates and soothes the skin. It also has oil control properties so it's great for everyone with oily skin.
I've tested all the above products and I can attest to the quality and efficacy, they are just not the best for my skin type since I need moisture more than oil control given my age. As I've mentioned earlier though, these are ideal for my teenage kids so I gave everything to them. My son is currently in the middle of a bad breakout and he has just started using this line. I'm hopeful we'll see improvements soon.
YADAH products are available online at Glamourbox, BeautyMnl, Shopee, Lazada, and Zalora. You'll also be able to get them at SM Beauty, Watsons, and Landmark soon.
Like this post? Subscribe to this blog by clicking HERE.
Let's stay connected: