Our son officially turned 18 last Saturday. We wanted to have dinner someplace nice and asked him to pick a restaurant. He said he wanted to try eating at Wolfgang's Steakhouse. Hubby has been bugging me about Wolfgang's Steakhouse for weeks so we decided to celebrate our son's 18th there. We went for an extravagant family dinner instead of a big party.
I reserved a table for 4 at Wolfgang's Steakhouse at The Podium for 5pm. Why 5pm? 7pm onwards was already fully booked. Our son commented that the interiors were rather ordinary despite the place being pegged as a fine dining restaurant.
We were served complimentary freshly baked bread and butter as we went through the menu.
Wolfgang's Steakhouse has a bottle of their very own Old Fashioned Sauce on every table. I tried it and it's like crushed tomatoes with spices and horseradish. It goes really well with the steak.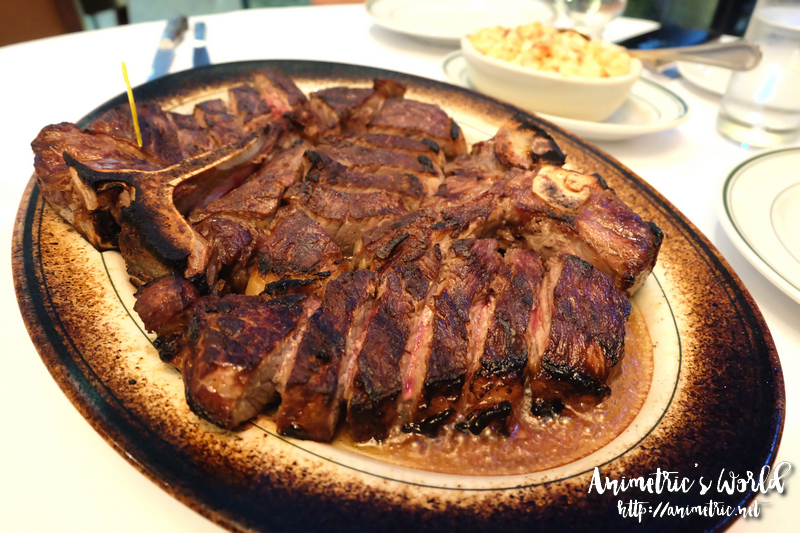 We ordered USDA Prime Porterhouse for Four 2kg (P3,488 per 500g). We initially wanted to order the Porterhouse for Three 1.5kg to share but the server told us that the bone is weighed along with the meat so we went with the 2kg version. It was too much meat and we ended up taking home what we couldn't finish. So this is what a P14k platter of steak looks like lol.
Anyhow their official website says that this is the star of the show where their menu is concerned so it was what we got. The steak is really really good. So far it's the best I've had here in Manila. We had it medium and it's incredibly tender. It's flavorful enough so you don't need any sauce but I tried their sauce anyway.
Then we had Lobster Mac and Cheese (P989). We regretted ordering this because for starters, it's a really tiny serving and wow, there were maybe a total of 3 miniscule pieces of lobster in it. The server said it's good for 3-4 people. She must've meant 3-4 toddlers. Not recommended.
We also had Beverly Hills Chopped Salad (P618). It's got chopped romaine lettuce, baby spinach, avocado, green peas, carrots, corn, cucumber, red sweet pepper, red cabbage, hearts of palm, and feta cheese all drizzled with house vinaigrette. Very refreshing, a nice complement to the steak. Problem is, like all the other side dishes, it's a small serving.
We also had Creamed Spinach (P498), which was anything but creamy. It wasn't bad but I was expecting it to actually have some cream??? Anyways, my good friend The Hungry Chef told me this is the traditional style creamed spinach which is just well, spinach. I just prefer the ones I've tried with some butter or milk or cream for more flavor.
I think I can say that this is our most expensive family dinner ever lol, as our bill reached a whopping P17k. The steak was really good though and we were all sated, so much so that we had no space left for dessert.
Bottomline? You go to Wolfgang's Steakhouse for the steak. Everything else is just okay to above average. And yes, it's hella expensive. Just to give you an idea, the cheapest thing on the menu is Steamed Japanese Rice at P128 and you can peg a bowl of soup at around P500. Oh well it's not every day your firstborn turns 18, lol.
Wolfgang's Steakhouse by Wolfgang Zwiener
G/F The Podium
18 ADB Ave., Ortigas Center, Mandaluyong City
505-6272
Like this post? Subscribe to this blog by clicking HERE.
Let's stay connected: