Last October 12, I watched Wilson Phillips Live in Manila at the Mall of Asia Arena. I got an email asking if I was going to watch. I replied that I was unaware they were having a concert. It wasn't like the time when Katy Perry and Lady GaGa were coming over. There was a lot of hype. For this particular concert, I didn't really hear anything until the very last minute. Anyhow, Wilson Phillips was one of my favorite groups back in the '90s. I bought their CDs and I know ALL the songs from their first album by heart. So yes, even if it was the day before the concert, I accepted the invitation to watch.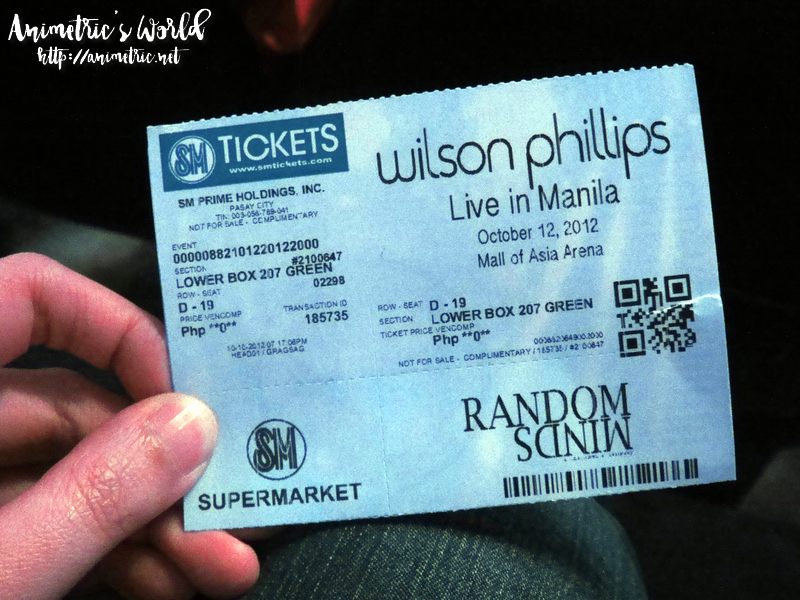 I asked my hubby and my long time friend who's also a big Wilson Phillips fan to accompany me to the concert. I was amazed when I saw that there was a whole building devoted to parking! Yes, there are over 2,000 parking slots at the Mall of Asia Arena so parking will never be a problem. Anyhow, we got lower box tickets. They were priced at almost P5,000 each. I was surprised at how close it was to the stage.
It was my first time at the Mall of Asia Arena. I was surprised at how high-tech the venue was. My eyes were glued to the impressive 360-degree overhead LED display showcasing all the upcoming events and performances for quite some time. I haven't really been into concerts because my last live concert experience was very unpleasant. It was held in another venue which was rundown, shoddy, and in dire need of renovation. While I've heard good things about the Mall of Asia Arena, I've always been reluctant to drive all the way there because I reside in Quezon City. For Wilson Philips however, I was willing to go the distance and brave the Friday night traffic.
The opening of the gates was set at 8pm. We arrived early because we left the house at around 5pm. We were among the first few to take our seats when the gates opened. Prior to that we had a bit to eat at Pit Stop by Yellow Cab Pizza located beside the gates. There are actually a lot of food choices at the Mall of Asia Arena just in case you need to grab a bite. There's Starbucks, Jamrock Patty Cafe, Spudnik, and a Snack Bar among others.
I was impressed by the way Mall of Asia Arena was set up. The venue is immaculately clean, well-organized, and sufficiently cooled by the air-conditioning. Our seats were comfy too. I was starting to understand why almost everyone's performing at Mall of Asia Arena these days.
Since we were early we had to wait quite a while. Eventually the place filled up and the front act started performing.
Finally the stage was set for Wilson Phillips!
The concert was kind of like a tribute to their parents so they sang songs by The Beach Boys and The Mamas and The Papas. The first song they performed off the first album was "You're in Love" and it had the audience cheering.
They still sound the same! Their first album was released back in 1990 but it's as if no time had passed.
From their first album they sang "You're in Love", "Impulsive", "Eyes Like Twins", and "Release Me". From their second album they sang "Daniel" and "You Won't See Me Cry". I was hoping they'd sing "The Dream is Still Alive", one of my all-time favorite songs.
Everyone was clamoring for their biggest hit, "Hold On". They sang it during the encore as their grand finale.
Thank you Mall of Asia Arena for the opportunity to watch Wilson Phillips Live in Manila! It was a very enjoyable night. Now that I've experienced what it's like to watch a performance there, I can say that it's worth the trip. Aw… now I regret missing Nicki Minaj's Mall of Asia Arena concert.
Keep yourself updated with the latest concerts, events, and performances by following Mall of Asia Arena on Twitter and liking Mall of Asia Arena on Facebook.
Like this post? Subscribe to this blog by clicking HERE.
Let's stay connected: