If it's one thing I'm never without, it's a bag… and it's always a designer bag, lol. I can never resist designer bags. It's my vice. I have no interest in jewelry and I'm not particular with clothing brands but I must have my designer bags.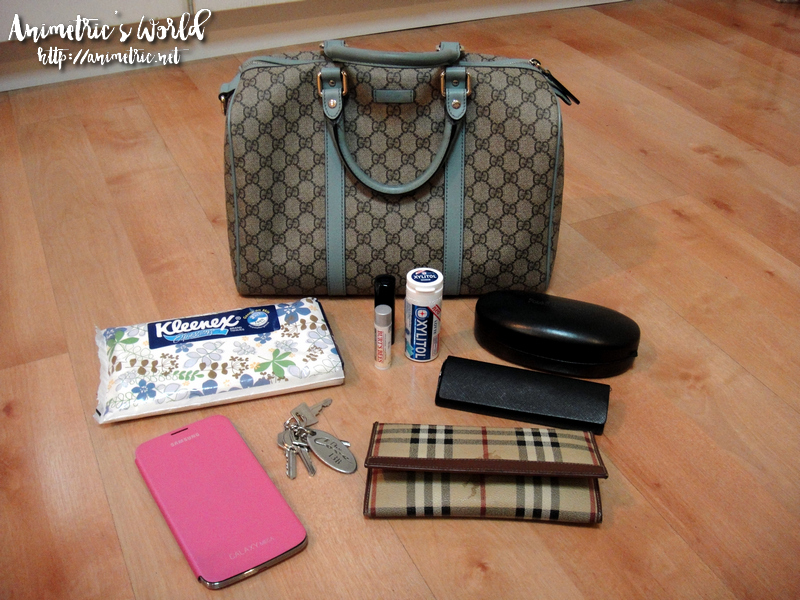 My favorite bag at the moment is my Gucci Canvas Boston Bag. I bought it from the Gucci boutique in Guam for US$780 (roughly a little over P30k) last summer. I love how roomy and sturdy it is, plus it goes well with most casual wear. It's usually what I tote around. These are the things that are always in my bag…
The most important are my three essentials: wallet, cellphone, and keys. The wallet I'm using is from Burberry, my stepdad gave it to me as a gift some years ago. I'm still using my Samsung Galaxy Mega from last year and my keys are held together by a Lady in the Water (yes, the M Night Shyamalan movie) keychain.
I always have a tube of Xylitol in my bag. I chew a couple of pellets after meals especially when I'm on the go and I don't have a toothbrush along. Chewing Xylitol daily has been scientifically proven to reduce the incidence of tooth decay. It's handy because when I'm eating out I usually pick dishes with lots of garlic so this also helps get rid of garlic breath. I like bringing Xylitol Fresh Mint because it's the freshest and most minty variant, just as its name suggests.
I always have lip balm and lip stick too. For now, I'm using Burt's Bees Ultra Conditioning Lip Balm w/ Kokum Butter. It was given to me by my neighbor Mrs. Martinez as pasalubong from her Canada trip last year. I like how it has this natural feel and taste, kind of likes honey. It moisturizes my lips effectively too. The lipstick I have in my bag would depend on which one I use before leaving the house. I bring it for touch ups.
I always have my eyeglasses in my bag. I'm afflicted with astigmatism and near-sightedness so I need to wear them when I'm driving, especially at night.
It's Prada, hahaha. I splurged on this during my 2011 trip to the US. I bought it from Lenscrafters and had it customized with anti-glare UV protection lenses and all.
During the daytime, I bring a pair of sunglasses which are also fitted with graded lenses for my vision problems. I use it when the sun is out because it's hard to drive when the sun is shining directly into my eyes. I got this pair at Lenscrafters too — the same time I bought my eyeglasses. This is actually a pair of Polo Ralph Lauren sunglasses but I got them on sale for something like US$69.99.
A pack of Kleenex tissues has been a staple in my bag for many many years now. Sometimes I also bring wet wipes (usually when the kids are with me). I also always have at least one ballpen.
Those are pretty much what my bag contains every single day. Sometimes I also bring a hairbrush, when I know I'll be out the whole day. I would also bring a USB thumb drive when I know I would be transferring files from the office computer to my home laptop and vice-versa.
What's in your bag? 🙂
Like this post? Subscribe to this blog by clicking HERE.
Let's stay connected: