When I went to the Globe GCASH and Puregold Press Launch this morning, I had no idea what was in store for me. Anyhow, we were briefed about Globe and Puregold's latest offering, the Puregold GCASH Card. What better way to experience what it's all about than with an actual demo, right? Anyhow, we were divided into three groups — each member would be given a basket and allowed to shop in Puregold for 45 seconds. There were 3 waves of shoppers. I was placed in the second wave.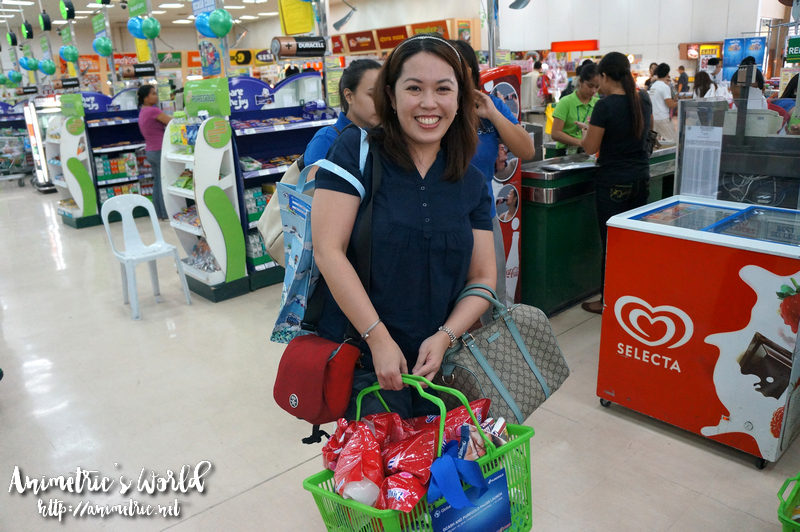 It's not as simple as it sounds. I had initially planned on filling up my basket with 1-liter tetra packs of fresh milk since it's the one grocery item which I keep buying on a regular basis. Fresh milk is like water to my kids and one liter costs anywhere from P65 – P75. But then they said we were not allowed to get dairy products.
We were not allowed to shop for the following items:
Dairy Products
Perishable Products (fresh produce, meat, seafood, etc.)
Liquor
Imported Products (Toblerone, Ferrero Rocher, etc.)
Frozen Goods
Also, there were designated aisles where we could shop. So instead of hoarding milk, I decided to hoard Colgate, which was in Aisle 2A (I did some reconnaissance work while the first wave was shopping). According to the Powerpoint Presentation we were shown we could get stuff off Aisles 2A to 7A. Yep, I was gonna go home with a basket full of Colgate.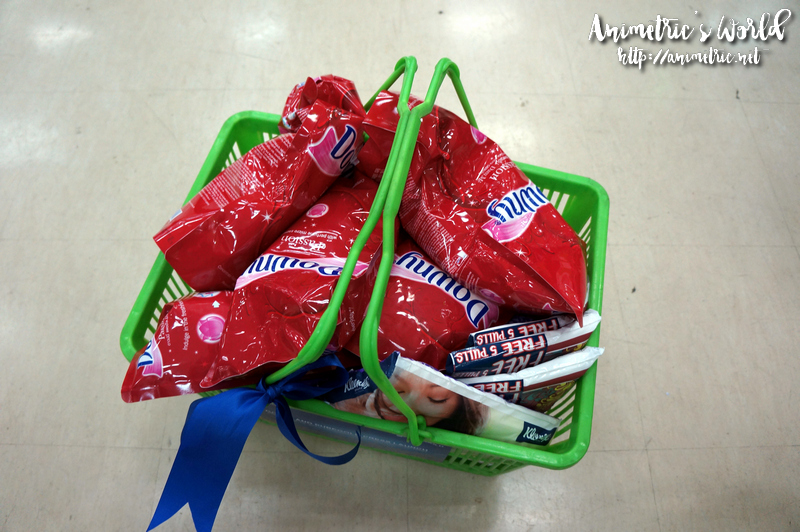 I was so chill walking over to Aisle 2A. Then the event marshal told me that I can't get Colgate. Nevermind, I would fill my basket with Vidal Sassoon hair products which I love, located near where Colgate was. No can do too.
God, I was getting frustrated and I had already wasted a good 10-15 seconds of my 45. The next aisle was for napkins — all sorts of napkins. Paper napkins, feminine napkins, etc. They were announcing last 20 seconds I was like gaaaah. I started to swipe at all the Kleenex (which I always bring in my bag, right?) and Carefree Panty Shields so they would all go into my basket. Then I thought uh… why am I filling up my basket with tissue paper??? I ran to the next aisle and it was all stocked with Downy Fabric Softener. Last 10 seconds, I grabbed as many large Downy packs as I could and stuffed them in my basket. Then it was over.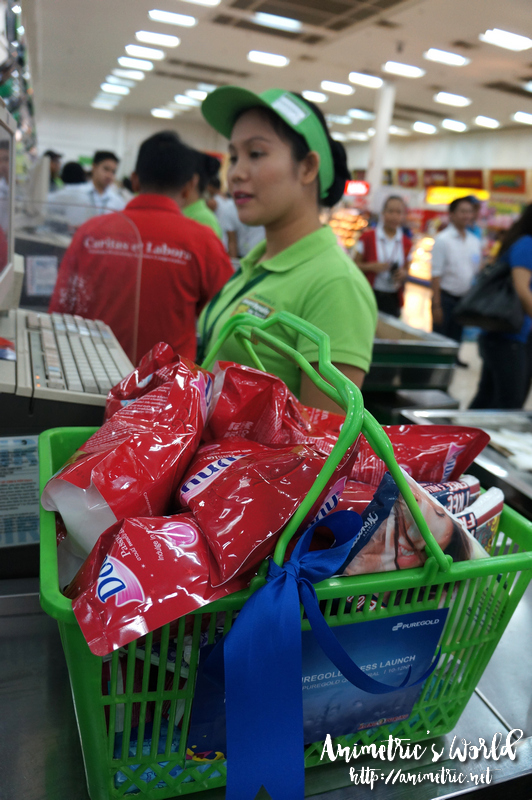 Gee, my basket was filled with only three items: Kleenex, Carefree, and Downy.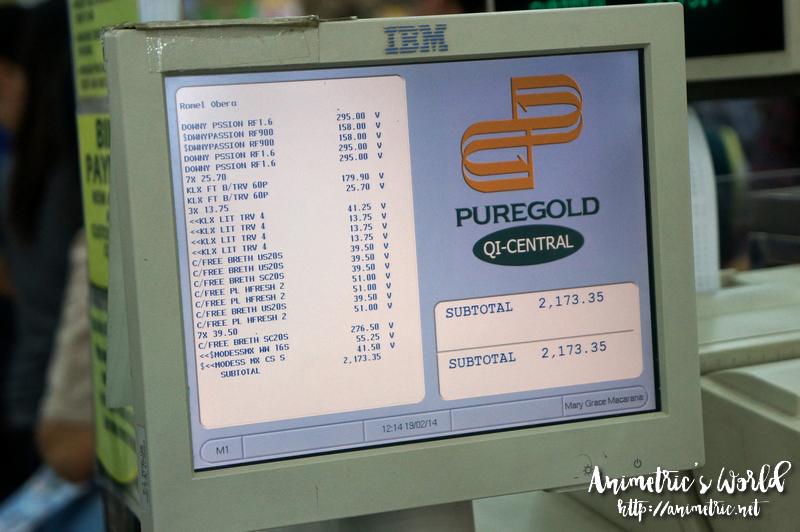 But I grabbed so much of them my bill reached P2,173.35 — which seemed a good figure since those ahead of me mostly scored P700 – P1,000. A lot of folks who shopped went for local canned goods, instant noodles, and snacks for some reason. Ah, had I known Colgate wasn't allowed I wouldn't have wandered off to its aisle since it was the furthest, lol. I would've filled my basket with laundry products. I'd be like watch me stuff this small basket with 50 liters of Downy lol.
I ended up with 3 full bags of stuff.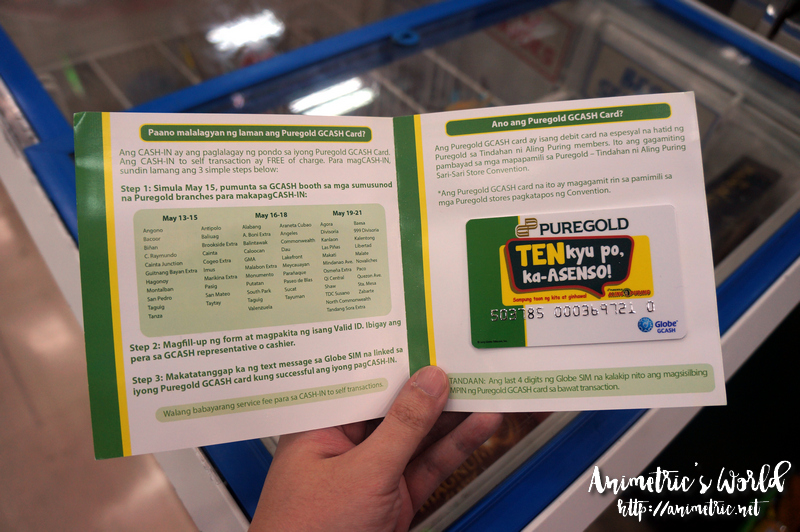 Everything was paid for with a Puregold GCASH Card! Anyhow, I'm a Globe subscriber and so I know that GCASH is Globe's mobile money service. Yes, your cellphone is a virtual wallet and you can actually use GCASH to pay for stuff. The Puregold GCASH Card is a debit card especially for Puregold sa Tindahan ni Aling Puring members. Tindahan ni Aling Puring is Puregold's sari-sari store program which lets shopkeepers buy items in bulk while offering rebates, special discounts, and other benefits.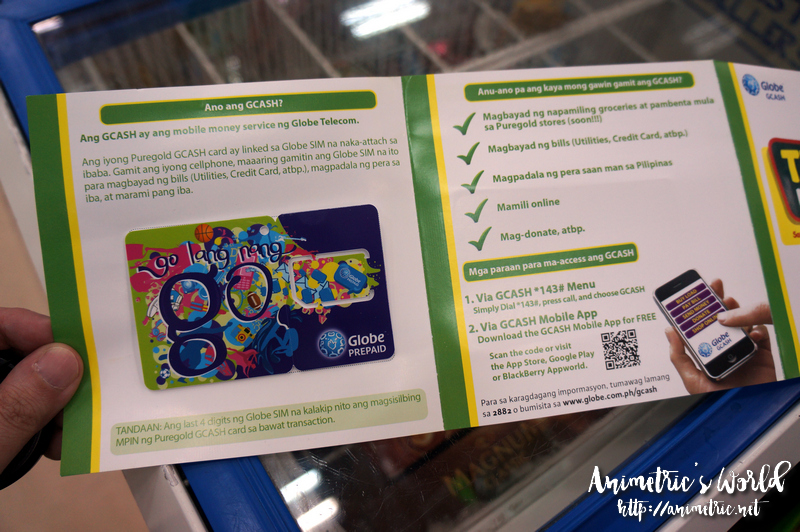 The Puregold GCASH Card is linked to a Globe SIM which you can use to cash-in/cash-out, pay your bills (utilities, credit cards, etc), remit money domestically or internationally (send and receive), and more. You can use GCASH to pay for your Puregold purchases too! All Globe GCASH-related transactions will be serviced at Puregold's Customer Service counters.
All Aling Puring members and all GCASH subscribers can avail of any GCASH service at Puregold.
Thank you so much Globe GCASH and Puregold for having me. This is definitely the most fun I've had in a while. 😀
Like this post? Subscribe to this blog by clicking HERE.
Let's stay connected: