I had my hair undergo Japanese Magnetic Straightening at Shuji Kida Hair Salon more than one year ago. Full details here – http://www.animetric.net/2009/09/japanese-magnetic-hair-straightening-at-shuji-kida-hair-salon.html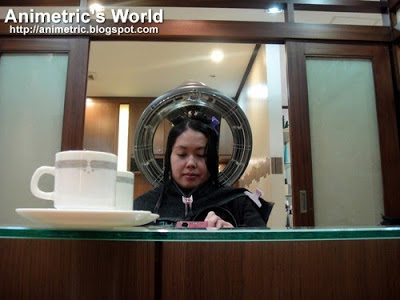 Since my hair is naturally coarse, thick, and wavy, I had unsightly roots one year after. I wasn't able to take a before photo to show you the roots because I had my hair blow dried straight the night before for our high school class reunion. Let me just tell you, it looks crappy which is why I'm always in a ponytail of late. The roots are wavy and puffy then I had straight ends. Ugh.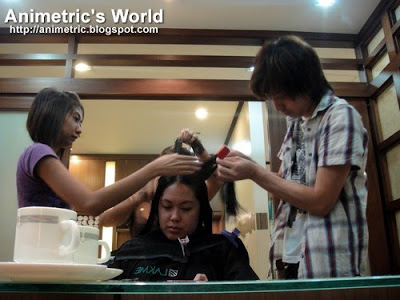 I called Shuji Kida Hair Salon and asked what can be done. Did I need to go in for another full rebond? I was informed that I did not. What they would do was a retouch, meaning they would only straighten the regrowth and not treat the hair that had already undergone the process before. I was relieved because double done hair will surely be heavily damaged afterwards. Again, Japanese stylist Shigeki Ogaki worked on me.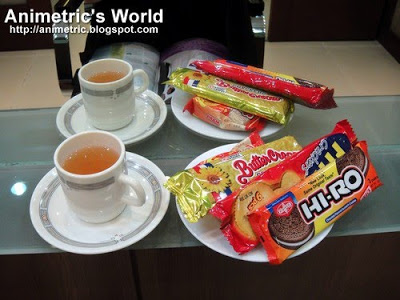 Since the procedure would take about three hours, I was served a simple snack consisting of hot tea (as I requested, they can serve other drinks) and an assortment of biscuits. In the meantime I read numerous magazines to pass the time.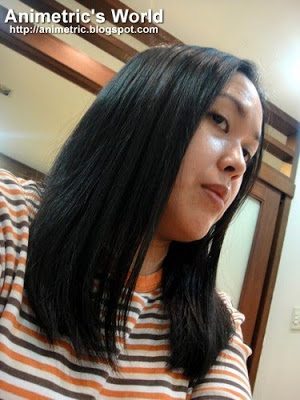 …and voila! I have nice hair again. I admit the ends are more dry this time, because albeit Shigeki did not really treat the ends, it's unavoidable that they would get touched by the straightening solution. Not really a problem though. I washed my hair 48 hours after as instructed by Shigeki and it came out really nice. My hair is currently on L'oreal Total Repair 5, but that's another post. 😀
Why I choose to have my hair straightened at Shuji Kida Hair Salon:
I find the price reasonable for the quality of the service. The first time I had it done for my whole head, I was charged P6,800. My hair still looked good 6 months after (see here – http://www.animetric.net/2010/03/six-months-after-my-shuji-kida-hair-salon-straightening-treatment.html), and it took 13 months before I went back again for a retouch.
Retouch is a bit less expensive compared to having your whole head done plus it spares hair that was previously straightened from damage.
The Japanese stylist does the whole process each time. Since rebonding was pioneered by the Japanese, I feel better knowing my hair is in the hands of a pro. Nothing against other stylists okay? It's just my personal preference.
Hair does not look stiff and fake after this process. It's touchably soft. If I don't tell people I had it straightened, they wouldn't even suspect.
You can wear headbands, clips, or even ponytail holders and it'd go back to the way it was — perfectly straight.
You can color your hair one week after the procedure.
They don't badger you with treatments, procedures, and products that you don't need. :p
Here's my full hair history at Shuji Kida Hair Salon:
I love Shuji Kida Hair Salon!!! In fact I spent my birthday there this year when I had my hair retouched last October 10. I want to make it clear that I did not get a free service, I paid for the whole procedure just as I did last year. I'm just a really happy customer. The owner did give me a nice birthday gift though. 😀
Shuji Kida Hair Salon
Ground Level, City Center Bldg.
338 Ortigas Ave., San Juan City
726-9928
Like this post? Subscribe to this blog by clicking HERE.
Become a
Facebook Fan
for more beauty adventures from Animetric's World.