One of the most important things I have in my possession is a portable hard drive for back-up purposes. Since I don't have a CD drive anymore, I keep all my files, photos, and other data in it. Whenever I change laptops, I just load everything I need from there. It makes the transition a lot easier.
My favorite has always been Western Digital's My Passport Portable Storage, so when I was asked to review their fastest and most high-tech model (I get to keep it afterwards yippekayay!), I immediately agreed. A girl can never have enough storage after all.
I bought my Western Digital My Passport Essential 1TB back in 2011 and I've been very happy with it. In fact, I'm still using it to this day.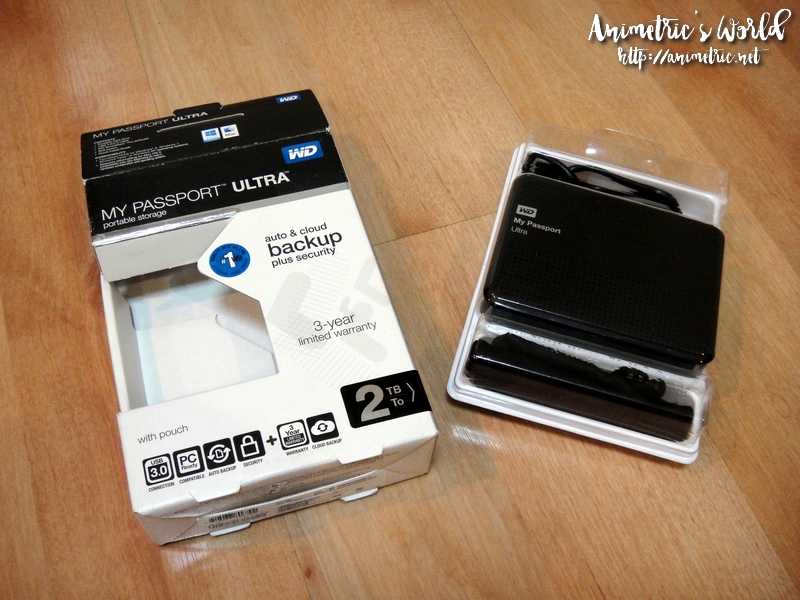 I wasted no time in unboxing the Western Digital My Passport Ultra 2 TB.
The box contains the cable, the portable drive, and a drawstring pouch to keep it in. There's a manual too.
The other end is a standard USB plug, but it's actually USB 3.0 so its default transfer mode is "SuperSpeed". You'll know it's USB 3.0 when the port color is blue or if the initials SS are there. It's capable of transferring up to 5GB per second, but that also depends on what's connected to it.
Here's where the cable goes on the drive.
It fits perfectly into the provided pouch.
I immediately put it to the test, I tried transferring some files from my Samsung laptop.
When you plug in your drive to the computer, it lights up to let you know it's connected. It's plug and play so you don't need to run any installation software. I tried transferring 821MBs of data to My Passport. It took a minute.
For a whopping 2TB, My Passport Ultra is this small.
It's this thick. Pretty compact for the capacity don't you think?
What I like about WD My Passport Ultra 2 TB:
It's small, powerful, and lightweight plus it can accommodate up to 2 TBs worth of data.
It comes in four colors and it's available in 500GB, 1TB, and 2TB capacities.
It's covered by a 3-year warranty.
Automatic and cloud back-up software helps protect your content from loss.
Western Digital My Passport Ultra pricing are as follows:
WD My Passport Ultra 500GB – P3,390.
WD My Passport Ultra 1TB – P4,290
WD My Passport Ultra 2TB – P7,290
Like this post? Subscribe to this blog by clicking HERE.
Let's stay connected: