I bought a Western Digital My Passport Essential SE 1TB portable hard drive from Amazon last summer while I was in the US. My netbook was getting too heavily laden with photos and other materials I use for my blog. Of course, I also had the usual staple of games and music. So when my computer's HD space was down to the last 15GBs, I decided it was time to finally unbox this little gadget and put it to good use.
I chose to get the WD My Passport Essential in Metallic Blue — must be the Atenean in me, hehe. At the time I bought it, it cost US$107.99. The price is now down to US$99.99 at Amazon.com. I saw the exact same thing in Greenhills selling for P5,000.
Let me give you a rundown of the basic features:
It's got 1TB (1 Terabyte) of storage space, so that's 1000GB.
It's USB 2.0 + 3.0 compatible, so you can enjoy a faster transfer rate if your machine has USB 3.0
It backs up your files automatically. If you change anything, it's saved right away.
It's USB powered so all you need to do is plug it into your computer.
You can secure your data with password protection and hardware encryption.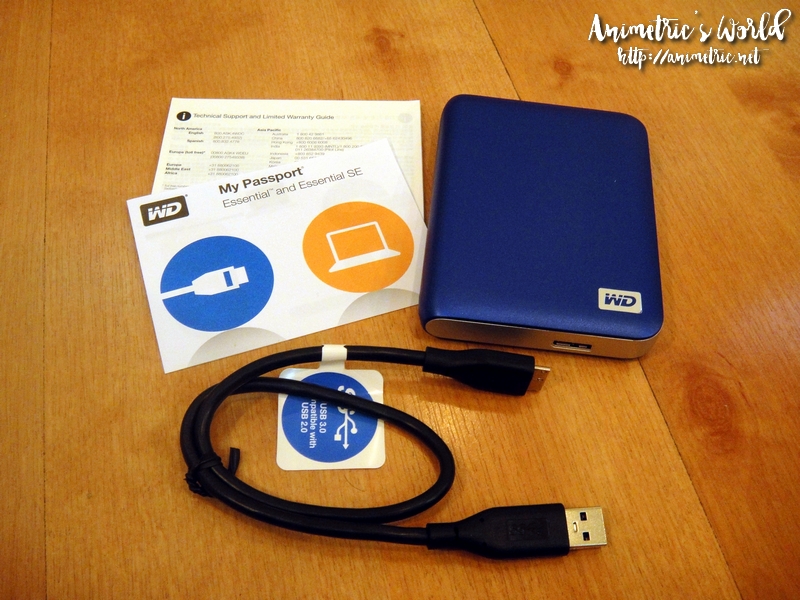 This is it when unboxed. You get the hard drive, a USB cable, and a quick install guide. WD Smartware software is pre-installed in the drive although I have not really used it yet since I just use the drive for storage.
I like how small and light it is. This is portability at its best. I still find it hard to believe that you can actually store 1000GB of data in this little box.
See how thin it is? I love it!
I've been de-cluttering my netbook for the past week and all I can say is so far so good! I'm very very happy with my purchase. I can even use this to store downloaded HD movies and TV episodes to watch with my media player at home. It hardly consumes any space in my room too. This is good if you're a download fanatic or a shutterbug as it can store around 5x more data compared to the typical laptop. I will definitely buy a WD Passport again when the need arises. 😀
Like this post? Subscribe to this blog by clicking HERE.
Let's stay connected: