What is W.Dressroom New York? It's a fragrance line by Choi Bumsuk, the first Korean menswear designer to present a runway collection during New York Fashion Week. W.Dressroom not only features perfumes, they also have hair and body care products, aromatherapy diffusers, and even car fresheners.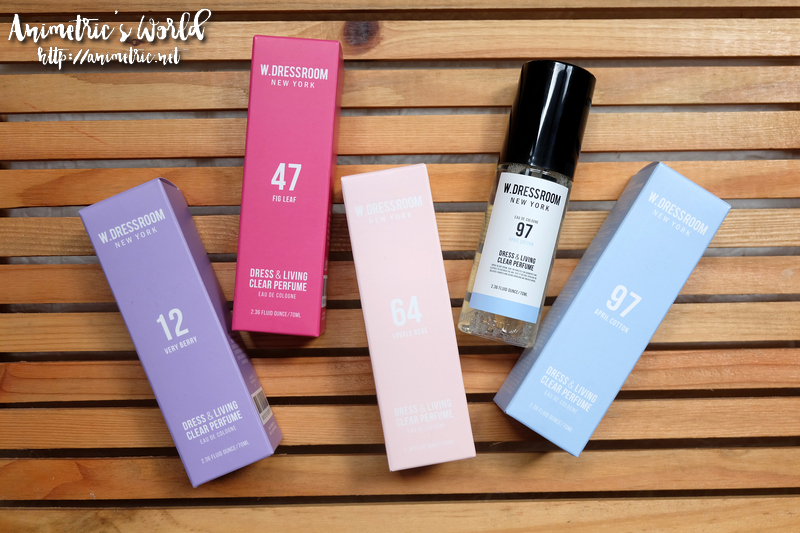 I got four (4) bottles of W.Dressroom New York Clear Perfume last December. It was my first time to encounter the brand. I immediately loved the color-coded boxes and cleanly designed bottles.
I got 4 scents: #12 Very Berry (which I gave away on IG), #47 Fig Leaf, #64 Lovely Rose, and #97 April Cotton. W.Dressroom's Clear Perfume don't just make you smell fresh and nice, they effectively kill 99.9% of germs and bacteria that contaminate our clothes too. They're really great for deodorizing and refreshing your home, linens, and clothes. I normally don't like the smell of roses but W.Dressroom's #64 Lovely Rose really does smell like freshly cut roses so it's not overwhelming. It's actually a lovely scent.
W.Dressroom's #97 April Cotton was actually popularized by BTS' Jungkook. He revealed during a 2016 V Livestream that he wears this scent. It's now the brand's #1 bestseller. I'm actually thinking of getting #11 White Soap because I'm into clean scents. I love how light and fresh W.Dressroom fragrances are. They're perfect for daily use, especially in a tropical country like ours.
Just to give you an idea, here's a guide to the K-Pop idols' fave scents:
#97 April Cotton – Jungkook (BTS), Byungchan (Victon)
#45 Morning Rain – V (BTS), Kim Teahyung (BTS), Byungchan (Victon)
#49 Peach Blossom – Han Seungwoo  (Victon / Produce 101), Daniel Kang (Wanna One), Hang Minhyun (Wanna One / NU'EST), S. Coup (SEVENTEEN), Yoo Seonho (Produce 101), Byungchan (Victon)
#2 Coconut – Daniel Kang (Wanna One)
Here in the Philippines, you can purchase W.Dressroom New York fragrances at BeautyMNL and Seek the Uniq for P595 per 70ml bottle. I hope their hair care and body care lines also make it to the Philippines!
Like this post? Subscribe to this blog by clicking HERE.
Let's stay connected: