Last January 8, we decided to eat out with friends at the newly opened Watami Philippines in Glorietta. When my hubby and I first went to Japan back in 2005, Watami was the first restaurant we dined in. Our flight arrived in the evening and when we got to the hotel, everything outside it was already closed except for Watami since it was more of a drinking place there. Still, there was a wide selection of good and reasonably priced food. My only problem with Watami in Japan is that virtually everyone smokes so you're surrounded by this cloudy haze and the cigarette stench sticks to your clothes.
I'm so happy that we now have Watami Philippines! The Glorietta branch is a lot more spacious than the one we dined at in Akihabara. People can't smoke inside the premises too so all of us can dine in comfort. Yay!
Since we were a group of eight, we were directed to a long table at the one of the corners. Each table is completely equipped with a menu, condiments, and small appetizer plates/bowls you can use.
Anyhow, we decided to start off with some salads. I ordered Caesar Salad with Hot Spring Egg (P320 Full / P200 Half) since I saw it in another blogger's post and I found it intriguing. I was kind of let down because it was surprisingly on the bland side.
We also had Watami Salad (P350). This comes in only one size. I liked it better than the Caesar Salad as it had a variety of veggies, tuna with mayo, seaweed strips, chicken pieces, and what seemed like crunchy fried wonton strips. It's served with yummy sesame-based dressing too.
Since I'm a Bistro Premiere Card holder I had a voucher for a free appetizer. We opted for Deluxe Assorted Sushi (Scallop, Salmon, Shrimp) which cost P395.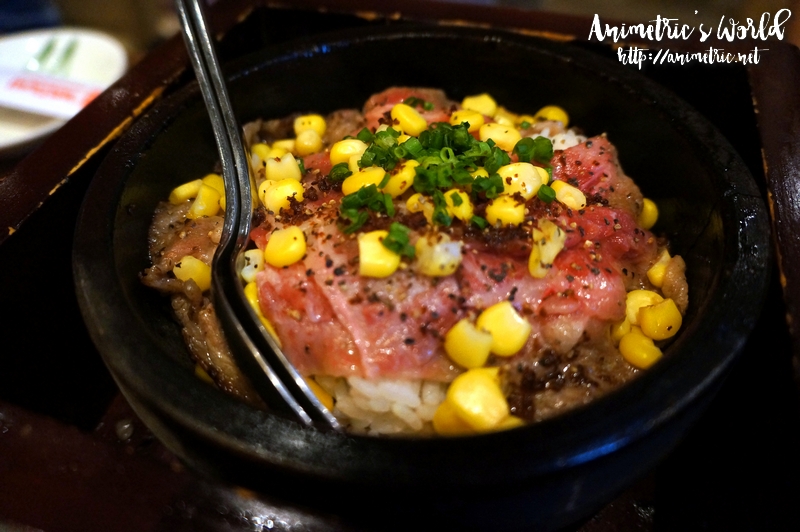 We also tried Pepper Beef Rice in Stone Pot (P190). The concept is similar to Pepper Lunch — you cook the raw beef with the rice in the super hot stone pot. I was so surprised at how amazing it tasted. I love Pepper Lunch's Beef Pepper Rice but this takes the cake. It's more flavorful without you having to put any additional sauce. The rice gets kinda toasty and crunch at the bottom too. It's cheaper than PL's Beef Pepper Rice to boot, haha! This easily made it to my list of faves.
I couldn't help but order Hiroshima-style Okonomiyaki (P295) since it was also what I ordered in Japan. It's very good! Japanese-style pancake consisting of shredded veggies, meat, and seafood all held together by pancake batter. It's topped with Japanese mayonnaise, what tastes like tonkatsu sauce, and tasty bonito flakes. Yum!
My hubby wanted to try Roasted Squid (P445) because according to him it reminds him of those inihaw food items we'd have in resto-bars like Gerry's Grill or Dencio's. I'm not fond of this dish but I tasted it all the same. It was surprisingly delicious. The squid had this smoked flavor and it was served on a bed of slightly sweet soy-based sauce and a bit of Japanese mayo.
He also ordered his favorite Watami Beef Sukiyaki (P365). It's cooked on your tabletop for ultimate freshness. Yum!
Then there was Self Grilled Short Ribs (P295). Like some of the other dishes, it's also cooked on your tabletop along with some potato wedges.
Yum! Tender, tasty, and just yummy… I can finish an order all by myself!
Since it was a birthday celebration of sorts, hubby and I each got a free scoop of chocolate ice cream plus a birthday song rendition from the staff.
My Bistro Premiere Card comes with a voucher for 40% off so we paid less than P3,000 for everything we ordered. There were some other food items not shown here like Tonkatsu, Chawan Mushi, Crab Rice(?), Soba with Tempura…
I've actually gone back to Watami for another round and I got to try a bevy of other dishes but I will post about it another time.
With its delicious food, wide selection, reasonable prices, and great service, Watami is easily a top choice when you want to eat Japanese food. Servings aren't that big though and I estimate one is good for maybe 1-2 hungry folks. Still, I love Watami! I highly recommend it. Here's some good news for Bistro Premiere cardholders like me… get 40% off your total bill just by flashing your card when you dine in Tuesdays and Wednesdays from January 15-30, 2013! Go go! Watami also has a branch at the SM Mall of Asia.
Watami Philippines
G/F The New Glorietta Mall
Makati City
836-7141
Like this post? Subscribe to this blog by clicking HERE.
Let's stay connected: