Watami will always have a special place in my tummy as the first restaurant I dined at in Japan circa 2005. It's a good thing that they've stayed faithful to the reasonable Japanese prices (in fact it may be even cheaper here in Manila because the dishes I encounter now have similar prices to those in Japan circa 2005).
If the prices are reasonable, we'll keep going back, lol. It's really that simple. Thus this is my second Watami post. My first one can be found HERE.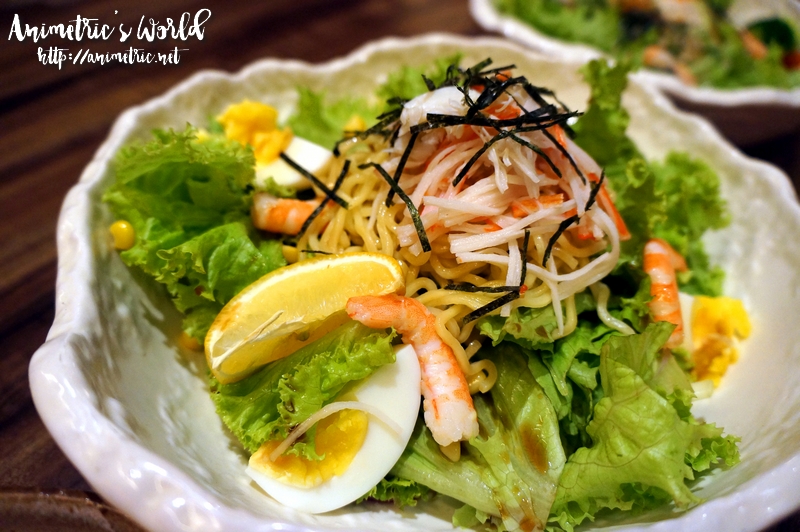 By now I've tried all the salads in Watami (there are only three) and this by far is my favorite — Sapporo Seafood Ramen Salad (P375). Shredded kani (crabstick) tops chewy ramen cooked al dente and lettuce. There are also steamed shrimps and wedges of hard-boiled egg. This is served with creamy Japanese sesame dressing. It's really good, even our son liked it (and it's usually hard to feed kids salad).
I tried Watami's Passionfruit Mango Tea (P145) at the server's recommendation. She told me it's their bestselling drink. It may seem pricey but look at the size of that! I loved it — it's very fruity and refreshing (served icy cold!) plus there are lots of chewy black sago (tapioca) and crunchy passionfruit seeds for texture.
Instead of my usual okonomiyaki (savory Japanese pancake), I decided to try Tonpeiyaki (P275) which is kinda like omelette. Like okonomiyaki, it's filled with pork and shredded cabbage albeit there's no seafood and it's cooked with egg instead of batter. Pretty good.
My hubby and daughter's favorite is Shrimp Tempura (P305) whereas my son and I are allergic. Watami's is done right… it's crispy outside and juicy inside the way good tempura should be.
We also had an order of Beef Sukiyaki (P365). It's very flavorful and it's good for sharing.
Watami has surprisingly good pizza and the kids opted for Chicken Teriyaki Pizza (P275). Love the crisp thin crust and love how it's not greasy. This one is topped with lean chicken slices and teriyaki sauce.
For dessert we had Matcha Parfait (P195). Smooth and creamy green tea ice cream, red bean paste, sticky chewy mochi balls, and lots of whipped cream make up this delicious dessert. Yum!
We love Watami. My kids don't like going out but when I say we're eating at Watami (or Yabu, haha) I get no complaints. If you still haven't tried eating at Watami, go na! The food is definitely family friendly and so are the prices. Service is good too. Try to go early though because the place fills up easily during meal times.
Watami Philippines
G/F The New Glorietta Mall
Makati City
836-7141
Like this post? Subscribe to this blog by clicking HERE.
Let's stay connected: