When the TV series Grimm was still airing, we were obsessed with it. I love fairy tales and Grimm was a crossover of everything I had ever read as a child and the modern times. Well, Grimm was set in Portland, Oregon… the home of Voodoo Doughnut. Voodoo Doughnut is known for its pink box and it has made appearances in episodes of Grimm. Anyhow, we saw a store in Universal Citywalk and decided to pay a visit.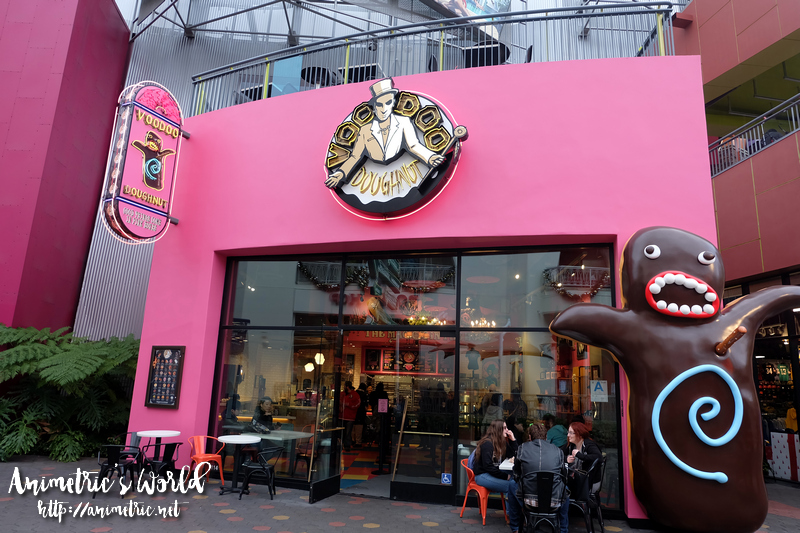 You'll never miss it. The store is painted in their trademark pink hue. There's a big Voodoo Doll donut standing outside too.
There's always a line at this place but we got lucky that weekday afternoon. It was about 3:30pm and whoa, no line!
They definitely have a voodoo theme going. You can even order a coffin full of donuts to bring to a potluck party. Since it was December when we visited, they had Christmas donuts.
Here's a closer look.
They have over 40 donuts in the menu so it's very hard to decide which one to try. Hubby, the kids, and I agreed to get different flavors.
Our son got their trademark Voodoo Doll. It's filled with raspberry jelly and topped with chocolate frosting. There's also a pretzel stake stuck to its chest. He said it was good and surprisingly not overly sweet.
Our daughter opted for Diablos Rex. It's a chocolate cake donut with chocolate + vanilla frosting, candy sprinkles, and chocolate chips in the center. It's smaller than it looks. In fact, we were surprised by how small it was. Pretty good though and not overly sweet.
Hubby went for the Bacon Maple Bar, which for me was the best thing we ordered. It's a really soft and fluffy donut bar topped with maple frosting and crispy bacon. So yummy!
As for me, I had the Apple Fritter. It reminds me of Starbucks Top Pot Doughnuts which we had here in the Philippines about a decade ago. Well, the Apple Fritter was HUGE and overly sweet. I couldn't finish it. This is the worst thing we ordered. The Starbucks Top Pot Doughnut was better.
Donuts cost around US$2 to US$3 a piece depending on what you order. It's worth trying if you come across it though, especially as most stores are in Portland. It's best to go as a group so you can try different variants.
Voodoo Doughnut Universal Citywalk
100 Universal City Plaza Bldg. 5535/V114
Universal City, CA, USA
(818)622-6646
Like this post? Subscribe to this blog by clicking HERE.
Let's stay connected: