I was sent a sample of VitaPops Vitamin C for my kids to try some time ago. They've been taking Ceelin ever since they were toddlers and up until now I've never really considered switching to another brand. VitaPops however is from the makers of Ceelin which is Unilab.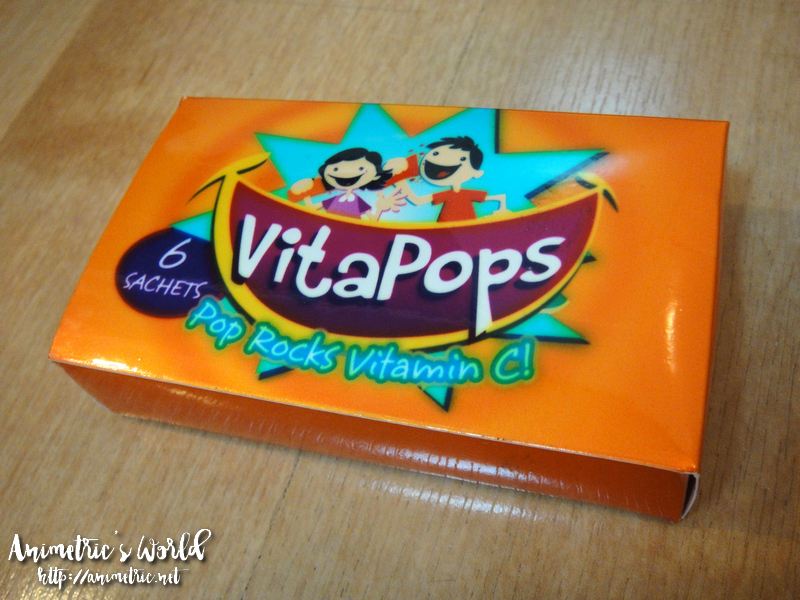 VitaPops comes in a bright orange box which sort of gives you a clue that it's orange-flavored. One box contains six (6) sachets of Vitamin C in popping candy form. Each sachet provides 50mg of Vitamin C.
So this is what's in a box.
It's really handy and easy to bring around.
Remember Pop Rocks candy? I used to eat them as a little girl. Apparently, VitaPops was inspired by Pop Rocks. Tiny orange-flavored crystals which fizz and "explode" when popped into the mouth make taking vitamin C fun for kids. Addictive even, gauging from my kids' reaction. They couldn't get enough but 1-2 sachets a day is the recommended dosage so after two I had to put them away, haha!
One sachet costs P10. It's pricier compared to buying a big bottle of Ceelin and so I really don't see myself switching to this on a permanent basis. I will probably buy some when we travel though. It's a lot easier to bring this compared to bottled vitamins which are heavier and take up more space. On the other hand, if your child is the type who loathes taking vitamin syrup this is definitely an alternative. It may be easy to overdose though because it's so yummy, hahaha! Keep out of reach of children because it's still vitamins and not candy.
VitaPops is available at all leading drugstores nationwide.
Like this post? Subscribe to this blog by clicking HERE.
Let's stay connected: