One of Taiwan's most popular landmarks is definitely Taipei 101, which is one of the world's tallest buildings. That said, I booked tickets to the Taipei 101 Observatory via Klook. I know how crazy the lines get so I wanted the tickets in my hand by the time I got there. You choose a date and time when booking via Klook. I picked Monday 11am, which is the opening time. I got Fast Track Entry Tickets which allowed us to skip the insane queue, because what do you know, April 1-5 turned out to be Taiwanese public holidays. Gosh, a super looooong kilometric line of local families was already there when we arrived BEFORE 11am.
Because I had Fast Track Entry Tickets, the guard pointed us to a cordoned section at the very front of the long line. Prior to letting everyone else in, they escorted us in to the elevator first. So if you get 11am opening fast track tickets like I did, you will have the place to yourself for a good 10-15 minutes. You can check my short video here for a better idea.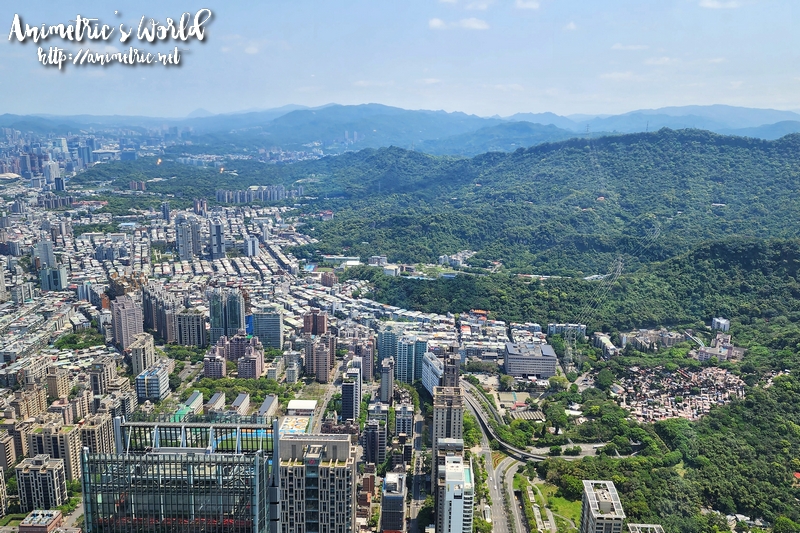 The super speed Taipei 101 Observatory elevator stops at the 89th floor. It takes something like 40 seconds to get there from the 5th floor. Crazy, right? Your ears will pop. The 89th floor has spectacular views of Taipei. You can see the cityscape and the mountains. It's awesome. Of course, this is provided you go on a clear sunny day… though going at night is an entirely different experience also worth considering.
There are several Instagrammable set-ups on the 89th floor. We pretty much ignored them all lol. But if you're the type who likes these kinds of pics then go there dressed for it. Their sample photos had ladies in dresses, hats, and such.
You also get to see Taipei 101's 728-ton tuned mass damper. It's designed to counter the effects of wind and seismic activity on a skyscraper like this one. This is kinda like a shock absorber, in simpler terms. I saw a Taiwanese news video showing it swaying during a 6.8 earthquake. While that must have been a sight to behold, I much prefer it steady like this thank you.
You will have to climb a steep stairway to get to the 91st floor outdoor viewing deck so do not wear difficult shoes. I was in Adidas NMDs and it was still a bit challenging for me. This miniature version of Taipei 101 will greet you on the 91st floor then you get to step out the outdoor viewing deck. There's also a theater area on this floor where you can watch film clips about Taipei 101.
This is the view from the 91st floor outdoor viewing deck. There are binoculars and such.
Aside from what you've seen here there is also a souvenir store and coffee shop (expensive!) on the 89th floor. Unfortunately, Fast Track Entry Tickets do not include the 101st floor. You will have to get a different type of ticket for that. They don't have a no-queue option for it so I opted for this one instead. It was really a lucky coincidence I picked this because if not we would've been stuck at the very end of the long line. Judging from the number of people, it would've taken us at least an hour of queuing only to go up to a crowded observatory.
Pro-tip: If you are going to the Taipei 101 Observatory on a weekday that is not a Taiwanese holiday or school break, get the ticket which includes 101st floor. However if it can't be helped and you're slated to go on a weekend or holiday, get the Fast Track Entry which goes up to the 91st floor. Also, check the weather. Visibility is not as good during cloudy and rainy days.
You can book your tickets in advance via the Klook app. I should mention that during the 2020 lockdown, I was able to refund my cancelled Klook bookings quickly and easily so Klook is always my preferred booking platform for travel activities.
Like this post? Subscribe to this blog by clicking HERE.
Let's stay connected: