Would you believe it was my first time ever at Vikings Buffet last week? Hubby and I have attempted to dine at Vikings SM North EDSA, Vikings MOA, and even Vikings SM Megamall but have never been successful because the line is always soooo long and our kids don't like waiting.
Thus when we got an invitation to check out Vikings Buffet, we immediately said yes. We weren't going to pass up the chance for direct access… no more lining up, lol!
The place is huge! We were amazed by how much food and drink Vikings had to offer. We've been to most of the popular buffets in the city but Vikings is entirely on a different level in terms of selection. We were told they have at least 200 dishes.
There's so much food they have to have multi-level racks to put them in.
Don't the Beef Kebabs look yummy? Aside from this there was also Grilled Liempo, Pork BBQ, Chicken BBQ, etc.
There's a Grilling Station where you can have fresh seafood cooked.
There's a Pizza and Pasta Making Station too.
Specialty soups are made to order. They have Seafood Sinigang and Sukiyaki along with several others. I went around to check out different dishes… I don't think I can taste even a fourth of Vikings' offerings in a single visit.
Meatballs Sofrito
Vegetable Rice
This set-up reminded me of the time when we had Oden in Japan.
Stir Fried Egg Noodles
Steamed Suahe — I'm impressed! I haven't seen this offered in the other non-hotel buffet places. My hubby and my daughter love this.
There are several kinds of dimsum available too.
There's Chawan Mushi and soups in single-serve sizes kept in hot water.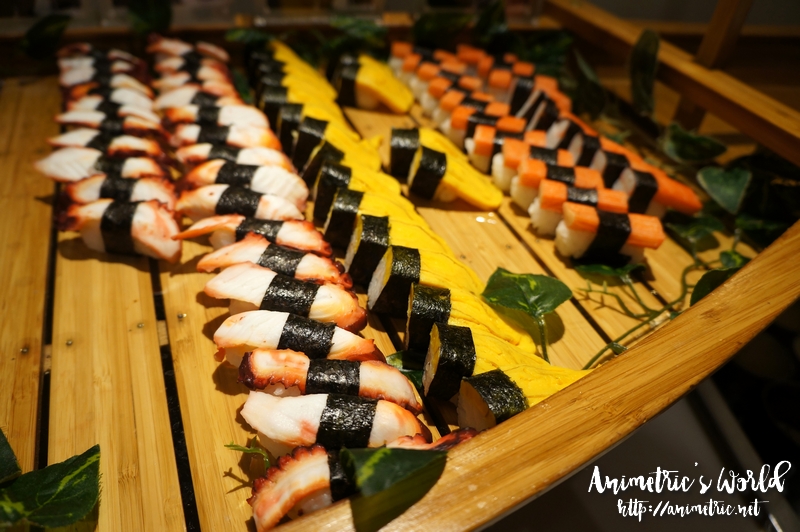 Sushi overload! There were a lot more kinds, this is just the tip of the iceberg.
In case you're not inclined to make your own pasta, there are several pre-made ones available at the buffet like this Pasta Vongole.
I was surprised by the sheer number of drinks they were offering. Aside from the usual sodas and coffee, they have unique ones like Minty Lime Juice, Lemongrass Green Tea, Apple and Cinnamon Twinings Tea, Milo Shake, etc. It's overwhelming… XD
Their Carving Station has all the usual offerings like Roast Beef but I immediately noticed they had Lechon Cebu! I don't think I can show you even 20% of what they offer, there's really a lot!
They have this super cold chiller filled to the brim with all kinds of desserts.
They also have a Halo Halo Station, a Fresh Fruits Station, a Crepe Station, an Ice Cream Station, and lots of cakes, cookies, and pastries.
Every month, Vikings Buffet has a custom theme with a special menu of dishes that's offered only on weekends. For the month of August, Vikings pays tribute to the Southeast Asian region with a slew of Singaporean, Malaysian, and Indonesian dishes. That was actually why we were invited to Vikings that day, to preview the Southeast Asian creations (which I will share with you in the next post) so no, I did not get to go around the buffet lol! Hubby and I will probably go back one weekday to try our luck again. I was told it's best to reserve so you don't have to queue up along with the rest of the walk-in crowd. 🙂
Vikings Buffet Rates are as follows (SM North EDSA, SM Megamall, Marikina):
Weekday Lunch – P688 (Adult) / P388 (Kids 4ft – 4'6″) / P188 (Kids 3ft – 4ft)
Weekday Dinner – P888 (Adult) / P588 (Kids 4ft – 4'6″) / P288 (Kids 3ft – 4ft)
Weekend / Holiday Lunch and Dinner – P888
*Senior Citizens get 50% off the buffet rates
**Kids below 3ft eat for FREE.
Vikings Buffet
4/F The Block SM North EDSA, Quezon City
376-8888 / 376-4888
Like this post? Subscribe to this blog by clicking HERE.
Let's stay connected: