As promised in my previous Vikings Buffet post, I'll be giving you a preview of the special Southeast Asian dishes Vikings Buffet has in store for us this August. These dishes hail from Singapore, Malaysia, Indonesia, and even India! In addition to the usual buffet spread, Vikings will be having a special hawker-themed section showcasing these dishes (plus more) all weekends of August.
We started off with the Vegetable Curry with Naan Bread. It was the perfect appetizer. Soft, warm, and lightly seasoned Naan bread was served with a spoonful of aromatic vegetable curry and cucumbers. Sooo good. If this was any indication of how August will be at Vikings, I'm already excited for the weekend to come!
Steamed Tofu with Ground Chicken followed. It was okay, I'm not a fan of chicken and I think all of you know it lol.
I did however love the refreshing Papad Salad. My favorite Indian munchies, the Papadums (seasoned crisp tortilla-like um… chips?) are served with zesty corn, tomatoes, and avocado salsa. Lots of cilantro too. I seem to be favoring the Indian selections here.
We each had a bowl of Bak Kut Teh too, Singapore's famous comfort soup made from pork ribs. It had a very strong flavor, which shouldn't be the case. Bak Kut Teh was my dad's favorite soup and I remember having it in Singapore many times in the past. It's supposed to be comforting and rather mild-tasting. I relayed my observations to the chefs and they will probably do some adjustments before serving it this weekend.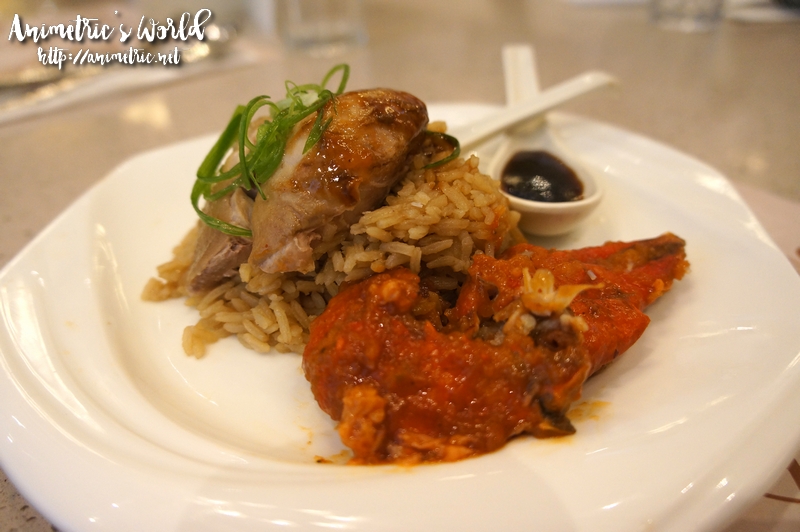 Then we had some Singaporean classics: Hainanese Chicken and Chili Crab. I love how they used brown rice cooked in chicken broth for this! I got a nice big crab claw too. Yummy!
Next up were Singaporean Noodles, Moo Yang, Nasi Goreng. Singaporean Noodles tasted like curry while the Moo Yang is actually super tender pork slices roasted in honey. They melt in your mouth! The Nasi Goreng (Indonesian / Malaysian Fried Rice) had mostly veggies.
I loved the trio of Chicken Satay, Beef Satay, and Honey Sesame Chicken served with Honey Garlic Sauce, Peanut Sauce, and Garlic Sambal on the side. The Peanut Sauce is to die for, the chef told us that it was actually made of crushed peanuts. I wanted to bring home an entire jar, it was just too good!
For dessert we had Carrot Halwa (Indian Carrot Cake) which my hubby really liked. He rarely eats cake so I was surprised when he finished the entire slice. It's made with shredded carrots and light chiffon cake. On the same plate were Cendol, Cheng Tng, and Kacang. Cendol reminded me of the sticky rice cakes Vietnamese restaurants serve for dessert.
My favorite was the Kacang. It looked like a small ramekin filled with cream but it's actually boiled sweetened monggo with rich cream on top. It was sooooo good. I never thought monggo could be so dreamy. I found the Cheng Tng (fruits in gelatin) too sweet although my companions liked it.
These Southeast Asian dishes will be available all weekends of August at all Vikings Buffet Restaurant branches. 🙂
Vikings Buffet Rates are as follows (SM North EDSA, SM Megamall, Marikina):
Weekday Lunch – P688 (Adult) / P388 (Kids 4ft – 4'6″) / P188 (Kids 3ft – 4ft)
Weekday Dinner – P888 (Adult) / P588 (Kids 4ft – 4'6″) / P288 (Kids 3ft – 4ft)
Weekend / Holiday Lunch and Dinner – P888
*Senior Citizens get 50% off the buffet rates
**Kids below 3ft eat for FREE.
Vikings Buffet
4/F The Block SM North EDSA, Quezon City
376-8888 / 376-4888
Like this post? Subscribe to this blog by clicking HERE.
Let's stay connected: