You know, petroleum jelly has always been a mystery to me. I lived in my grandmother's house as a child and I still remember how there were always jars of Vaseline Petroleum Jelly from the US in almost every room. I had no idea what they were for. Decades later, I still don't know what petroleum jelly is for.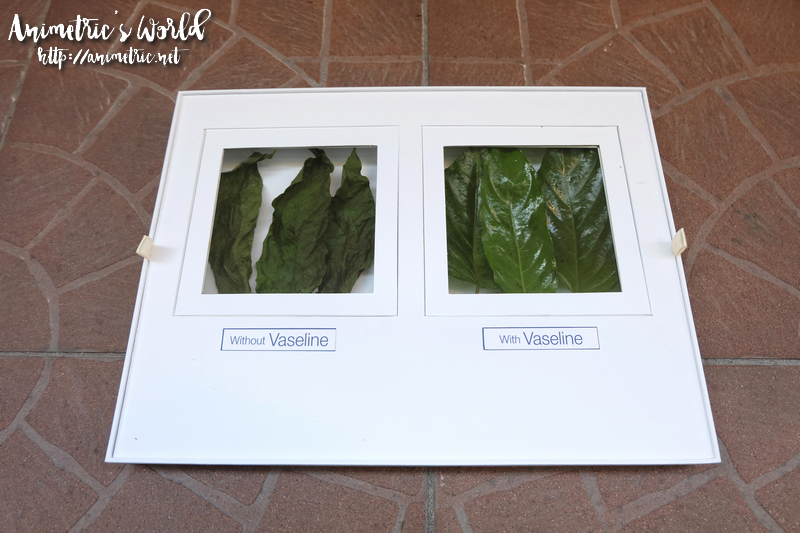 And then I found this Vaseline Petroleum Jelly kit on my doorstep. There were leaves inside. The leaves on the left are just plain old leaves. The leaves on the right are leaves that were brushed with Vaseline Petroleum Jelly. Can you see the difference?

Check out this recent experiment conducted along C5 using Vaseline Petroleum Jelly.
OMG. Finally after all these years, I find out exactly what Vaseline Petroleum Jelly is for. It's a wonder product. It heals and protects burns, rashes, chapped skin, cuts, bruises, etc. Simply put, Vaseline Petroleum Jelly HEALS. The leaves I found on my doorstep and the leaves they showcased on that billboard along C5 are testament to the healing power of Vaseline.
So all these years, we actually had one of the most powerful moisturizers sitting in every room in my grandmother's house.
Vaseline Petroleum Jelly is transparent, gel-like in terms of consistency, and fragrance-free. BUT it's not really all that convenient to use if you're going places because it's pretty thick.
Vaseline Intensive Care Deep Restore Lotion (P126)
The good news is, Vaseline recently infused its lotions with the healing power of Vaseline Petroleum Jelly. Each bottle of Vaseline lotion contains micro-droplets of jelly that works from deep within the epidermis to moisturize and heal the skin!
You know how I'm not really a lotion person, right? Well, my curiosity was piqued by the Vaseline Intensive Care Deep Restore Lotion with petroleum jelly and so I tried it right away. OMG this is da bomb! It's lightweight, super moisturizing, non-greasy, and it absorbs very quickly! It's so perfect for these scorching summer months. It's very affordable too! Vaseline Intensive Care Deep Restore Lotion SRP is as follows:
100ml- P69.30
200ml- P126
400ml- P225
My daughter has eczema and so we always have to have lotion in stock to avoid flare-ups. I currently order eczema-therapy lotions and creams from the US. We're excited to try if Vaseline Intensive Care Deep Restore Lotion will be as effective in preventing flare-ups.
To check the condition of your skin, take the Skin Index Test at http://www.vaseline.ph/skin-index-test.
Vaseline products are available at leading supermarkets and drugstores nationwide.
Like this post? Subscribe to this blog by clicking HERE.
Let's stay connected: