Sometime last month, I was contacted by Unilever and asked if I wanted to be one of the first in the Philippines to try the Unilever PureIt Water Purifier. The timing couldn't be more perfect. Hubby and I had been checking out a water purification system at Dexterton a while back because we wanted to have one at home.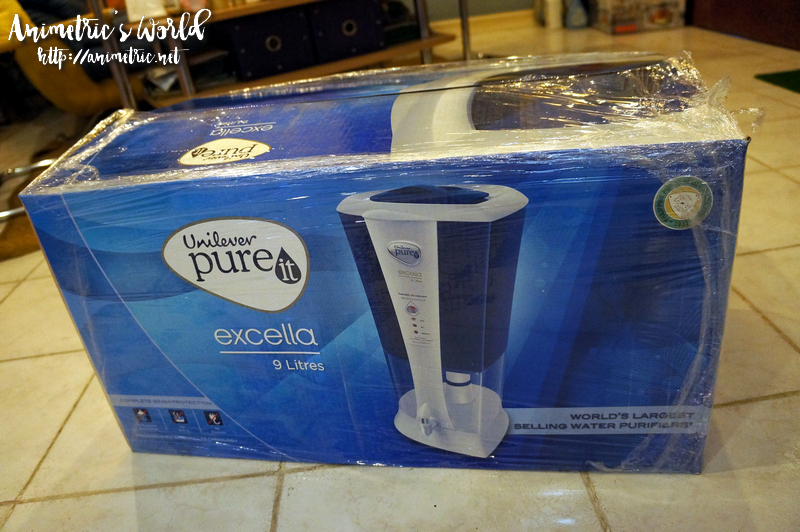 Anyhow, I said yes and the Unilever PureIt team brought over a brand spanking new unit to our house! The Unilever PureIt system was developed in India, mainly due to the great need for clean water there. There are actually several models showcased at the Unilever PureIt India website. For now though, we have only one here in the Philippines, the Unilever PureIt Excella. It can purify 9 liters of water at a time.
The Unilever PureIt Excella is very easy to set up out of the box — anyone can do it! You just need a flat surface to put it on.
With the Unilever PureIt Excella, all you need is… water! Yes, you can use ANY kind of water — tap water from the faucet, rain water, etc. The Unilever team actually set up a demo unit where they purified this icky-smelling rusty colored water. It came out clean, clear, and odorless! Our household is currently subscribed to a water refilling station. With this, we can purify our own water!
You pour water at this opening located at the top of the unit. The filter is washable. If at any time you feel it's dirty, all you need to do is to wash it under running water — no need to use soap (actually you CAN'T use soap). This filter is actually the first stage of purification because sediment cannot pass through it.
With the Unilever PureIt Excella, water goes through 5 stages of purification. It's gravity-based so water goes down without the need for electricity or a continuous water supply. The unit can purify 1,500 liters of water before the Germkill module (stage 2) has to be replaced. You can buy a Germkill kit for P1,000. After filling up the topmost chamber with water, you need to wait for it to pass through all 5 stages of purification.
The water will eventually drip down to the bottom chamber which is connected to a spout dispenser. This is where you get drinking water.
It's easy to keep track if your Germkill module is still working properly. There's a built-in indicator on the unit itself. When the circle turns all red, it's time to buy a replacement Germkill kit. There's also an auto shut-off feature which prevents the water from going down the bottom chamber if the Germkill kit cannot purify it anymore, that way, any water that is dispensed from this unit is safe to drink.
We've been using the Unilever PureIt Excella for about 3 weeks now and so far so good! It's recommended that you cycle water through the unit 2x or more before drinking. The downside is, when everything is brand spanking new (the Germkill kit, the unit itself, etc) the water will have a faint plastic-like / chlorine-like scent (the parts are made of food grade plastic anyway). It is safe to drink though and the scent does go away over time — the more you use it (the more water cycles) the more odorless the drinking water becomes.
We spend around P100 (maybe P400-P500 a month) a week for 3 gallons of water from a refilling station. Based on our computation, it's cheaper to get a Germkill kit for P1,000 for every 1,500 liters of water we purify.
You can purchase PureIt units from PureIt on Lazada.
Note: We recently upgraded to the Unilever PureIt Marvella Water Purifier. Check out my full review.
Like this post? Subscribe to this blog by clicking HERE.
Let's stay connected: