This 2023, Sulwhasoo has reformulated everything except the TimeTreasure line. When I went to Taiwan, I checked out the Sulwhasoo section of the Duty Free Shop and they no longer sell the Sulwhasoo Essential line. It has been replaced by the Sulwhasoo Comfort line, characterized by the orange packaging. They even got Rosé of Blackpink to endorse it. Since it was just released, it's still quite pricey. It usually takes some time for pricing to settle down. Luckily, we can now easily buy sample sizes from Korea-based sellers.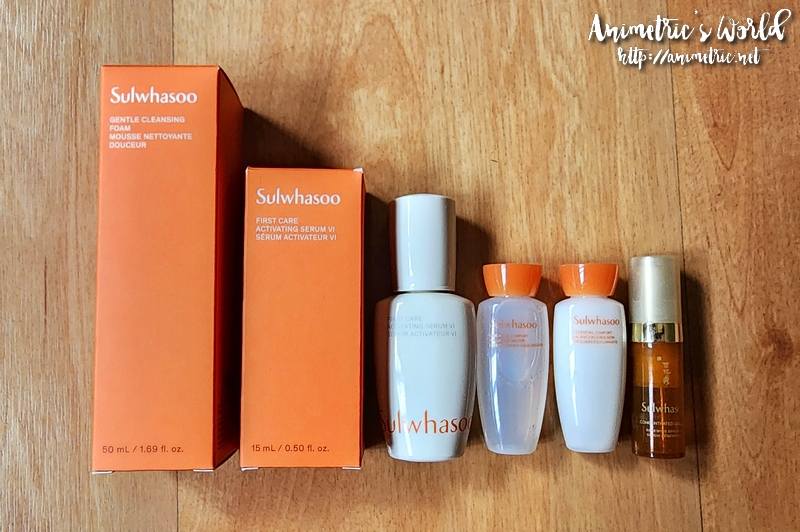 I bought all of the newly reformulated Sulwhasoo products from TlosKorea-Global on Lazada. The reformulated Ginseng Serum on the rightmost is not part of the Sulwhasoo Comfort line I got the following:
Sulwhasoo Gentle Cleansing Foam 50ml (₱428) – I've been using the old formulation of this cleanser for the last few years and it is my favorite. Non-drying, cleans well (can remove sunscreen), and makes my face feel luxurious. This new version still works the same way, except that the scent is a lot milder.
Sulwhasoo First Care Activating Serum VI (₱510.68) – This has always been Sulwhasoo's star product. You're supposed to use it after washing your face and it makes everything work better. It's so good that I'm always tempted to stop at this step because it can really transform your skin and results can be seen and felt immediately. The new reformulated version is still as good, the difference being it feels more lightweight. Scent is also milder.
Sulwhasoo Comfort Balancing Water and Emulsion Set (₱282.00) – Compared to their Sulwhasoo Essential counterparts, these definitely perform better. I feel they upgraded the ingredients and technology behind the formulas. These give more hydration and glow to the skin.
And this is how my skin looks after using the Sulwhasoo Comfort line. I ordered the newly reformulated Sulwhasoo Ginseng line today so I'll also be trying that one out.
TlosKorea-Global is my new Lazada discovery. They are a new Korea-based seller on the platform and I believe I was their first customer. They included freebies with my order — Sulwhasoo sachets of other products. Shipping was typical of a Korea-based store, my order got to me in about a week's time. So far they have the most Sulwhasoo VI (what the reformulated products are labelled as) products in stock. Legit and highly recommended.
Like this post? Subscribe to this blog by clicking HERE.
Let's stay connected: