Sometime late last year, hubby, some friends, and I went to have lunch at Tra Vinh Authentic Vietnamese Noodles in Banawe, Quezon City. I've always been curious about the place because our friend Didi constantly raves about it. Food from Tra Vinh appear on her IG on a regular basis. Tra Vinh is actually an Australia-based Vietnamese restaurant which found it way to Manila.
Tra Vinh is located along NS Amoranto. There's a big yellow signage out front and parking for maybe 3-4 cars. The restaurant itself is pretty bright and spacious.
Without further ado, we went straight for the appetizers. This is the Prawn Sugarcane (P210). Seasoned prawn is wrapped around a sugarcane stick and then served with Tra Vinh Special Dressing on the side. Yum, kinda like a prawn version of kikiam but infinitely better. The special dressing is a vinaigrette which I suspect is made with Vietnamese fish sauce.

Then we had Vietnamese Pancake (P250). A crisp pancake enrobes some shrimp, pork, and veggies. It's served with mustard leaves, lettuce, and herbs plus of course the Tra Vinh Special Dressing. You slice a bit of pancake and then wrap it with the leaves then eat it all at the same time. You can ask them to wrap it for you if you're unsure how to proceed. Surprisingly good! I didn't want the leaves at first but it really makes a difference when you wrap and eat with the leaves.
Prawn Pomelo Salad (P240) is great if you want something light as an appetizer. Finely chopped veggies with fresh steamed prawns, pomelo, peanuts, herbs, and spices make up this dish. The dressing? You guessed it — Tra Vinh Special Dressing! Yummy! This is my kind of salad because it's NOT cloying or nakakaumay.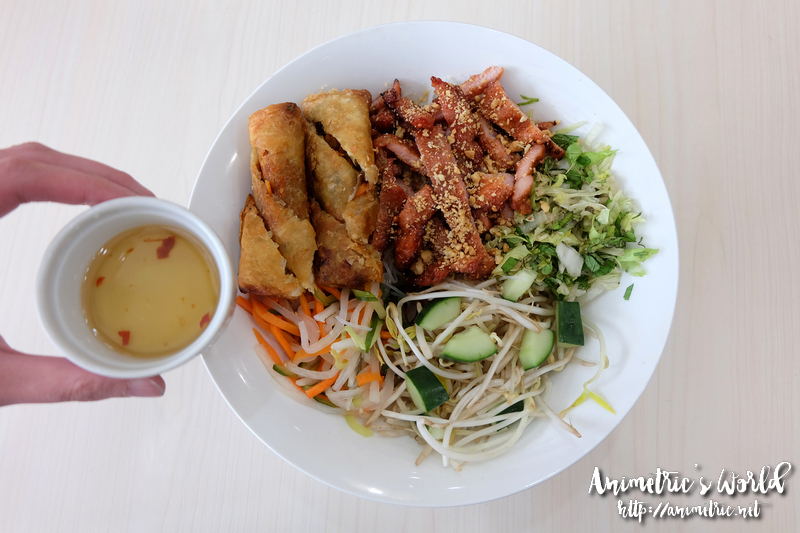 I've always equated Vietnamese noodles with hot soup but they actually have dry noodle dishes like this BBQ Pork Noodle (P199 / P225 with Vegetarian Spring Roll). Of course we had the one with the Vegetarian Spring Roll toppings. Your choice of noodle is topped with marinated barbecue pork (a bit reminiscent of asado), roasted peanuts, and mixed vegetables. I love this dish… and yes, I was holding the Tra Vinh Special Dressing to pour on it.
We also had the incredibly crunchy Vietnamese Salt & Pepper Prawn (P599), which was quite possibly the priciest dish we had that day. So far everything has been in the P200+ range. Anyhow these tiger prawns are so crunchy you can actually eat the shell.
We had the Special Vietnamese Fish Soup (P999, serves 3 people) for our main course. It's served with your choice of rice or noodles. I normally dislike fish soup but this one was not at all malansa (fishy). In fact the broth had an incredibly clean taste which I attribute to all the secret herbs and spices they boiled together. Very comforting… plus considering this is a whole fresh fish it's cheap at P300+ per person.
For dessert we had the Vietnamese Coffee Jelly. It wasn't on the menu yet at the time but I'm guessing it's priced at P100, just like every other dessert listed. I liked it.
Tra Vinh Authentic Vietnamese Noodles is a nice cozy place which serves fresh, natural, and clean-tasting food. I love how you don't feel bad or icky afterwards even if you happen to overindulge a bit. Prices are super reasonable too given the quality of the food. Will definitely be back with the kids when I don't feel like cooking, lol!
Tra Vinh Authentic Vietnamese Noodles
Unit 3 109 NS Amoranto cor. Cordillera,
Bgy. Maharlika, Quezon City
742-1718
Like this post? Subscribe to this blog by clicking HERE.
Let's stay connected: