I've been on the lookout for Tonymoly Dear Me Petite Cotton BB Cream (P328) for a couple of months now because my friend and fellow blogger Marj Sia recommended it to me. She said if I wanted an everyday BB that lasted, had matte coverage, and wasn't too pricey, this was a good option.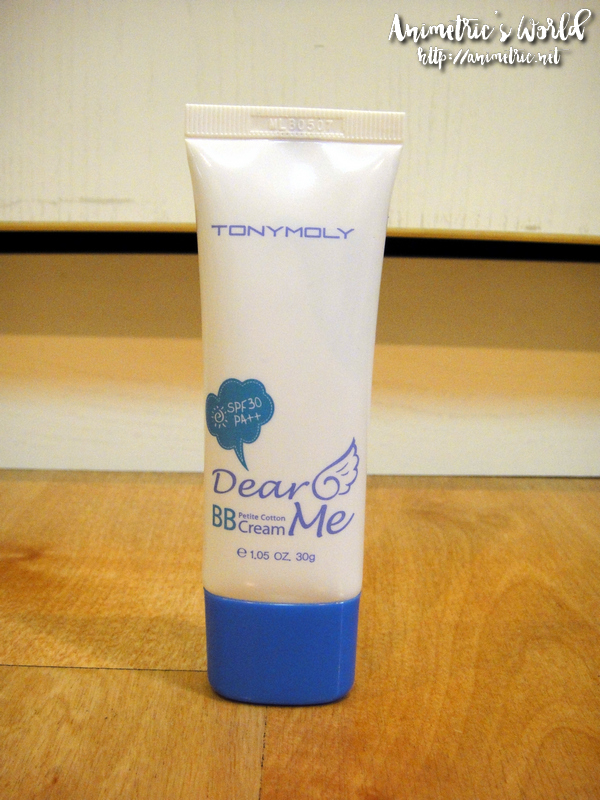 I went to SM Megamall last week and dropped by Tonymoly. Lucky for me there were four tubes in the store! Marj had warned me that this was always out of stock and hard to find so I grabbed one immediately. It's small at 30ml when the normal tube of Korean BB cream would be around 50ml. However, it is quite cheap at P328 so I'm not complaining.
It's sealed for your protection. There was only one shade available, 1 Cotton Beige, so I just hoped it would match my skin.
I tried it out the very next day. At first glance, it seemed to have the same undertone as my skin so I had a good feeling about it.
It took all of 5 minutes to apply BB cream onto my entire face. Notice the instant brightening effect. I immediately looked more awake, haha!
I finished up my everyday look with some eyebrow pencil, eyeliner, and mascara. I forgot to put on lipstick, lol! Wow, this BB actually matches my skin perfectly. It's primary ingredient is water so it's non-greasy, non-sticky, and lightweight. This photo was taken at around 10am.
I had the BB on for the entire day and just so we can compare how it looks after it's been left on for a while, I took another photo at 6pm. That's a whole 8 hours of having the BB on without blotting, wiping, or powdering the entire time. It's just naturally dewy-looking without making my face shine like a lightbulb. Nice, don't you think?
What I like about Tonymoly Dear Me Petite Cotton BB Cream SPF 30 PA++:
The price! It's a STEAL at P328. I could hardly believe my eyes when I saw the price tag.
It's lightweight, non-sticky, and non-greasy like I said earlier.
It provides light to medium coverage, instant brightening, and SPF 30 all in one go.
It dries off to a matte finish so it's great if you have oily skin. My T-zone gets really oily and I was able to survive 8 hours without blotting.
It's got that light, fresh, and pleasant scent that is characteristic of Tonymoly facial products.
It matches my skin perfectly.
The downside is that it's always out of stock so it's kind of hard to find and the salesperson told me there's only one shade (if your skin tone is darker than mine you might find it too light). I'm totally hoarding this next time I visit Tonymoly.
Tonymoly Dear Me Petite Cotton BB Cream is available at Tonymoly boutiques and counters for P328. For a complete list of stores, log on to http://tonymoly.ph/.
Like this post? Subscribe to this blog by clicking HERE.
Let's stay connected: